Global management consulting firm McKinsey released a new report assessing the development of Indonesia's online commerce sector.
It's one of several recent attempts to quantify the rapid changes brought about by digitization in the archipelago, and estimates can differ depending on how online commerce is defined. Most have one thing in common: They're quite optimistic in their assessment of the changes and benefits further digitization brought to Indonesia's society and economy.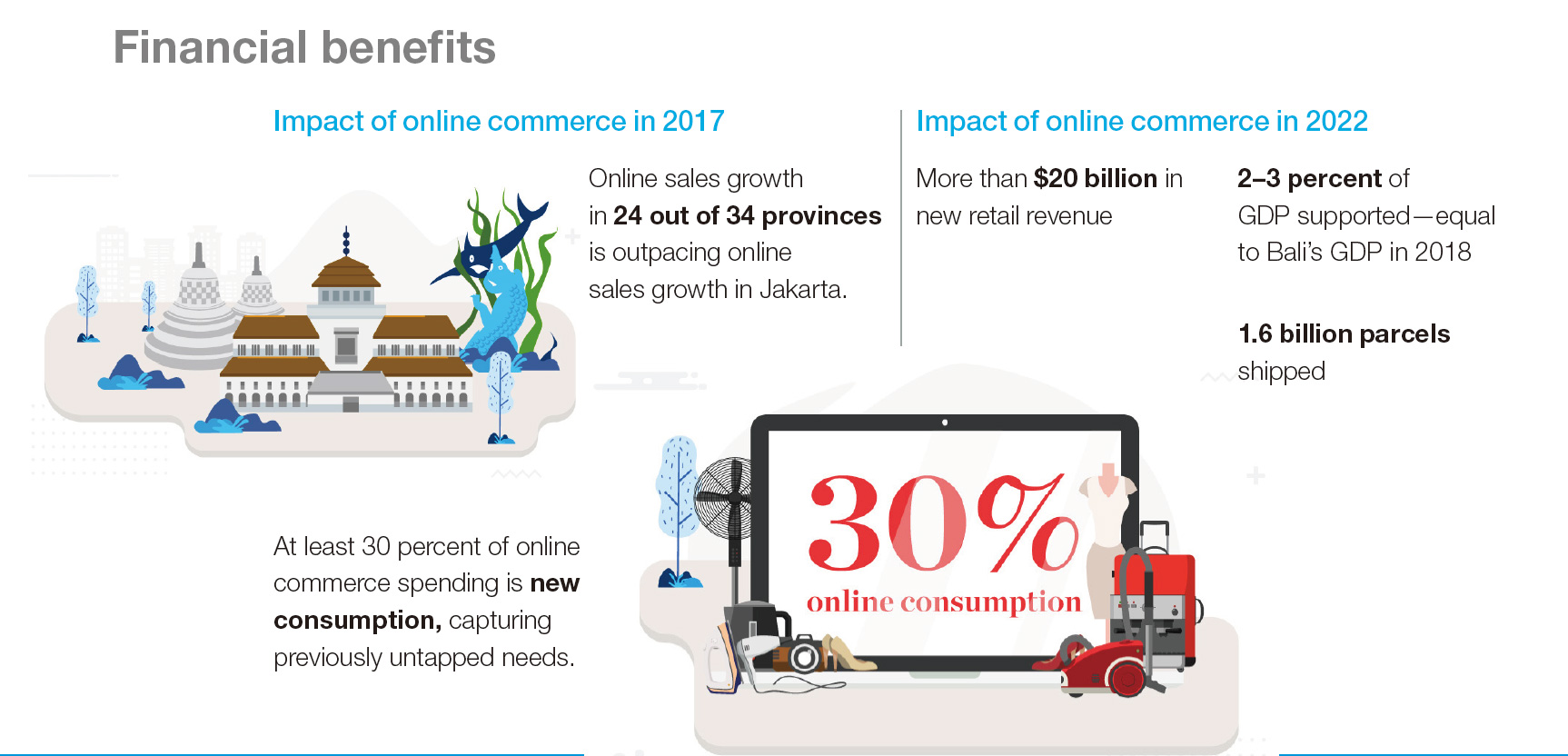 In this case, McKinsey looks at online commerce as a subset of the total digital economy.
It defines online commerce as the buying and selling of physical goods on digital channels, either formal (online shopping sites) or informal (social media). It excludes on-demand services, as well as digital products, bought online.
In this definition, the authors write, Indonesian e-commerce shoppers in 2017 spent about US$5 billion through formal online shopping channels and more than $3 billion in informal commerce. The authors estimate that there were about 30 million online shoppers in 2017.
The US$8 billion total will grow to $65 billion by 2022, based on the projections in the report — said to be similar to the trajectory experienced in China between 2010 and 2015. Average individual spending is expected to grow significantly, from US$260 a year to US$620 a year in 2022. The authors say that's because consumer trust in the ecosystem will improve and more MSMEs come online, providing an ever-wider variety of products and affordable, reliable delivery options.
The outcomes and challenges
Beyond growing volumes of consumer spending, the study also looks at the socio-economic impact of this development and highlights three positive outcomes.
The first is a measurable shift in efficiency for micro, small, and medium enterprises (MSME) who had shifted their offline retailing online. Not only does this shift generate more business for the MSME, it also ends up being cheaper for the shopper.
Another major impact is in job creation. The authors estimate that by 2022, online commerce will directly or indirectly support about 26 million jobs, compared with four million today.
Direct support includes new jobs that would not have existed otherwise, for example, software developers. Indirect supports includes positions that already exist but that will be positively influenced by new revenue flows through online commerce.
A third socio-economic impact McKinsey points out is that online commerce appears to benefit women the most, allowing women more equal access to the economy. The study found that the share of women- generated revenue in online commerce is more than twice as high as that in traditional commerce.
The report also singled out three challenges Indonesia must address to keep on track with these targets.
It must address the shortcomings in human resources and digital skills, lacking digital professionals, facilitators, and digital-savvy leaders. As a way out, the authors propose, Indonesia should do more to attract the Indonesian the diaspora and simplify the work permits for foreign experts, and it should invest in reskilling workers and vocational training, and it should encourage more women to join the workforce.
McKinsey also found that there's a shortfall of midsize to large companies to support growing domestic expansion, or that could jump on to new export opportunities once the digital economy matures. The consulting firm says Indonesia ought to develop more programs to enhance the competitiveness of midsize companies, to help them gain access to financing and industry networks.
Lastly, the authors suggest Indonesia needs better and more consistent means of tracking the impact of digitization on Indonesian society and the economy. This could be done by establishing a digital impact index that, on one hand, would report indicators reflecting what's happening in the consumer sector, MSMEs, and talent market, and, on the other, would show outcomes, including economic development, employment, and social development. This index, if tracked and publicised consistently, would help policymakers and investors make better-informed decisions.
Editor: Ben Jiang