Gojek was born out of co-founder and former CEO Nadiem Makarim's frustrations. In 2008 and 2009, he was a young, aspiring management consultant working for McKinsey. To go from his home to the office each day, Makarim needed swift transportation that could cut through the heavy traffic of Jakarta. A private car was not a great option, as the capital city's roads were often jammed. The 25-year old Makarim became a loyal customer of ojek, or motorbike taxis. He even had the numbers of some ojek drivers saved on his phone so he could arrange for rides ahead of time.
However, he was frustrated as the service quality wasn't consistent. "Sometimes my ojek langganan [regular ojek] will be somewhere else and unavailable," he said in a 2019 interview with former minister Gita Wirjawan. "Only tech could scale that forward."
Those were the seeds of Gojek, a company that started out as a humble call center for ojek. But Makarim would make a couple more detours before the company would become Indonesia's first decacorn.
Makarim left McKinsey and studied at Harvard Business School for two years. Upon graduation, he joined Zalora in 2011. Gojek was up and running, with 450 drivers on its roster at that time. After Makarim decided that he had accumulated enough knowledge and experience to run his own startup, he resigned from Zalora in 2012, and poured his all into Gojek. Indonesia's urban dwellers already understood ride-hailing apps, thanks to Uber and Grab (which was called GrabTaxi at that time). Gojek's variation that focused on motorbikes was well-received as it was more practical for most people to move across Jakarta on two wheels instead of four.
Makarim roped in his colleague at Zalora, Kevin Aluwi, to manage the company alongside him. Andre Soelistyo, who was formerly part of Gojek investor Northstar Group, also joined the company full time as president. With USD 2 million in seed funding from Openspace Ventures and the Capikris Foundation, Gojek's app went online in January 2015. It was an overnight sensation.
Now, Gojek is an unwavering influence in Southeast Asia. It is one of the companies that shaped how people commute, then how people utilize their phones for a series of functions—payments, food orders, grocery purchases, and more—simply by making more than 20 types of services in one app. A merger with e-commerce company Tokopedia is in the works for the largest M&A in the history of Indonesia's tech sector, and it will likely go public later this year.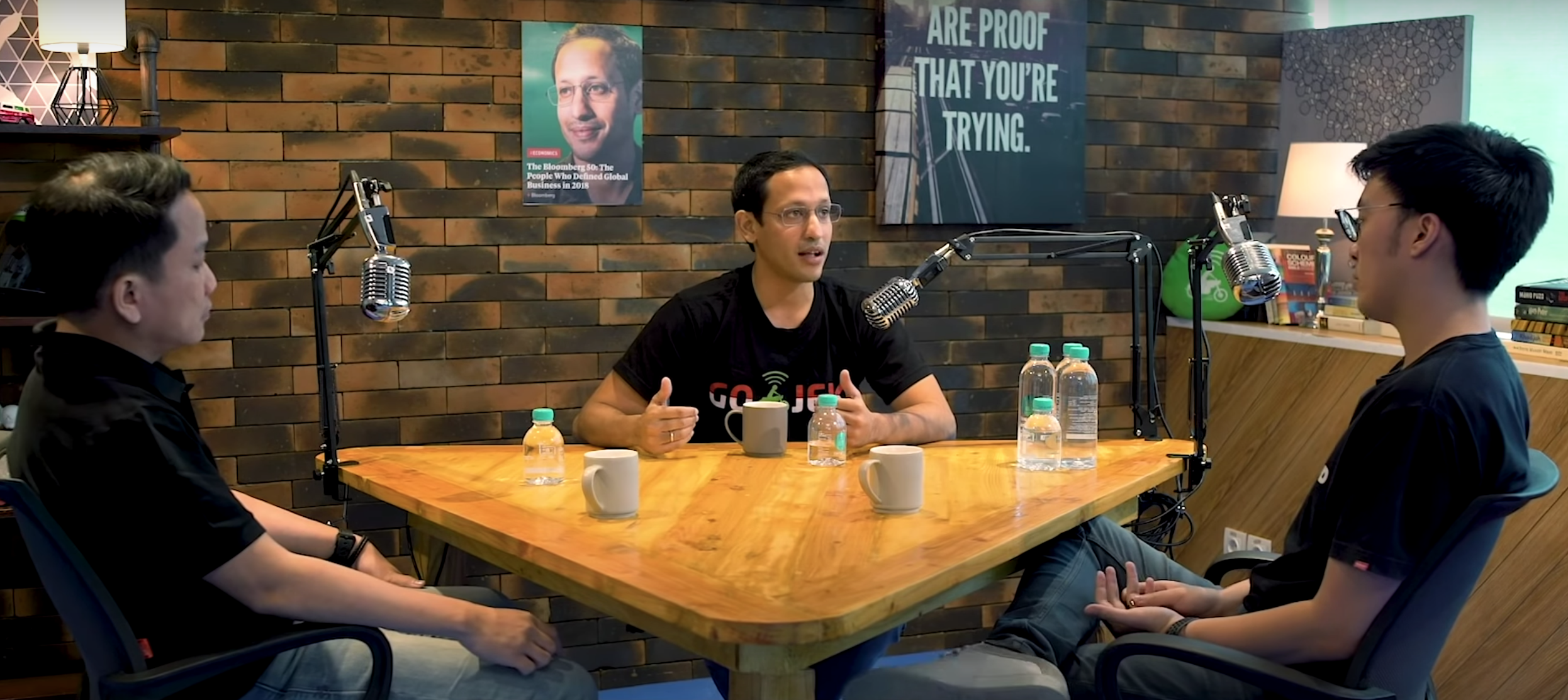 Not just a ride provider
Uber's trajectory offered Gojek's founding members a glimpse into the future. They knew that their ride service would be popular, but there was a downside: the business model involved torching bonfires of capital for discounts and subsidies to build a sizable user base. In 2019, Uber and Lyft had flaccid IPOs, with valuations below their expected ranges. If Gojek wanted to break the cycle, the company would need multiple legs to stand on.
Makarim understood the matter and laid the foundations for Gojek's diversification early on. When it first launched, Gojek offered four services—the ride-hailing feature GoRide, which was the company's backbone; the delivery service GoSend; grocery service GoMart; and food delivery service GoFood. This made Gojek an entirely different beast, because GrabTaxi and Uber were primarily focusing on transportation at the time. Then, in 2016, Gojek launched its e-payment arm, GoPay. At the time, Makarim said it was because many users complained that drivers often didn't have enough change. His friend from Harvard, Aldi Haryopratomo, was the head of GoPay until January 2021.
That year, Gojek became Indonesia's first unicorn, a company valued at more than USD 1 billion.
For some, having a hand in multiple games might be a risky proposition, but the gambit paid off for Gojek. It became a leading player in those sectors, even beating food delivery rival FoodPanda. Ride-hailing was no longer the firm's main revenue generator. Instead, fees from meal deliveries and payments were the moneymakers. In 2018, Gojek raked in USD 9 billion in gross transaction value (GTV) from all markets, according to a press release published in February 2019. GoPay fed USD 6.3 billion into that amount, while GoFood channeled USD 2 billion. In 2020, Gojek's GTV reached USD 12 billion, reinforced by tripled transaction volume for GoPay and the company's pay-later service.
Developments like these made foreign investors take notice. Google, Tencent, and JD.com cut checks for Gojek's Series E round in 2018, fueling its expansion to Vietnam, Singapore, and Thailand.
Gojek has one significant advantage in Indonesia—its team is in tune with the needs and wants of people in the country. A growing middle class population wants to multiply its wealth as much as spend money in new ways, on new things. Many are investing in stocks, mutual funds, and even gold. Tech companies that move quickly can provide the means for many people to explore these investment avenues, and Gojek wasn't about to miss the train.
In 2019, GoPay added mutual fund investment options through a partnership with Bibit. And in May that year, Gojek launched the sharia-compliant gold investment service GoInvestasi with investment app Pluang.
As Gojek made headway into many milieux, the company lost Makarim, who was appointed as minister of education and culture in President Joko Widodo's cabinet. Aluwi and Soelistyo stepped up as co-CEOs.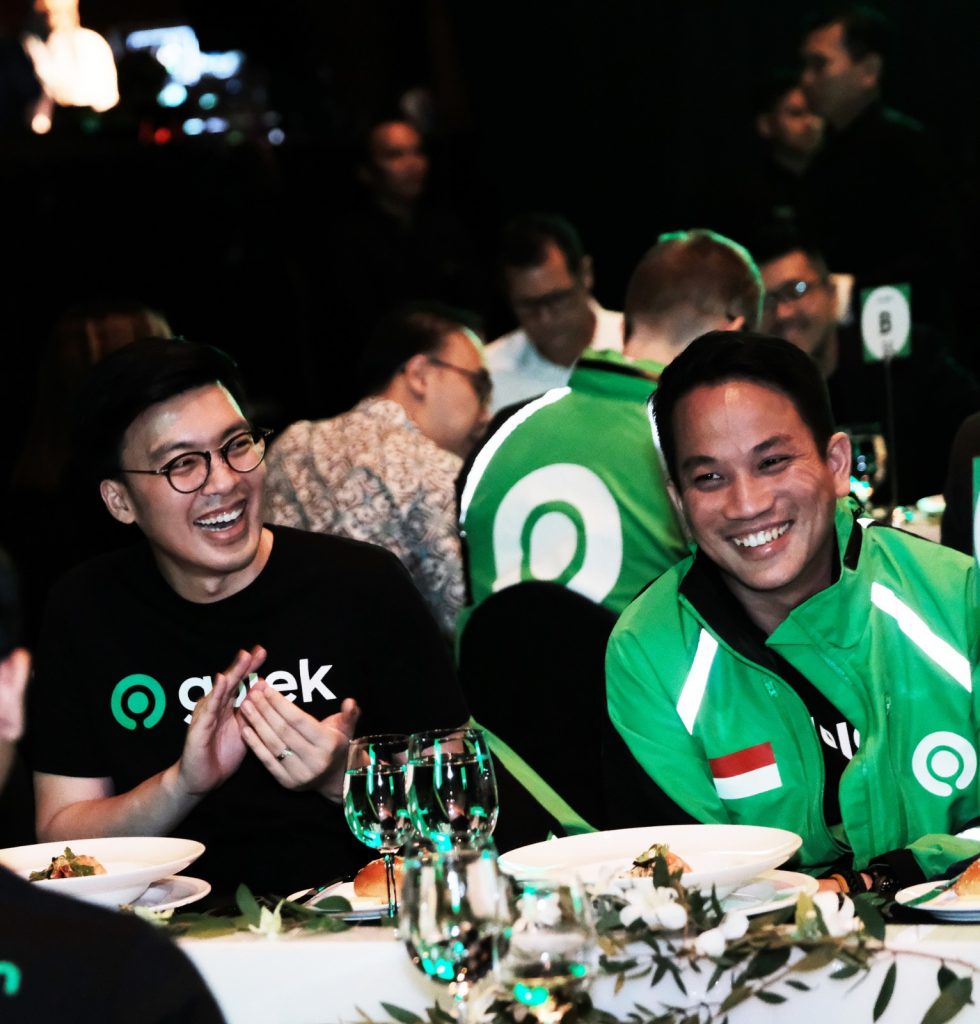 New priorities
Pushing even further, Gojek invested in insurtech company PasarPolis, leading to a tie-up between the two, enabling GoPay users to purchase travel, health, vehicle, and property insurance offered by PasarPolis. In April 2020, Gojek acquired point-of-sale system provider Moka to expand its B2B network. Moka is used by more than 35,000 restaurants, retail outlets, and coffee shops in more than 100 Indonesian cities.
Gojek's branching out was in line with changes in the market. Many Indonesians are now perfectly comfortable with using their phones for payments, food and grocery orders, making investments and taking out insurance policies, according to the e-Conomy SEA report 2020 published by Google, Temasek, and Bain & Company. They can do all of this in one place—Gojek's app.
For merchants, GoPay and the acquisition of Moka made the learning curve of deploying digital payments gentler. Integrating the POS system and the e-wallet made the physical act of performing transactions much easier.
As Gojek's scale ballooned, the pandemic would hit it on multiple fronts. Rides essentially evaporated during semi-lockdowns. Its lifestyle vertical where users could book services like house cleaning and massages, GoLife, was slashed entirely, and the company cut 9% of its total workforce. Aluwi said that transportation, food delivery, and payments would be the company's main focuses from that point forward. The new direction triggered a management reshuffle.
Facebook and PayPal invested in Gojek in June 2020, utilizing Gojek's broad footprint in Indonesia to drum up new business with the country's MSMEs. This resulted in the launch of GoToko in September 2020, which connects underserved warung, or neighborhood shops, with consumer goods companies. The sector is packed with other players like Kudo, Mitra Bukalapak, and Gojek's rumored merger partner Tokopedia with its Mitra Tokopedia program.
To truly solidify Gojek's presence as an established financial broker, the company invested in digital bank Bank Jago in December 2020. The idea is to eventually extend banking services to its customer base, some members of which are not clients of conventional financial institutions.

A drive into the countryside
Gojek's core clientele was once the commuters of Indonesia's major cities. But now, its business is powered by small merchants, typically either the owners of shops that sell groceries and daily necessities through GoToko and GoMart, or F&B operators who use GoFood. Indonesia is home to almost 60 million small businesses, and Gojek's enmeshing with their daily workings has been a lucrative move.
And for the many drivers who established Gojek's reputation? In some cases, the pandemic wrecked their livelihoods, and the company's relief efforts seemed inconsistent. Others worked for multiple platforms to stay afloat. But many are still on their bikes and wear green helmets that are branded with Gojek's logo, working as shoppers and couriers.
The company's early diversification gave it the means to fend off incursions from a rival with a much larger war chest. Gojek had a head start in building a user base and acquiring merchant-partners in Indonesia. GoFood had been around since 2015, while GrabFood entered the picture three years later. (GrabFood eventually pulled ahead in 2019.) Furthermore, Gojek has services that Grab doesn't offer, like its streaming vertical, GoPlay.
Gojek's GoPay also became the second most used e-payment channel in Q1 2021, with a slight lead over Grab-backed Ovo, according to a survey conducted by market research firm Snapcart. However, on some fronts, Gojek's speedy ventures still fell short of Grab's operations, like for food delivery and rides in 2020.
The next step in Gojek's playbook is to elevate the small businesses that use its platform. Gojek holds educational activities for its GoFood partner community, which saw over 67,000 new entrants in the past year. A series of learning modules and virtual talks deliver pointers on how to cultivate a small business. But Gojek must face Grab here too. Its rival from Singapore has committed to build upon this user base as well.
Gojek has its eyes on areas outside of Indonesia's metropolises. In March 2021, the company invested in e-wallet LinkAja, which has a stronghold in Indonesian smaller cities and towns. This could help strengthen Gojek's presence in those areas, on the phones of individual users as well as the transaction terminals of local businesses.
This focus on MSMEs puts Gojek's merger with Tokopedia into perspective, as the latter is also seeking to bolster its reach outside of Indonesia's major cities. A union between the two could give Gojek a natural entrance into e-commerce, while Tokopedia could strengthen its logistics capabilities. This whole would be greater than the sum of its parts, and perhaps draw in even more attention from foreign investors as the companies seek their ticker symbols in 2021.