Malaysia is witnessing an influx of foreign investment projects, raising the prospect of an economic resurgence for the nation. This article delves into the opportunities and challenges that lie ahead for Malaysia, set against the backdrop of recent foreign investments and evolving economic policies.
Spike in foreign investments and regional projects
Tesla is establishing its regional headquarters and service center in Selangor, and plans to start an electric vehicle battery manufacturing project in Malaysia.
Intel, with a USD 7 billion expansion plan, is building a factory in Penang which will be its first advanced 3D chip packaging factory established overseas. Intel has also established a chip assembly and testing factory in another region of Malaysia. These developments could make Malaysia the largest 3D chip packaging production base of Intel.
Infineon Technologies is investing EUR 5 billion (USD 5.46 billion) to expand its manufacturing plant in Kedah. This move positions the plant as the world's largest 200-millimeter silicon carbide power facility. Silicon carbide is extensively used in industrial applications such as solar energy, energy storage, and high-power EVe charging systems, transforming Malaysia into a crucial player in the sustainable energy sector.
In the automotive industry, Chinese automaker Geely has announced plans to invest USD 10 billion in expanding its operations in Tanjung Malim, Perak, Malaysia. Geely also owns 49.9% of Proton, a Malaysian automaker.
Hong Kong's MTR Corporation is set to develop a 2.4-hectare economic hub in Southern Johor, in collaboration with Malaysia's Mass Rapid Transit. The proximity of this hub to the Johor Bahru-Singapore Rapid Transit System (RTS) Link, with a total investment of MYR 3.24 billion (USD 660 million), is poised to improve connectivity in the region.
Singapore and the state of Johor are also discussing the establishment of a Johor-Singapore Special Economic Zone, pending agreement on the scope of authority which will be negotiated during the Singapore-Malaysia Leaders' Retreat scheduled for October 2023. This plan has led observers to draw comparisons between Johor and the city of Shenzhen in China.
In addition, the 665-kilometer East Coast Rail Link (ECRL) project, valued at MYR 74.96 billion (USD 15.68 billion), is currently under construction. This is China's first railway project in Malaysia and will be owned by the Malaysia Rail Link (MRL), a subsidiary of Malaysia's Ministry of Finance. The operation and maintenance responsibilities will be shared equally between MRL and China Communications Construction Company.
Malaysia's economic policies
Shortly after Anwar Ibraham, the current Prime Minister of Malaysia, won the election in November 2022, he introduced the "Ekonomi Madani" initiative with the aim of restructuring Malaysia's economy, restoring the country's leading economic position in Asia, and improving the quality of life of Malaysians.
This framework is expected to serve as the foundation for several specific policies to be announced in the coming months. The Ministry of Trade and Industry (MTI) unveiled the New Industrial Master Plan 2030 (NIMP 2030) on September 1, outlining a seven-year plan to enhance economic complexity, drive digitalization, reduce emissions, and improve economic security and inclusivity.
Another integral component of the initiative is the National Energy Transition Roadmap (NETR). The NETR is designed to transform Malaysia's energy sector into a new driver of economic growth while achieving the country's goal of achieving carbon neutrality by 2050. It also aims to establish Malaysia as a regional hub for carbon capture, utilization, storage (CCUS) and renewable energy.
Malaysia has a GDP of MYR 1.73 trillion (USD 361.92 billion) in 2022 and a population of 32.7 million that is expected to reach 40 million by 2050. In the 1980s, the country shifted from an agrarian and commodity-based economy to prioritize manufacturing and services. The urbanization rate in 2020 was 75%, on track to reach 85% by 2040. Malaysia's economic and population growth, along with its rapid urbanization rate, are expected to increase domestic energy demand, with energy usage expected to grow at an annual rate of 2% until 2050.
The energy sector is the Malaysian economy's main driver of growth, contributing approximately 28% of the country's GDP and employing 25% of the country's total workforce. Petroleum-related products account for 31% of its fiscal revenue and energy exports make up 13% of its total exports. Malaysia remains reliant on fossil fuels for its energy supply, with natural gas constituting the largest component at 41% in 2018, followed by crude oil and petroleum products at 29%, coal at 22%, and renewable energy, including hydroelectric power, solar, and biomass, accounting for only 7%.
The Twelfth Malaysia Plan outlines the country's ambition to decarbonize by 2050, with its energy industry, which accounted for 78.5% of the nation's total emissions in 2019, likely to be most impacted. Malaysia sees its green energy transition as an opportunity to restructure and spur the growth of its economy. By investing in initiatives that accelerate its energy transition, Malaysia is aiming to create new business and employment opportunities, drive innovation, and enhance its competitiveness on the international stage.
On July 27, Malaysia's Ministry of Economy announced ten flagship initiatives as part of the first phase of its energy transition, and the total committed investment of MYR 25 billion (USD 5.23 billion) in this phase is estimated to create 23,000 jobs.
NIMP 2030, Malaysia's fourth industrial master plan, maps out the country's industrial transformation from 2023 to 2030. In contrast to past master plans, NIMP 2030 is more specific and places a stronger emphasis on implementation. One significant change is the shift of focus away from the service sector back toward manufacturing, in a bid to arrest the country's manufacturing decline, as reflected in its GDP.
The industrial master plan encompasses four missions: advancing economic complexity, fostering technological advancement for a digitally vibrant Malaysia, addressing climate change and striving for net zero emissions, and ensuring economic security and inclusivity. These missions are designed to achieve several key goals: fostering economic complexity in production, cultivating a high-income and skilled workforce, bolstering domestic linkages, supporting existing clusters, and encouraging the emergence of new clusters, while simultaneously promoting balanced industrial growth and sustainable development.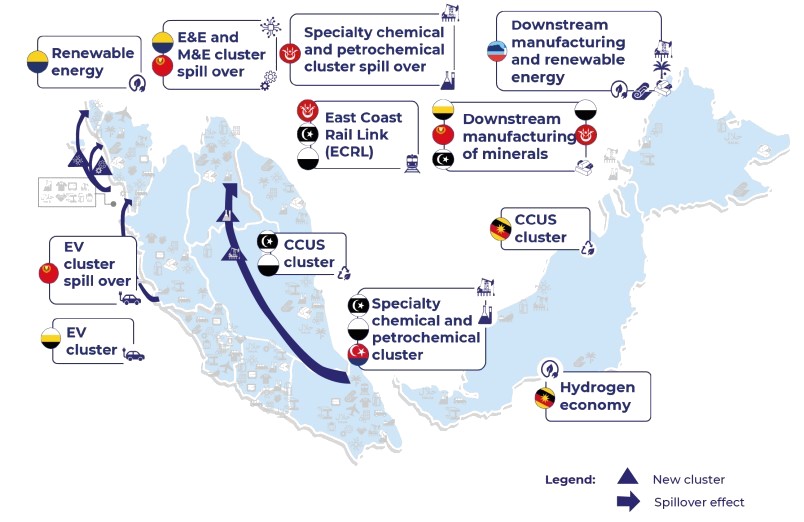 NIMP2030 also outlines specific strategies and action plans, with each action plan assigned to specific departments to define responsibilities and authorities. For example, one of the action plans is to attract leading global companies to establish a wafer manufacturing cluster in Malaysia's semiconductor value chain.
Overall, the seven-year NIMP2030 plan will require an investment of MYR 95 billion (USD 19.8 billion).
Opportunities and challenges
Within the broader global context, the "US+1" and "China+1" trends in the global value chain have provided Malaysia with more streamlined economic policies. As a result, Malaysia has secured a significant position in the emerging Southeast Asian supply chain network.
For example, the Regional Comprehensive Economic Partnership (RCEP) agreement has allowed Tesla to sell China-produced electric vehicles to the Malaysian market without tariffs.
In addition, the Comprehensive and Progressive Agreement for Trans-Pacific Partnership (CPTPP) took effect in Malaysia in November 2022, expanding its trade access with countries it previously had no free trade agreements with, such as Canada, Mexico, and Peru. This agreement is expected to benefit Malaysian companies by integrating them into the global value chain.
Furthermore, there have been signs of the current Malaysian government providing special incentives to foreign investors. For example, in Malaysia, foreign companies are generally required to meet a minimum 30% Bumiputera (indigenous) equity ownership requirement. However, Tesla's investment was not subjected to this requirement.
Malaysia has a strong economic foundation, possessing abundant natural resources such as land, palm oil, and oil and natural gas reserves. These resources offer significant advantages in the developments of its new energy industry. The country's energy industry is heavily controlled by the government through state-owned company Petroliam Nasional Berhad, which is also known as Petronas. In terms of manufacturing, data from Statista indicates that Malaysia is already the seventh-largest semiconductor exporting country in the world, with a 7% market share.
However, Malaysia still needs long-term improvement in several areas. For example, labor productivity in Malaysia is relatively low and declining compared to other ASEAN countries:
Government spending has increased significantly to finance social welfare programs such as fuel and inflation subsidies, leading to federal government debt levels reaching around 60% of GDP: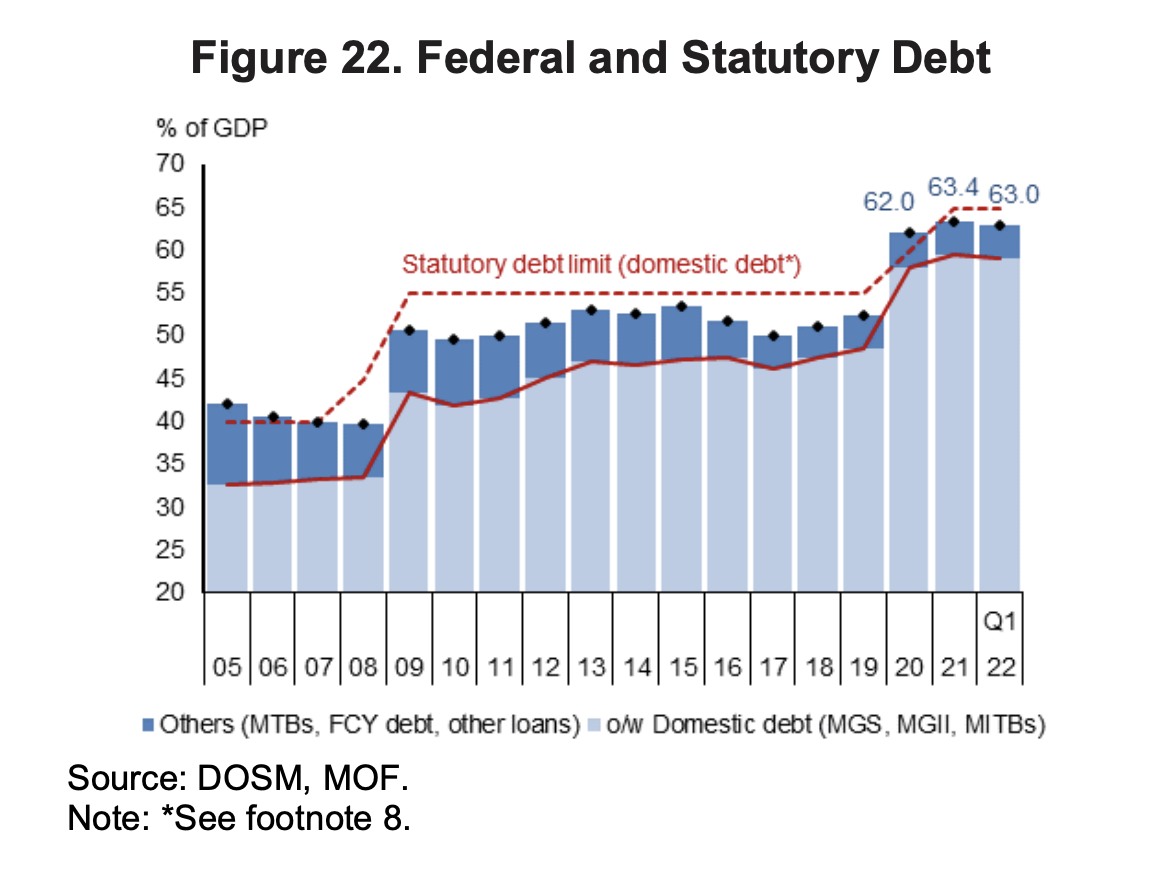 More importantly, the rise in interest rates has resulted in debt servicing costs exceeding the 15% limit on revenue: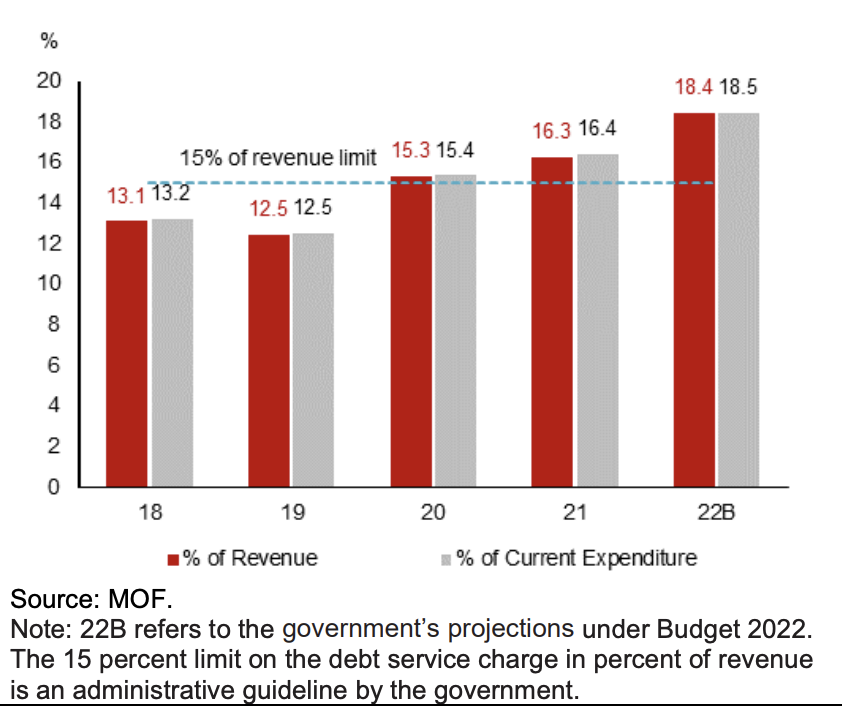 All these issues, combined with longstanding criticisms of government inefficiency and policy instability, could affect investor confidence if left unaddressed over the long term. The silver lining is that Malaysia has specific (and sensible) measures in place to address these issues. Its problem now lies mainly in execution.
This article was adapted based on a feature originally written by Xie Na and published on GBA Review (WeChat ID: GBA_Review). KrASIA is authorized to translate, adapt, and publish its contents.