Mabel Chacko has finance and technology in her blood. Born to banker parents, she grew up in cities that had dismal banking facilities. As a young girl, she dreamed of building something to enable the financial inclusion of those who are neglected by the conventional banking system.
Fast forward to 2019. Chacko has built five fintech companies in 13 years, including a payment startup that she ran when she was in college.
Now, Chacko is focused on her duties as co-founder of Open, a neobank that focuses on serving small and medium enterprises (SMEs). Neobanks are essentially fintech players that partner with conventional banking institutions to build a user-friendly platform over an existing online interface. Chacko is using that model to bring banking and bookkeeping services to small businesses that are often in the blind spot of major financial institutions. She was inspired to adopt and implement this form of finance when she had two realizations in 2016.
Back then, she was working at payments solution provider Citrus Pay, which had acquired her own payment gateway startup, Zwitch, a year earlier. In that role, she was interacting with many companies that struggled with maintaining their books.
"Whenever I used to settle payments in my previous companies, I had to do a lot of it manually. And I always thought that was a problem on my end," Chacko told KrASIA in an interview. "After I spoke with other startups in Citrus, I realized everyone was facing this challenge."
The following year, when she moved to Naspers-backed PayU after it acquired Citrus Pay, it occurred to her that banking was broken for SMEs. "While bigger companies got custom-fit solutions for their business needs from banks, smaller businesses remained on the retail banking side and had to pay heavy fees to access any of those services," Chacko said. "The smaller guys who wanted to do things like bulk sales to their vendors and process salaries—they would spend at least three to four hours a day to track and reconcile payments."
To dismantle these obstacles and bring SMEs into the fold, Chacko knew that new functionality was needed on the banking layers provided by financial institutions. She teamed up with Anish Achuthan, with whom she had co-founded her last three fintech startups—Zwitch, Neartivity, and Cashnxt—to find a solution. "As we explored what to do next, we came across neobanks in the European market that were solving the same problem," she said.
Chacko decided to emulate their example. She founded Open with Achuthan, Ajeesh Achuthan, and Deena Jacob in July 2017. Its early backers included Beenext, Recruit Strategic Partners, and Unicorn India Ventures.
It has taken Open just two and a half years to create a client base of 250,000 SMEs in the country. It now processes USD 7 billion in transactions annually.
It's little surprise then that Chacko was named Woman Leader in Fintech at this year's India Fitench Awards organized by the National Payments Corporation of India, an umbrella organization of retail payment operating systems formed by state-backed banks.
Transforming the banking experience for SMEs
In 2017, Open became the first Asian startup to offer neobanking services to SMEs and startups, helping them automate their business payments, banking, and accounting functions. It created a unified interface that integrated features like a payment gateway, automated accounting, reconciliation tools, and debit and credit cards for expense management.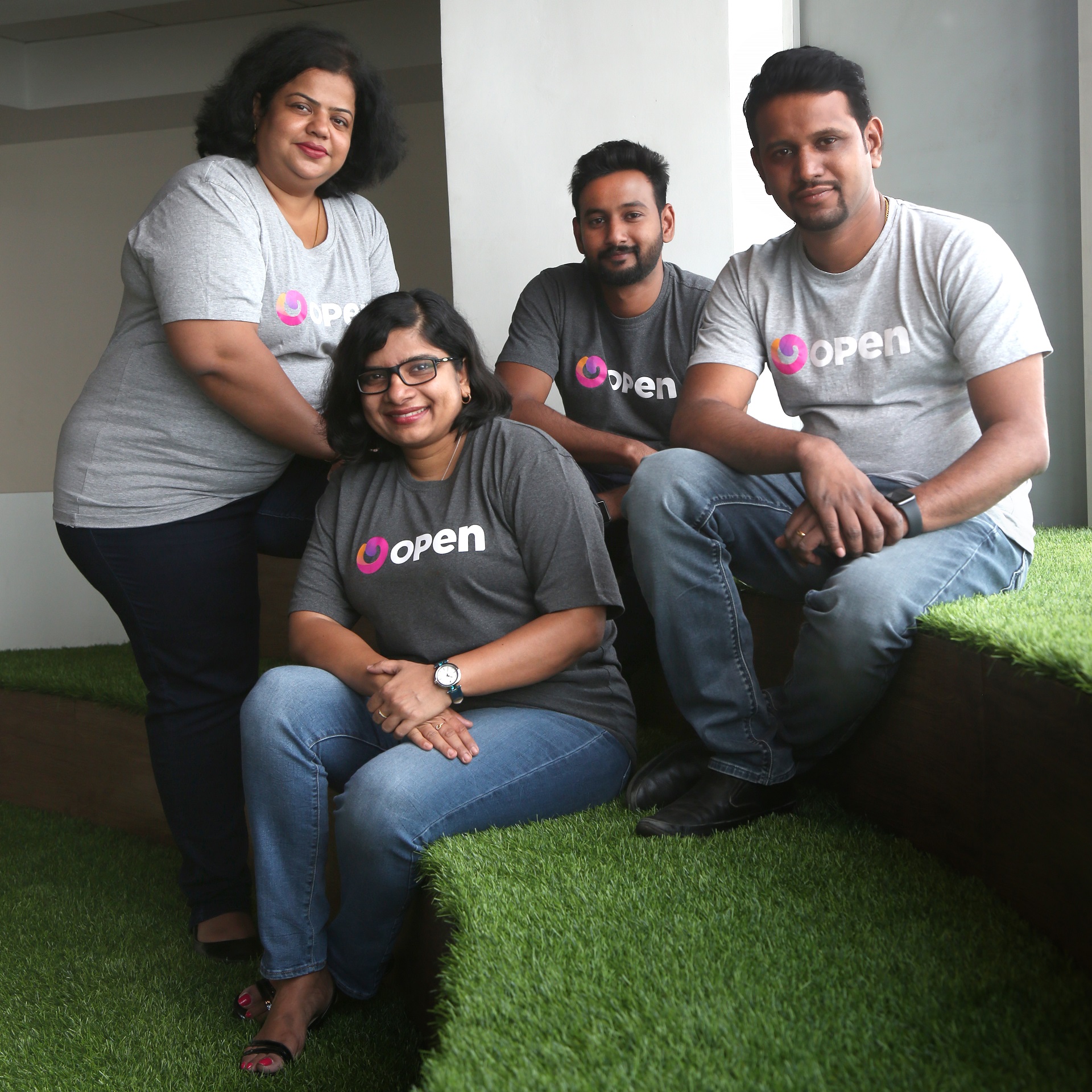 "Typically, small players struggle through three to four interfaces to manage their day-to-day activities," Chacko said. "So they face a lot of problems when it comes to [handling] payables, receivables, cash flow, and forecasting."
To solve that, "Open has integrated a lot of tools for receivables and payables on the current accounts of companies, which automated almost 80% of the accounting processes," she said.
However, establishing a neobank in India was no easy feat, because she was the first to attempt doing so. "For a year and a half, we were struggling to find the right banking partners. There were four things that were required: interest from a bank, its management's approval, technology readiness, and meeting compliance," Chacko said. It was only in October last year that she was able to properly launch the platform.
Since then, Open has grown its team size to 145 people spread across Delhi, Mumbai, and Kolkata. Currently, Chacko claims, the company is adding 35,000 SMEs and startups per month to its roster of clients. So far, the Bengaluru-based company has been offering services under a freemium model, and it plans to continue doing that in the foreseeable future. "Eighty percent of our services will continue to be free," she said. "And then there will be certain products that will be available for a subscription fee."
Open's rapid growth has caught investors' attention. In June, it raised USD 30 million in Series B funding led by Tiger Global and Tanglin Venture Partners Advisors, along with existing investors 3one4 Capital and Speedinvest. The company plans to use the funds to bulk up its engineering team.
Apart from Open, there are a handful of neobanking startups such as NiYo, Juno, and Yelo that are primarily targeting private consumers. The neobanking segment in India is just getting started.
"It's really going to get a boost in the near future. We see enough space for at least five or six neobanks to coexist because there's a large market opportunity in India," she said. "There are close to 50 million SMEs that need to be catered to, and it would be really difficult for one single player to capture the entire market."
This article is part of "Women in Tech," a series by KrASIA that highlights the achievements of women who are a driving force behind South and Southeast Asia's tech startups.