The world's most-watched sports league cancelled one of its most lucrative broadcasting agreements globally on Thursday as the coronavirus pandemic continues to heap losses on the sports industry around the world. The English Premier League terminated its rights agreement with Chinese digital broadcaster PPTV, with whom it had a rights deal until 2022, after negotiations about compensation for matches cancelled due to COVID-19 failed.
While broadcasters remain on the hook despite cancelled matches, the league has given roughly USD 438 million worth of rebates to some of its partners to compensate for a three-month pause in football during the lockdown. However, no similar agreement has been reached with PPTV. The broadcaster, owned by mega-conglomerate Suning, did not release payments worth GBP 160 million (USD 212.4 million) due for March, according to the Daily Mail.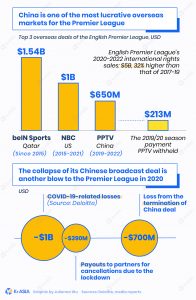 The move enlarges the league's estimated GBP 850 million (USD 1.1 billion) of coronavirus-related losses for the 2019/20 season. While it plans to bring players back onto the pitch behind closed doors in September—via something akin to the "NBA Bubble"—talks about re-opening stadiums are still ongoing.