Arini Rasyid has been teaching geography for around 26 years at a public high school in South Jakarta. She loves being a teacher, but never thought before that one day she would have to conduct classes from her living room through a laptop, after the government ordered quarantine measures in April to limit the coronavirus transmission.
Four months after the first measures were put in place, COVID-19 still showed no signs of abating in Indonesia. The education ministry extended its study from home policy, forcing teachers and students to keep hunkering down.
"I'm not very tech-savvy. I use my smartphone mostly for texting or occasionally checking social media apps, and I use the laptop only to write learning materials," 53-year-old Rasyid told KrASIA.
She felt overwhelmed at the beginning, as she had to take attendance online and attend virtual sessions using several different applications. "Luckily, my daughter was working from home as well, so she helped me set up all the apps on my laptop every morning. However, trouble came when she returned to the office a few weeks ago. I was so confused, I missed most of the morning session trying to figure out how to enter those online programs," she explained.
Rasyid isn't the only one experiencing this problem. Many of her peers also had difficulties with adapting to online instruction, she said. Rasyid also misses the face-to-face interactions with students in the classroom, and hopes the COVID-19 pandemic will end quickly so classes can resume at school.
In early July, the minister of education and culture, Nadiem Makarim, discussed the possibility of permanently applying distance learning. "After the COVID-19 pandemic, there will be a number of structural changes that will impact our education system. Distance learning will become permanent," said Makarim in a meeting with the people's representative council, as quoted by local media outlet Detik.
Former Gojek CEO Makarim explained that permanent distance learning will be based on a hybrid model combining online learning and face-to-face sessions.
He argued that distance learning adjustments during the pandemic opens up opportunities for tech efficiency in education in the long run. In Indonesia's history, there has never been a large-scale tech experiment by teachers, school principals, parents, and students like now, said Makarim.
Makarim's opinion is in line with the World Education Congress' goal to foment a new education system that provides exposure to new education tools, technologies, and solutions in order to encourage a better learning environment and experiences. Yet, the question is this: Is Indonesia ready for these changes?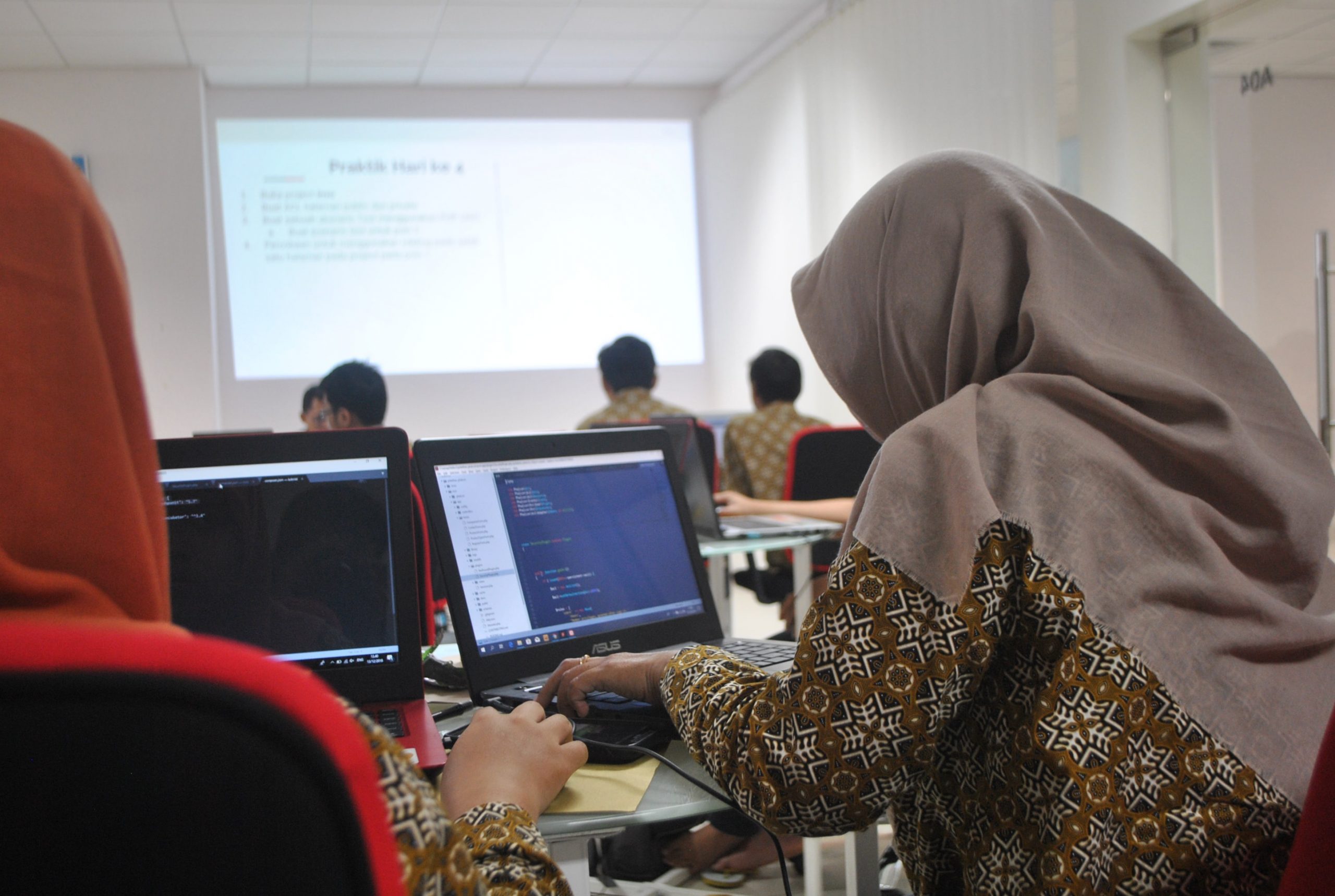 The challenge: Uneven internet access and digital illiteracy
Due to the high number of confirmed COVID-19 cases in Indonesia, online learning seems to be the most appropriate solution to protect students and their families from the coronavirus.
Nonetheless, many struggle with this new method of learning as it poses an unprecedented burden to parents and teachers. The quality of learning depends on teachers' digital literacy and on parents' availability to guide their kids through lessons.
Limited ownership of devices like laptops and smartphones, paired with insufficient internet access, results in unequal access to online learning, especially in rural areas and among low-income groups.
According to a recent survey by a non-profit organization named Innovation of Indonesia's s School Children (Inovasi), 95% of parents said their children's schools have implemented distance learning programs, but only 28% of those parents commented that their kids are learning using online media platforms, while the rest still use books and worksheets. The survey involved 300 parents of elementary school students in 18 districts and cities in the provinces of East Nusa Tenggara, West Nusa Tenggara, North Kalimantan, and East Java.
There are hurdles to effective adoption of online learning, but the method remains an obvious choice in a pandemic, according to Gerald Ariff, co-founder and chief operating officer of edtech startup HarukaEdu. "The coronavirus is still spreading fast in Indonesia. Even without the pandemic, I think distance learning is an effective method for an archipelagic country like Indonesia, as it can reach students in rural islands," he told KrASIA.
Ariff added that the government must prepare all the infrastructure needed, such as steady electricity and affordable mobile broadband internet. It also should establish a universal service obligation for telco operators to support online learning. In addition, citizens need access to affordable gadgets like smartphones and laptops, which could be facilitated by reducing import costs for gadgets from China, Ariff said. More importantly, educators should be prepared to adapt quickly to new technologies through free training, he suggested.
Amanda Witdarmono, chief of teacher initiatives at edtech firm Zenius, shares a similar sentiment. She believes that empowering teachers requires support from the private sector and various communities. "We're aware that improving digital literacy is crucial in times like this. We get in touch and talk to teachers from various schools regularly, and we are grateful to see their enthusiasm to learn to adapt to technology," she said.

Edtech startups are stepping up, but is it enough?
Since the beginning of the pandemic, several edtech startups have been showed support for study at home policies.
According to Witdarmono, Zenius has made some of its content free since December 2019. The startup also helps teachers, especially those who live in small towns and villages, to develop skills to use new technological tools through a program called "Zenius Untuk Guru."
The startup has formed teacher community forums on Facebook and Telegram as spaces for them to share their experiences and consult each other if they encounter technical problems.
"We regularly interact with teachers from various regions and provide training in the form of webinars and YouTube livestreaming. We listen to their stories—the ups and downs of distance teaching and what they need to improve their online classes. We also invite external speakers to transfer their knowledge to the teachers," said Witdarmono.
HarukaEdu also provides free online classes and supports universities in organizing online lectures by providing learning management system services tailored to each university. It also offers IT support and a help desk to facilitate online lectures for students of higher education.
Moreover, the startup has a scholarship program in collaboration with several university partners. "Many parents have lost their income and jobs due to the pandemic. Therefore, we offer a scholarship program of up to 50% of student tuition for the next two years. The program is currently limited to 200 students, but we hope to continue to increase this number," HarukaEdu's Ariff told KrASIA.
Even if edtech startups are doing their part, the challenges of online learning in Indonesia are not so easy to overcome.
"The education sector has many complex problems. Although many startups are now offering free services, I think the government could do more by partnering with big tech companies or international nonprofit organizations to provide gadgets for students and underserved communities that don't have access to the equipment needed for distance learning," said Bhima Yudhistira, an analyst from the Institute for Development of Economics and Finance (INDEF).

A tough year for Nadiem Makarim
Since Nadiem Makarim was appointed as education and culture minister in October 2019, many expected big breakthroughs from the man who successfully built Indonesia's first unicorn, Gojek, which transformed the country's transportation and tech landscape. However, it has been a bumpy ride for Makarim so far, especially with the unprecedented COVID-19 crisis.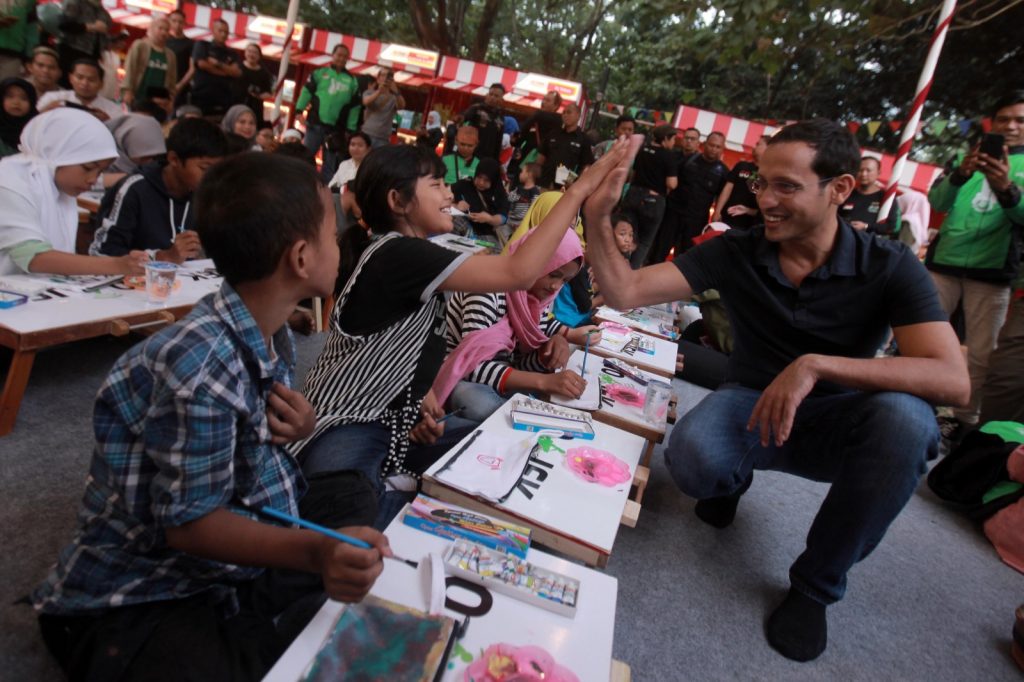 Since the beginning of his term, Makarim has issued a number of policies that sparked controversy, such as eliminating the national exam and launching a new program called Program Organisasi Penggerak, or "Community Mobilization Program." The idea is to encourage local communities and organizations to help improve the quality of teachers by offering localized training. The ministry reportedly earmarked more than IDR 500 billion to fund this program. Although it was set up with good intention, the program has been criticized due to its opaque selection process of the organizations that can be involved.
Makarim is responsive when facing criticism and complaints from the public. After drawing criticism, he promised to re-evaluate the integrity and transparency of the program selection system within the next few weeks.
The education minister also recently issued new initiatives, like diverting operational assistance funds for schools to purchase free internet quotas, after realizing that his promotion of distance learning has sparked debate across the country. He also introduced what he called the "COVID-19 curriculum" in response to difficulties in distance learning.
In an interview with television personality Najwa Shihab on August 6, Makarim said the national education curriculum would be simplified dramatically to make it easier for teachers to implement online.
"Nadiem has fresh and bold ideas, but they somehow feel too raw as they don't match the facts on the ground," said INDEF's Yudhistira. "For example, his free internet program is not enough because it is only intended for public schools' students. Free internet access should be given to all schools, at least until next year. I believe Nadiem has the ability to put more pressure on the government and private companies for this," he added.
Yudhistira argued that complicated bureaucracy has been a major problem for Nadiem. "The culture of startups and government is as different as night and day. It seems that Nadiem has not yet mastered the art of  bureaucracy, so his performance has not been optimal."
Zenius' Amanda Witdarmono has a different view. She feels that the new curriculum is an empathetic move from the government. The ministry adjusted priorities based on urgency during the pandemic, she said. "The most important thing now is to maintain the well-being of students and teachers through an efficient distance learning method."
The COVID-19 pandemic is a defining moment for government officials. As a newcomer, Makarim has to prove his ability by navigating the crisis.
In the business world, a startup often needs to pivot and shift its strategies drastically in order to stay afloat. It looks like Makarim is adopting a similar strategy as a minister, as he often brings new policies focused on efficiency and rapid progress, even if they raise questions and doubt from others.