Earlier this year, when India was in the thick of its battle against the COVID-19 pandemic with scattered lockdowns and hastened vaccinations, Shabana Azmi, a veteran Bollywood actress in her early seventies, resorted to the internet to buy alcohol that ended with her being scammed.
Azmi looked up Living Liquidz online, a popular liquor delivery app based out of Mumbai, clicked on a link, and paid upfront for her drinks, which never arrived, according to her tweet.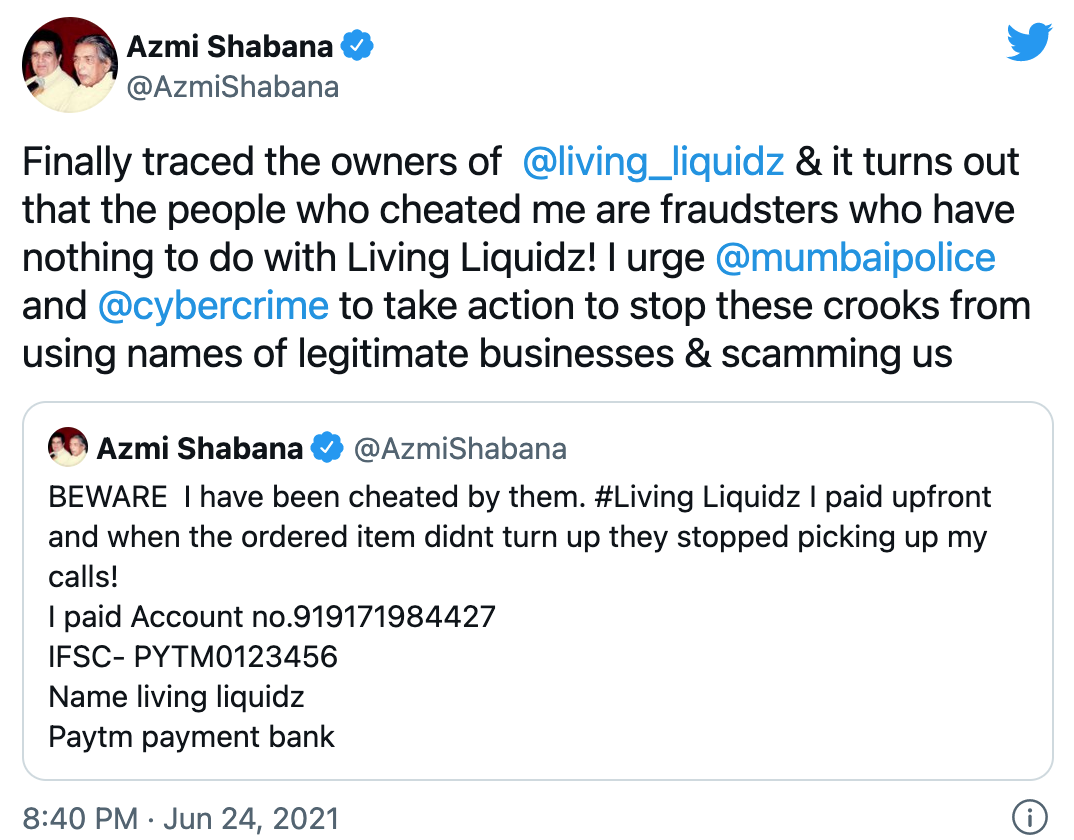 The Bollywood actress wasn't alone in being swindled online from trying to buy a few drinks during India's national lockdown. Sanjay Baru, the former media advisor to India's former prime minister, lost INR 24,000 (USD 324) when ordering liquor online in Delhi.
Craving drinks during lockdown
People in India had a tough time finding alcohol during the pandemic as most of their local bars and liquor shops remained closed. The pent-up demand was increasing, but there weren't many legitimate players to meet the demand—selling alcohol through e-commerce and home delivery are not allowed in many states in the first place.
On the other hand, banning alcohol sales also weighed on many states' finances because of the loss of liquor taxes.
Five southern states—Andhra Pradesh, Telangana, Tamil Nadu, Karnataka, and Kerala—account for more than 45% of all liquor sold in India. More than 10% of these states' fiscal revenue comes from taxes on liquor sales. For southern Kerala State, the tax on liquor is its single largest revenue source.
This explains why in mid-May last year when the country was in its third phase of lockdown, four states in the country decided to sanction the home delivery of alcohol. Maharashtra, India's second-most populous state with Mumbai as its capital city, is among them.
Living Liquidz, the liquor delivery app Azmi was searching online, is from Mumbai. Originally founded in 1970, Living Liquidz is one of several liquor distributors allowed to make home deliveries in the city during the pandemic. With a chain of 50 stores across Mumbai, Living Liquidz provides home delivery of drinks through its mobile app, which was launched last year amid the pandemic.
A license to sell
Even before the pandemic, vending and procuring alcohol hasn't been easy in the South Asian nation, which is the world's ninth-largest consumer of all alcohol, according to statistics by London-based IWSR Drinks Markets Analysis. India is also one of the fastest-growing markets for alcoholic beverages globally, with an estimated market size of USD 52.5 billion in 2020. It is expected to grow at a CAGR of 6.8% by 2023.
While online sales and home delivery of alcohol were not allowed in almost all states—though a small cluster of cities didn't impose a complete ban—each of the country's 28 states has stipulated their own set of regulations to govern the production, sale, and taxes of liquor.
That said, a few entrepreneurs have tried to explore the idea of delivery alcoholic beverage online through mobile apps in a few cities even before the COVID pandemic moved several Indian states to allow liquor delivery. HipBar and Tiplur are two of these apps that predate the lockdown.
HipBar was founded in Chennai in 2015 by two entrepreneurs, Prasanna Natarajan and Prashant Adurty. It is India's first drinks app, with operations in six cities, including Kolkata, Howrah, Siliguri, Cuttack, Bhubaneswar, and Rourkela. Natarajan is an alcohol industry veteran with over 14 years of experience in the sector. He also founded Siping Spirits, India's first boutique spirits manufacturing and marketing company, in 2007. Delhi-based Tiplur app was founded two years after HipBar.
While HipBar and Tiplur were enjoying a boost to their businesses as more states are opening to alcohol delivery, India's desire for drinks during the pandemic also grabbed the attention of the likes of global e-commerce giant Amazon and local online marketplace Flipkart, as well as newly-listed delivery giant Zomato, among others, which were all looking to cash in on the demand.
To circumvent the licensing issue, some new entrants chose to work with incumbent players who have received partial clearance to operate in some cities or states. Flipkart roped in Hipbar to deliver liquor from around 100 retailers in the cities of Kolkata, Bhubaneswar, and Cuttack in West Bengal State and Odisha State. Amazon ventured into the market through its investee BigBasket that secured licenses to deliver alcohol in West Bengal. Meanwhile, Swiggy and Zomato, India's food delivery duo, started home alcohol delivery in Jharkhand, Odisha, and West Bengal after getting clearance from local authorities.
On borrowed time?
India's attitudes towards online alcohol delivery used to be one of the biggest deterrents for potential investors, in spite of its lucrative market size. A few foreign investors were carefully tapping the market, expecting that India will eventually open up to the idea of home deliveries of liquor, a wish only partially granted by state authorities last year as the pandemic hampered their fiscal revenues.
London-based global liquor giant Diageo is one of the early investors betting on India opening online alcohol sales, with a USD 36 million investment in HipBar for a 26% stake in 2018. But after three years of careful exploration, the British multinational sold its entire stake at a discounted price back to Natarajan, the founder of HipBar, in July, citing regulatory hurdles and strong pushback from local liquor retailers that are lobbying against their competitors.
In Maharashtra, for instance, a lobby group of liquor retailers, represented by the likes of Living Liquidz, had talked the government into blocking permission for Flipkart, Amazon, Zomato, and Swiggy or other online entities to engage in home delivery of liquor.
Diageo's retreat has led Pernod Richard, the world's second-largest wine and spirits seller, to tread more cautiously in the country. In June, the French company announced a USD 119 million venture fund to invest in startups and restaurants, with no plans to invest in a liquor delivery business directly anytime soon.
A common concern is that with more and more Indians getting vaccinated, once the lockdown is lifted, several states that have approved online sales and home delivery of liquor might have a policy reversion, meaning that liquor apps are living on borrowed time.
Tiplur's Chopra, however, sees a different picture. "They (liquor apps) have to remain sensitive to government and trade concerts," he told KrASIA. "Advocacy is the need of the hour." But it seems that the picture will never be rosy in India for the online delivery of liquor if the nexus between politicians and liquor conglomerates continues since both are happy with the monopoly, for now.