Learning a new language is no easy task. It takes years of practice to become fluent. Besides the amount of time poured into understanding the nuances of a language, the way it is taught is important too. Schools around the world typically offer one-way, inefficient instruction. Take students in Indonesia as an example—most are hardly fluent in English by the time they complete high school, despite it being part of their curriculum for years.
Two Indonesian entrepreneurs, Andre Benito and Hardi Wijaya, recognized that situation and decided to launch a language learning platform, LingoTalk, in August 2020. Their goal is to elevate the language standards in their country.
"In most conventional language teaching, teachers use a one-size-fits-all approach. There is a lack of analysis that helps teachers to understand students' needs and preferences," LingoTalk CEO Andre Benito told KrASIA.
Users who log in to LingoTalk's app for language instruction are issued an assessment test to evaluate their proficiency level. The platform charts out learning plans for users based on their results, providing a degree of customization that is absent in one-to-many instruction. At the moment, LingoTalk's tutoring sessions cover ten languages: English, Mandarin, German, Spanish, French, Japanese, Korean, Arabic, Thai, and Bahasa Indonesia for foreigners.
LingoTalk's users are typically in the age bracket of 15 to 35. Overwhelmingly, they are students who plan to study abroad or employees of multinational corporations who are developing sharper language skills to be used in professional contexts. But LingoTalk is diversifying. In September, it introduced LingoJunior, which offers instruction in English, Mandarin, Korean, and French for children who are three to 15 years old.
"We use artificial intelligence to aggregate different learning materials for each user. On LingoJunior, parents will make an assessment profile for younger students and the platform will recommend the appropriate learning materials," said Benito.
LingoTalk offers one-on-one private sessions for IDR 85,000 (USD 5.94) per one-hour class. Group sessions involve three to five students and cost IDR 45,000 (USD 3.14) per class. The startup has 20 full-time team members who work with more than 300 freelance language tutors located all over Indonesia. "In the beginning, we started with in-house tutors. As demand increased, we reached out to various communities, like [language enthusiast community] Polyglot Indonesia, and collaborated with numerous language learning institutions to recruit more tutors for our platform," said Benito.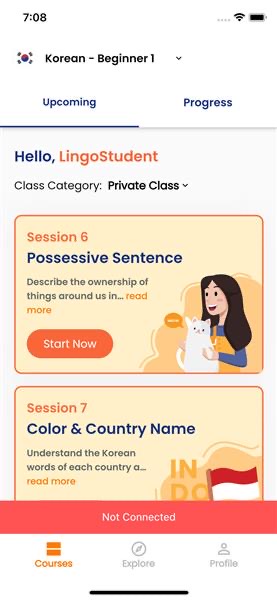 Aside from tailored sessions for students, the startup also offers business-to-business services to work with a number of educational institutions and corporations. "For schools, we support their foreign language extracurricular activities, while for companies, we provide online training for employees," Benito continued. The startup currently has 15,000 registered users and has worked with around 150 B2B partners so far.
LingoTalk was one of the ten finalists at the Alibaba x KrASIA Global Startup Accelerator Malaysia Demo Day that was held on September 10. It was the only edtech startup that participated in the event.
Moving forward, the platform will incorporate gamified elements in the near future to entice students to spend more time in the app. "We'll have several games for each language. Every time they complete a game, users will earn points that can be redeemed for discounts for online classes. In this way, we hope to increase user retention," Benito said.
In August, the startup raised an undisclosed amount of pre-seed funding from Kistech, a private company in Singapore, and it plans to close another funding round in the fourth quarter of 2021. Benito said LingoTalk is aiming to have at least 40,000 registered users by the end of this year. "We believe edtech platform plays an important role in human resource development. We hope to always be relevant in delivering effective learning that focuses on character development, especially since we now offer early childhood education," the co-founder said.