In 2002, a computer tower that belonged to Zhang Yiming, then a Nankai University student, was stolen. He asked his roommate if he wanted to pay for a new tower and connect it to Zhang's monitor for shared use. The roommate agreed, and the two became friends, taking turns using the computer.
Almost 20 years later, in 2021, Zhang is once again asking his former roommate to share a "desktop" with him. This time though, the responsibility goes far beyond a single computer, as Zhang is handing over a company worth as much as USD 400 billion to his trusted roommate, friend, and colleague, Liang Rubo.
Until now, Liang Rubo has somehow stayed under the radar. Also a co-founder of ByteDance, he led the development of a couple of the company's key products, including blockbuster short-video app Douyin, news aggregator Jinri Toutiao, and office collaboration platform Lark.
But he didn't enter the core of ByteDance's management architecture until 2019, when he was promoted as global head of HR.
Then, in a surprising announcement on May 20, through an internal memo, Zhang named Liang as the company's new CEO, at a time when ByteDance is preparing for a massive initial public offering. Zhang said the transition process for Liang to take the lead at ByteDance will last around six months.
"I lack some of the skills that make an ideal manager. I'm more interested in analyzing organizational and market principles and leveraging these theories to further reduce management work, rather than actually managing people," Zhang wrote in his memo.
On the same day, Liang also wrote an internal email where he acknowledged the pressure of taking over ByteDance during this crucial moment. "I have always felt very lucky to be rooted in technology, products, and management because Yiming is in front of me to deal with the many difficulties and unexpected work," Liang wrote.
"Now, for the company's long-term development, Yiming needs to get out of the daily management and focus on the work that is not urgent but important to the company's development to create more possibilities. Therefore, I will take over his responsibilities as CEO," he added.
A trusted long-time friend
Online searches for Liang Rubo don't turn up much information about the low-key ByteDance co-founder, aside from news about last week's promotion. However, among all the current top executives at ByteDance, Liang has likely known Zhang the longest.
The two first met in the dorm of Nankai University, back when they were still freshmen in 2002. They spent four years together, sharing the same desktop, studying computer science, and playing badminton and ping pong.
After graduation, Liang became an engineer in an electronics company, while Zhang worked for a couple of startups in China. In 2009, their careers intersected once again as Zhang received funds from an investor to create a real estate information platform. Zhang invited Liang to join him in his entrepreneurial journey, and Liang didn't think twice about accepting the offer.
By 2011, the two achieved some measure of success as their app, Jiujiufang, was one of China's most downloaded real estate applications, 36Kr reported. Yet, Zhang wanted to build something bigger.
He started working on a plan for an app that uses big data algorithm to classify news according to users' preferences, and thanks to another venture investment, Zhang and Liang, together with fewer than ten people from Jiujiufang, started developing what would become the roots of ByteDance's first flagship app, Jinri Toutiao.
At the same time, Zhang and Liang became roommates again, as they rented an apartment in Zhongguancun, also known as China's Silicon Valley, located northwest of Beijing. During that period, in 2012, they would work on Jiujiufang during the day and develop Jinri Toutiao at night.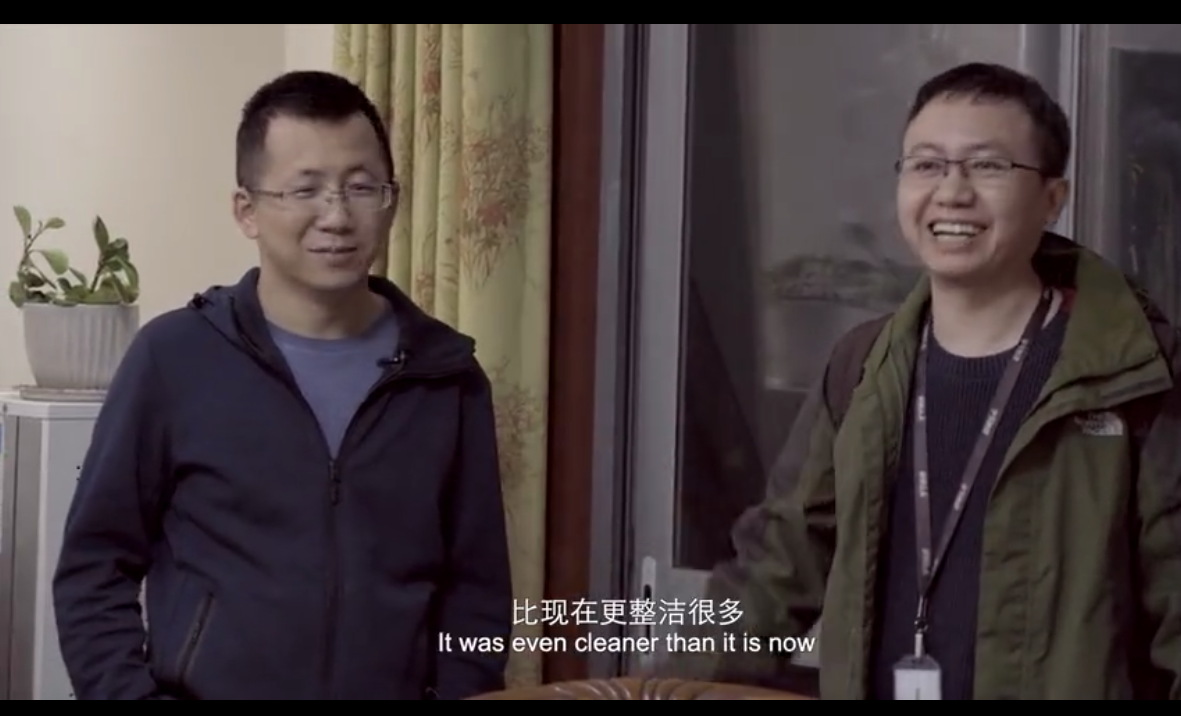 In August 2012, ByteDance came together with Jinri Toutiao's launch. Zhang was the CEO, and Liang was the CTO. From then on, ByteDance entered into a fast expansion mode: the company reportedly reached a USD 400 billion valuation in nine years, even surpassing the market caps of many Fortune 500 companies such as Coca-Cola and Walmart.
In a video published by ByteDance on their seventh anniversary in 2019, Zhang and Liang returned to the four-bedroom apartment to look back on their early days. Liang said to the camera that he would always remember one tenet of entrepreneurship that Zhang taught him: "Always day one," meaning to always approach every day at work as if it is the first day at the company.

An executor
While the popularity of ByteDance's products Jinri Toutiao, Douyin, and TikTok placed Zhang Yiming on the cover of many magazines worldwide, Liang Rubo stayed low-key.
There are some top executives at ByteDance whose images constantly show up in public materials, like ByteDance China CEO Kelly Zhang; Zhang Lidong, the company's monetization strategist; and Musical.ly founder Alex Zhu, who later joined ByteDance first as TikTok CEO and later as strategy and investment VP. But Liang Rubo has largely avoided the public eye.
In fact, before his promotion in May 2021, Liang was never the main subject in media coverage or public appearances. The only direct quote from Liang was in a 2014 article by local news outlet iHeima. He was interviewed as Zhang Yiming's university roommate, following Jinri Toutiao's fundraising from Sequoia.
Despite his minimal media presence, Liang had always had an influential role at ByteDance. In the words of Zhang Yiming, Liang is "the co-founder of the company, head of product development at ByteDance, head of Lark and efficiency engineering unit, and head of human resources and management for the group," he wrote in his resignation letter.
Liang was behind the framework of many key products of ByteDance's app factory: Jinri Toutiao, Douyin, and Lark. Though the success of apps is usually the result of teamwork, Liang was never attributed for their breathtaking achievements. At the same time, CEOs like Kelly Zhang and Chen Lin were the main subjects in a series of media reports.
A person close to ByteDance told Fortune China that for the past two years, Liang has been in charge of legal, internal communications, logistics, and human resources within ByteDance, serving not so much as a product developer but instead as a "housekeeper for corporate."
According to an analysis by The Information, Liang wasn't among the 14 executives that report directly to Zhang until 2019, when he took the lead as head of HR.

An unexpected promotion
On March 12, 2020, ByteDance started to undergo the largest organizational restructuring since its founding. Kelly Zhang and Zhang Lidong were promoted to CEO and chairperson respectively for ByteDance China, as Zhang Yiming himself vowed to spend time focusing on the company's global market.
After the adjustment, many were guessing who between Kelly Zhang and Zhang Lidong would become ByteDance's second in command. Little attention was given to Liang, who at the time was appointed to lead the HR department. Under Liang's HR management, ByteDance expanded from 60,000 employees to 100,000 in one year, from March 2020 to March 2021.
In an internal letter released on May 20, Zhang shared more details about his decision to hand his empire to Liang. "In March, I began discussing with a small group the possibility of having Rubo, the co-founder of ByteDance, take over as CEO, and leverage his strengths in management, organization, and social engagement. … Rubo previously helped me found another company, so we have worked together closely for many years," he wrote.
"Since day one, Rubo has been an invaluable partner—completing the coding for new systems, buying and installing servers, and developing key recruitment, corporate policies, and management systems, among a list of contributions too long to enumerate. Over the next six months, we will work side by side to ensure the smoothest possible transition, and I know you will all also support him," read the letter.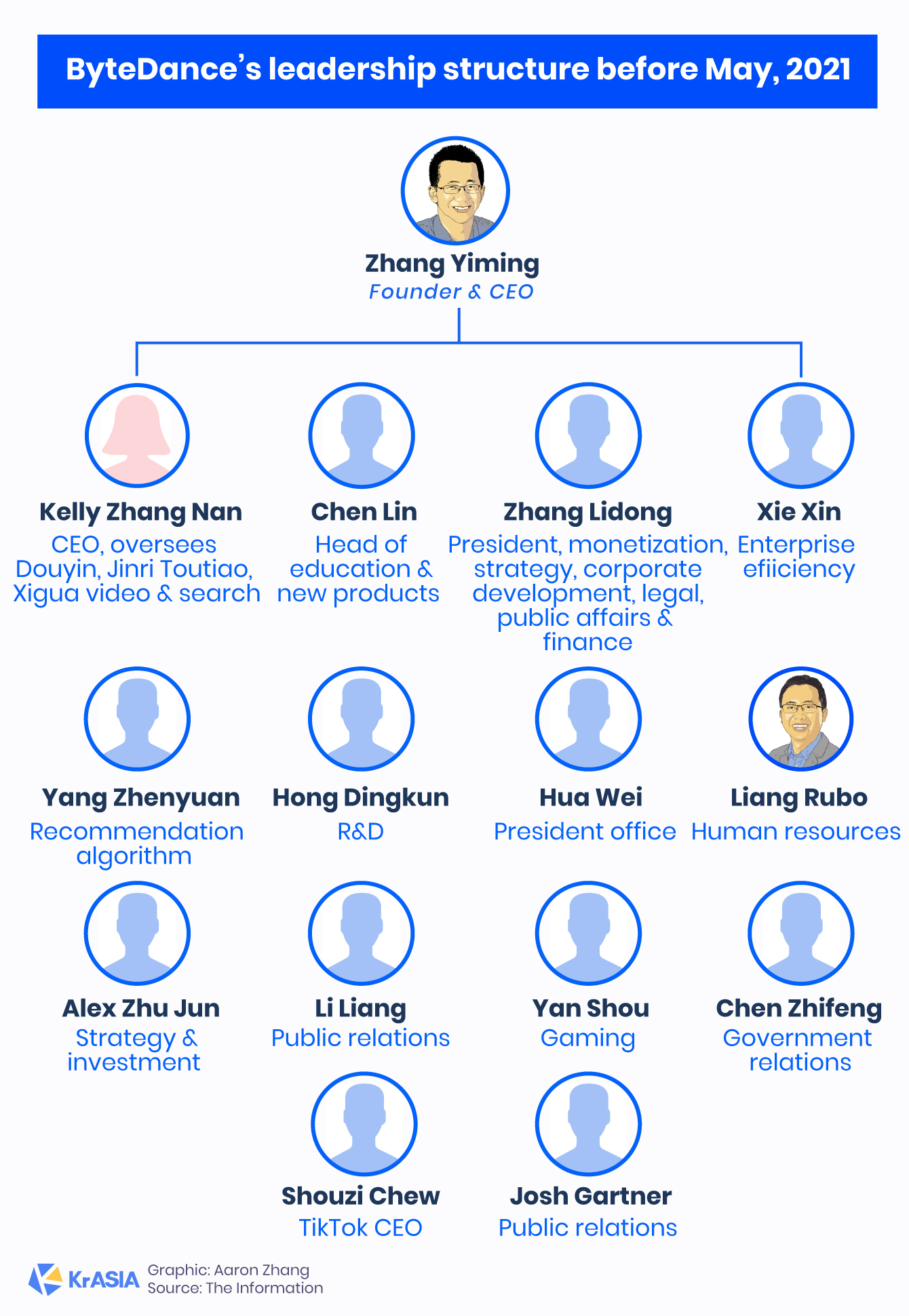 Looking back now, it seems like the roles of Zhang Yiming and Liang Rubo were determined years ago. When ByteDance was founded, Liang and Zhang would compete in memorizing and reciting the order of stations to each other on their subway ride back from Tianjin, where their server was located, to Beijing, where they lived. Liang was usually faster, but Zhang was more accurate.
According to an article republished by 36Kr, going forward, Liang will sever to retain the speed of ByteDance to successfully continue its current expansion, while Zhang will be responsible for the company's "accuracy" in formulating strategies for the next decade.
Aaron Zhang contributed to this piece.