Founded in 2014 by Albert Lucius and Agung Nugroho, Kudo is Indonesia's leading technology platform that empowers traditional retailers. The startup has a vision of letting anyone participate in the local e-commerce scene—even those who do not have access to the internet—by empowering modest grocery kiosks that are ubiquitous on the roadside and in residential areas.
Kudo made headlines in 2017 when it was acquired by Grab to strengthen the Southeast Asian conglomerate's foothold and boost the adoption of Grab's mobile payment platform in Indonesia. It was Grab's first-ever major acquisition and the deal was done in cash and stock worth around USD 100 million, according to Crunchbase.
In its five years of operation, Kudo has empowered more than two million agents with its system and has been showing consistent growth.
We recently spoke with Agung Nugroho, Kudo's co-founder and CEO, about the company's development and its synergy with Grab.
KrASIA (Kr): What problems does Kudo aim to solve?
Agung Nugroho (AN): What we do is help traditional retailers or kiosk agents address their fundamental problems. In general, there are a few things that traditional kiosks want: increased profits and reduced operational costs, more customers, and additional capital. For decades, traditional kiosks have been selling the same goods from the same suppliers without having any bargaining power with the suppliers. Therefore, we create new business opportunities for them and help them get better prices for their goods.
Kr: What does Kudo offer to kiosk partners?
AN: By becoming Kudo's partners, kiosks are able to sell a variety of digital products, from phone credit to flight and train tickets.
Kudo's agents can also serve as Grab's driver registration points. For every registered driver, an agent can get a commission which can add up to a tidy sum for the agent.
Kudo also offers domestic remittance services in collaboration with Bank BNI, in which agents get a commission from every transaction made through them. This remittance feature was only introduced in May this year but became one of the most used services during Ramadan. We noted that the average amount sent through Kudo agents was about IDR 600,000 (USD 42) to IDR 1.5 million (USD 106) per transfer, which showed that digital financial services are very much in-demand for middle-to-low income people who might not be considered as "internet-savvy."
Moreover, we also offer a wholesale shopping service via the Kudo app that allows partners to shop at more competitive prices. The goods will be delivered to their doorstep and our partners can pay on the spot without having to encounter a maximum transaction limit. This way, we help them reduce operational costs. On average, a kiosk's revenue increases by 30–40% after adopting our system.
We also have about 1,000 field officers who periodically train and educate partners about our new features and innovations.
Kr: How do you see the new retail segment in Indonesia?
AN: The opportunity for new retail is huge in Indonesia. New retail can reach the next level of consumers that have not been served by the current players in the digital economy, such as consumers who are not traditionally tech-savvy.
Through e-commerce and ride-hailing, tech innovation has already reached a big part of Indonesian society. So new retail or the empowerment of micro and traditional retailers is the next logical move to capture the millions of consumers that are in the middle-to-low income segment.
Kudo is not the sole player in this segment, but we don't see other startups as competitors because we have the same mission to serve traditional kiosks better. The real challenge for us is to change the kiosk partners' habits and encourage them to adopt new technology. Since there are so many traditional kiosks scattered throughout the country, it will take some time for Indonesia to adopt any new retail concept thoroughly. I think it'll probably take at least two more years for new retail to become mature in Indonesia.
Kr: How has Kudo's growth been so far?
AN: We have more than two million agents, and our network has spread to more than 500 cities and districts throughout Indonesia.
Over the past year, our agent growth has increased by more than 44% and the number of transactions rose by 132%. Furthermore, since we've been acquired by Grab, more than 700,000 of Grab's drivers have been registered through Kudo agents, translating to major labor absorption.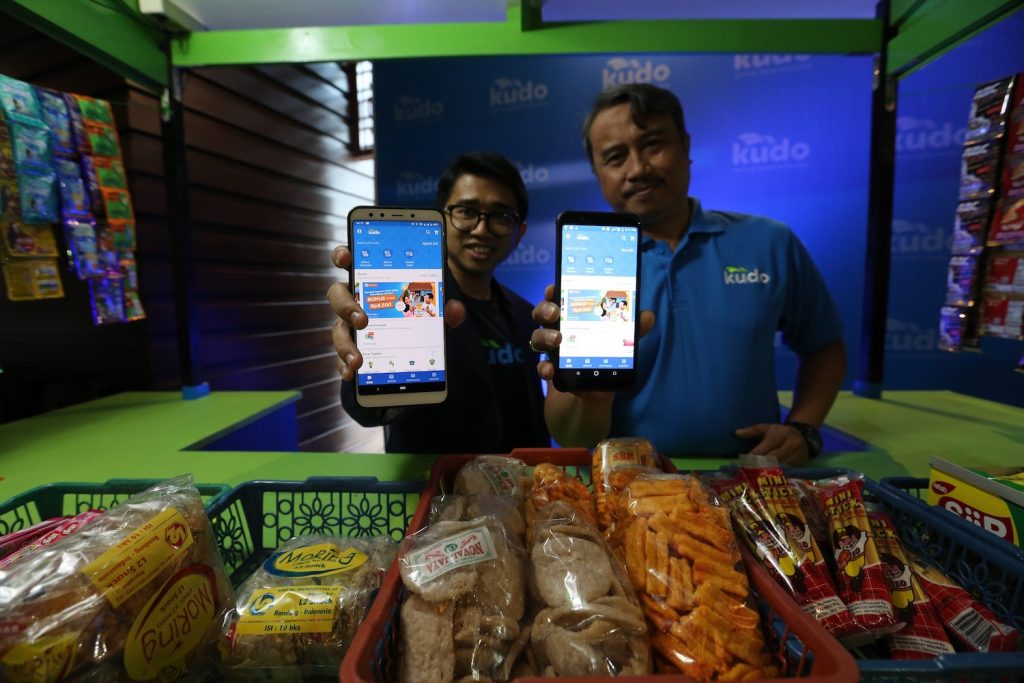 Kr: Please tell us how Grab and Kudo are working together.
AN: Kudo is an independent subsidiary where I'm in charge of the entire daily operations. However, as part of Grab's family, we collaborate and support each other in developing strategic directions. Kudo's technology and digital products are integrated with the Grab app, which is available in the Southeast Asian markets where Grab operates. Our kiosk partners are also facilitated with Grab's digital payment partner Ovo. These three entities are working together to serve Indonesians and support financial inclusion. We are also involved in the Grab Velocity Program, where we help startups in Southeast Asia to scale their business in Indonesia through Kudo.
Kr: What attracted Grab to Kudo in the first place?
AN: When we first visited Grab's office in Singapore, there was no intention to "offer" Kudo to Grab whatsoever. The meeting was initiated by our first investor, East Ventures, with the sole aim of networking and knowledge-sharing. However, we saw similarities in the vision and mission of the two companies: to advance small and medium enterprises with technology and support financial inclusion in Indonesia.
We believe that Kudo has the biggest traditional kiosk agent network in Indonesia supported by a proven tech capacity. Personally, I'm very proud of my tech team; all are locals but we're able to create world-class technology. I think these two factors—large agent network and advanced technology—are what made Grab immediately interested in collaborating. We welcomed the acquisition as this is in line with Kudo's ambition to go global.
Kr: So does that mean Kudo will expand its agent network to other Southeast Asian markets too? Which countries do you have your eyes on?
AN: As I mentioned before, Kudo's tech is available in Grab's eight markets so, in that sense, we've already gone international. Nonetheless, we'll be focusing on expanding our agent network in Indonesia, considering that the country's O2O space has so much to explore. Even so, we are interested in countries like Vietnam, Cambodia, and the Philippines as they cope with similar problems and challenges as Indonesia.
Kr: Please tell us about Kudo's business model. Is it already profitable?
AN: Our business model is simple: we take a few percent in commission from every transaction made through Kudo's agents. We are going to be profitable soon. I can't tell you about the details but we're getting there.
Kr: What's next for Kudo?
AN: First, as part of the Grab family, we are committed to supporting Grab grow and win the market, and helping them to serve more Indonesians. Second, we're going to grow bigger and bolder by adding new features and offerings for kiosk partners this year. Finally, we project to double our agent network in the next two years.