The battle for more users in China's short-videos sector is intensifying, this time over hardware.
Tech giant Tencent's short-video spin-off, Tencent Weishi, announced a Gopro-like action-camera in collaboration with manufacturer EKEN on Tuesday.
Not to be outdone, Kuaishou, the main rival to incumbent short-video app Douyin (known as Tik Tok in markets outside of China), actually announced on the same day a Snap Spectacles-like product, only a bit sleeker, called "Starci Smart Spectacles"  in collaboration with Chinese spec-maker Starci.
The Starci Smart Spectacles retail for about 666 yuan, or close to US$100 on Tmall, and they do look a lot like Snap Spectacles. The gadget offers up to 4K video recording, claims to be dust-proof and water resistant and users are able to take pictures, record short videos and do live-streaming at a click of a button. The hardware is also connected to the Kuaishou app, according to the product description.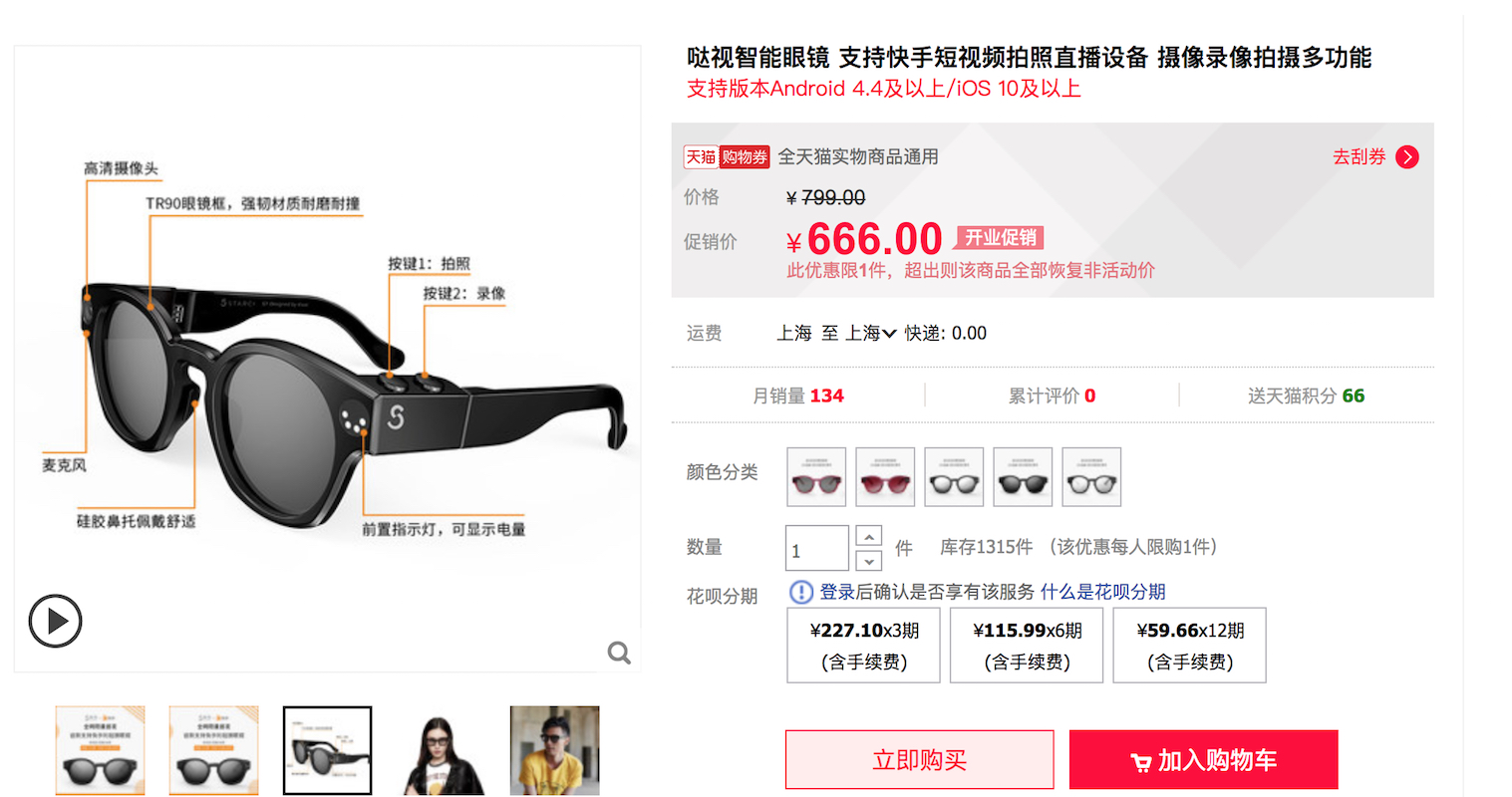 Kuaishou, which means "fast-hands" in Chinese, is the second most popular short-video app in China after Douyin, which is owned by Beijing technology firm Bytedance. Kuaishou, which is backed by  Tencent, has about 266 million monthly active users in China as of June this year, according to China News (link in Chinese) which cited a report by research company Analysys. Douyin, has about 300 monthly active users within China, the company said in June.
Tencent Weishi on the other hand, underwent a revamp in April to compete with the frontrunners Douyin and Kuaishou, although analysts have said it's facing an uphill battle in doing so.
China's short-video sector is one of the fastest and most competitive technology sectors in the country. Almost 80 perecent of all mobile internet users,  which means 600 million, use short-video apps with many spending close to an hour viewing 15-second-videos daily, according to a joint report by Abacus and South China Morning Post.
The move towards hardware from both companies can be seen as efforts to differentiate their apps in a competitive landscape and moving into product manufacturing. Akin to Snap's moves into wearables technology, Kuaishou wants to tap on the market that is estimated to hit more than US$190 million by 2021, according to research firm IDC.  It is also expanding beyond short-videos, buying up video and animation platform AcFun in June this year in an undisclosed deal.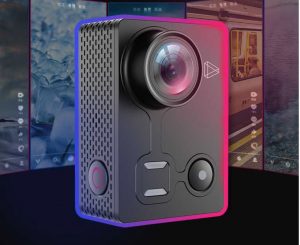 For Tencent, its partnership with EKEN takes a different hardware approach into the world of action cameras. The self-styled Tencent Weishi EKEN action camera, which retails for 799 yuan, or about US$119 on Chinese e-commerce site JD.com, less than one-third the price of a Gopro Hero 6. It offers a link-up with Tencent's social networking site QQ. The camera itself is capable of filming up to 4K in 14 million megapixels, with a touted 170-degrees wide lens and can be mounted or worn with added accessories.
Whether the moves into integrating hardware with short-videos work out remains to be seen. Snap burned nearly US$40 million on its first iteration of Snap Spectacles and sales figures for its April version this year have not been announced. Initial looks at Kuaishou's smart spectacles and Tecent Weishi's action camera aren't all that promising. The Tencent Weishi EKEN action camera has only close to 1200 pre-orders  on JD.com, and Kuaishou's smart specs sold close to 200 pairs as of Thursday noon according to figures given on its Tmall site. But one thing is for certain, the short-video phenomenon in China isn't going to stop anytime soon.
Editor: Nadine Freischlad