Subscribe to our newsletter to read this first thing on Friday morning. This is the preview of what you will receive in your inbox.
Saying the influencer economy is thriving in India would be an understatement. Since the COVID-19 hit India in March 2020, influencer marketing has grown by leaps and bounds.
With a majority of production houses being shut for the better part of the last one and a half years, online influencers have emerged as a force to be reckoned with as they now have taken over the entertainment stage, churning out most of the creative content and entertaining hundreds of millions of Indians.
It's no surprise that ClanConnect.ai, an Indian influencer marketing platform, found in a recent survey that 58% of the marketers plan to deploy their funds for influencer marketing in 2021.
This trend isn't new in itself. It has been growing steadily on the back of online channels like Instagram and YouTube over the last several years. What's interesting is the fact that now kids are also becoming influencers and earning advertising deals from the brands that are looking to capitalize on the growing craze.
For this week's big read we looked at Kidfluencers, who are creating a niche for themselves, by finding their claim to fame.
The Big Read
Kidfluencers: The new internet sensation in India
What Happened
Eleven-year-old Nihal Rajagopal aka Kicha, from Kochi, runs a culinary channel on YouTube that has 43,000 subscribers. From Milkybar banana payasam to Rabdi parfait, his channel includes approachable recipes that are easy to replicate at home.
Nihal is part of the rapidly growing tribe of kids who are creating interesting and innovative video content on online platforms like YouTube, Facebook, and Instagram. These are the children, who are born and brought up in the digital era—where they start playing with smartphones as soon as they are able to hold them.
Many of these kids, who have their own YouTube channels with thousands of subscribers, are emerging as a new force in the influencer marketing space. They are known as Kidfluencers—a portmanteau of kid and influencers. Just like any other influencer over the internet, kid influencers are creating content, collaborating, and even recommending brands on social media platforms.
According to Sanjay Gupta, country head and vice president, Google India, YouTube in India reaches over 325 million monthly active users aged 18 and above. A vast number of people tap this platform to engage with a large audience. Now an increasing number of children are seizing the opportunity to become famous online, although it is their parents who handle YouTube accounts for them.
What Does It Mean
According to Julie Kriegshaber, COO at Chtrbox, an Indian influencer marketing agency that connects brands with influencers, kid influencers can adapt faster than anyone to the latest trends and capture entire audiences who grow and mature with them.
"Brands are interested in kid influencers who can give authentic reviews to not only their age-wise peers; but who can speak intelligently about their specific niche as well," she told KrASIA. "With the growing digital age, parents are concerned about the content their children watch, and following kid influencers can be a safe bet for relatable content tailored to a young audience."
Brands have also realized that and have begun to collaborate with kids with a huge following. Moreover, it is still easier for kid influencers to grow in their specific niches, as compared to adult influencers who face fierce competition.
"Today, it is easier for kid influencers in India to grow as it is a new category," said Apaksh Gupta, founder and CEO, One Impression, an influencer marketing agency.
The Weekly Buzz
1. India's unicorn-boom carries on as both Apna and MPL enter the echelon on the same day after landing USD 100 million-plus checks from global VC firms. This takes the number of unicorns minted this year to 27 and the total number to 59 amid the investment frenzy. About USD 21 billion in venture capital has been pumped into Indian startups this year. This is a big jump from last year when local startups raised USD 12.1 billion in funding, and 11 startups made it to the coveted unicorn club. While professional networking platform for blue and grey collar workers Apna has emerged as the fastest Indian startup to turn into a unicorn—in just 21 months—e-sport firm MPL is the second gaming unicorn in the country.
2. IPO-bound PharmEasy has acquired hospital supply chain management startup Aknamed. The USD 180–190 million deal entails primarily stock and only a small amount of cash. This means all the founders of Aknamed will receive shares in API Holdings, the parent company of PharmEasy. They will also get additional stock options. The development comes barely three months after PharmEasy scooped up one of the largest diagnostic lab chains in the country, Thyrocare, for over USD 600 million. This is the Mumbai-based startup's third acquisition. In August 2020, it had joined hands with a smaller rival, Medlife, for a merger to safeguard joint market share against bigwigs like Reliance and Amazon which are also eyeing the digital pharmacy sector.
3. Food delivery giant Zomato has scraped grocery play again as India's quick commerce trend heats up. The company had resurrected the grocery business two months ago in a few select markets, including the country's capital city New Delhi, providing deliveries in 45 minutes. At the same time, most of the players in the grocery delivery field, such as Google-backed Dunzo and its arch-rival Swiggy-backed Instamart, are promising 15-minute deliveries. The Gurgaon-based company first tried out grocery delivery in 2020 during the COVID-induced national lockdown in India, when local citizens were forced to procure daily necessities online. The service, which was launched in more than 80 cities at the time, was discontinued later after the company realized it was hard to scale up.
4. Indian edtech decacorn Byju's may file for IPO by mid–2022. The Bengaluru-based giant is reportedly raising a USD 400–600 million pre-IPO funding round that will value it at USD 21 billion. The development comes two weeks after local media reports said Byju's had begun discussions with Morgan Stanley, Citigroup Inc., and JPMorgan Chase & Co to list its shares. These investment banks have proposed a valuation of USD 40–50 billion for the listing, for which the company may file documents as early as the second quarter of next year.
Top Deals This Week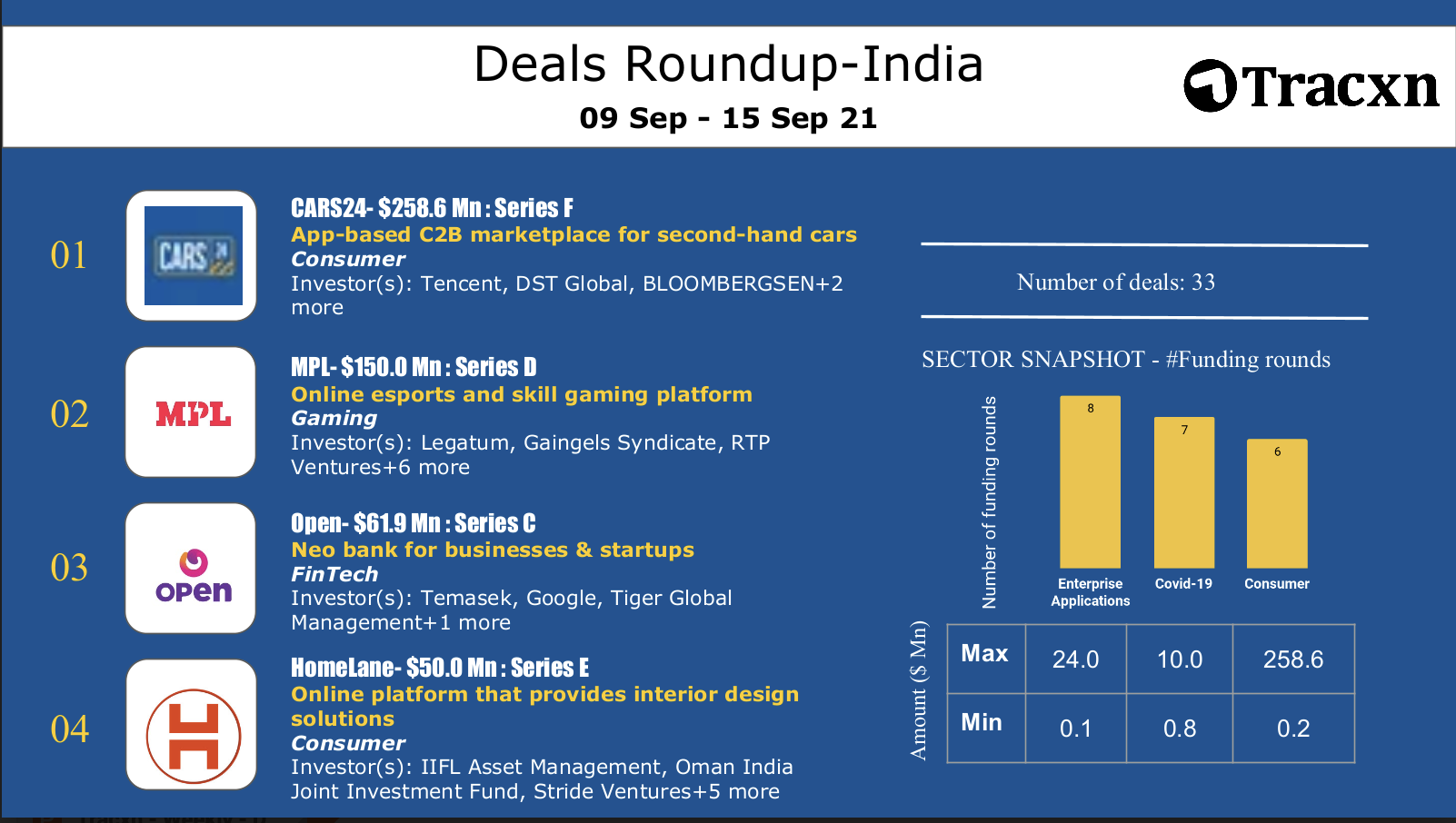 What We Are Reading
MPL, the first Gazelle to become a Unicorn. Who is next? The story of India's Future Unicorn
In this article, Hurun India looks at how Indian unicorns fare against global billion-dollar-plus companies. Although India is way behind the US and China in terms of the number of unicorns, it argues that the Indian unicorns are on par with their counterparts in the US and China on metrics like average valuation and the number of years they take to enter the unicorn club. It also explains the triggers behind the unicorn boom in India and looks at the investors who are driving it. Lastly, it talks about the potential and emerging unicorns in the country.
The Spoiler
Tune in next week to find out why American micro fund 2am VC is betting on Gen Z in India.