Canadian cafe chain Tim Hortons announced Tuesday in China that it has received an investment from Chinese internet giant Tencent (HKG: 0700) as the company is looking to expand its presence in the country.
One year after the opening of its first store in Shanghai, Tim Hortons is aiming for 1,500 more stores in the coming years, as it told 36Kr in a December interview.
Now with the support of Tencent, which owns WeChat and QQ, China's two most popular social media apps, Tim Hortons can further digitize its business while also increasing the number of brick-and-mortar stores. Tencent also has an investment in Meituan Dianping, China's largest lifestyle services and on-demand delivery platform.
"Tencent has built a unique platform that connects consumers' online and offline lives," said Tims China CEO Lu Yongchen in the announcement: "We will accelerate digital innovation, including the use of WeChat mini programs, to bring a better consumer experience to customers."
The largest coffee shop brand in Canada, Tim Hortons enters a fiercely competitive market with relatively low demand for coffee.
Despite the efforts of local players and international chains like Starbucks in China since the 2000s, the average consumption of coffee remains relatively low compared to other countries. Chinese people on average drink 4.7 cups of coffee in a year, dwarfed by 177 cups annually in Singapore, and 261.5 cups in the US. The low penetration of coffee drinking in China leaves plenty of room for growth in the sector.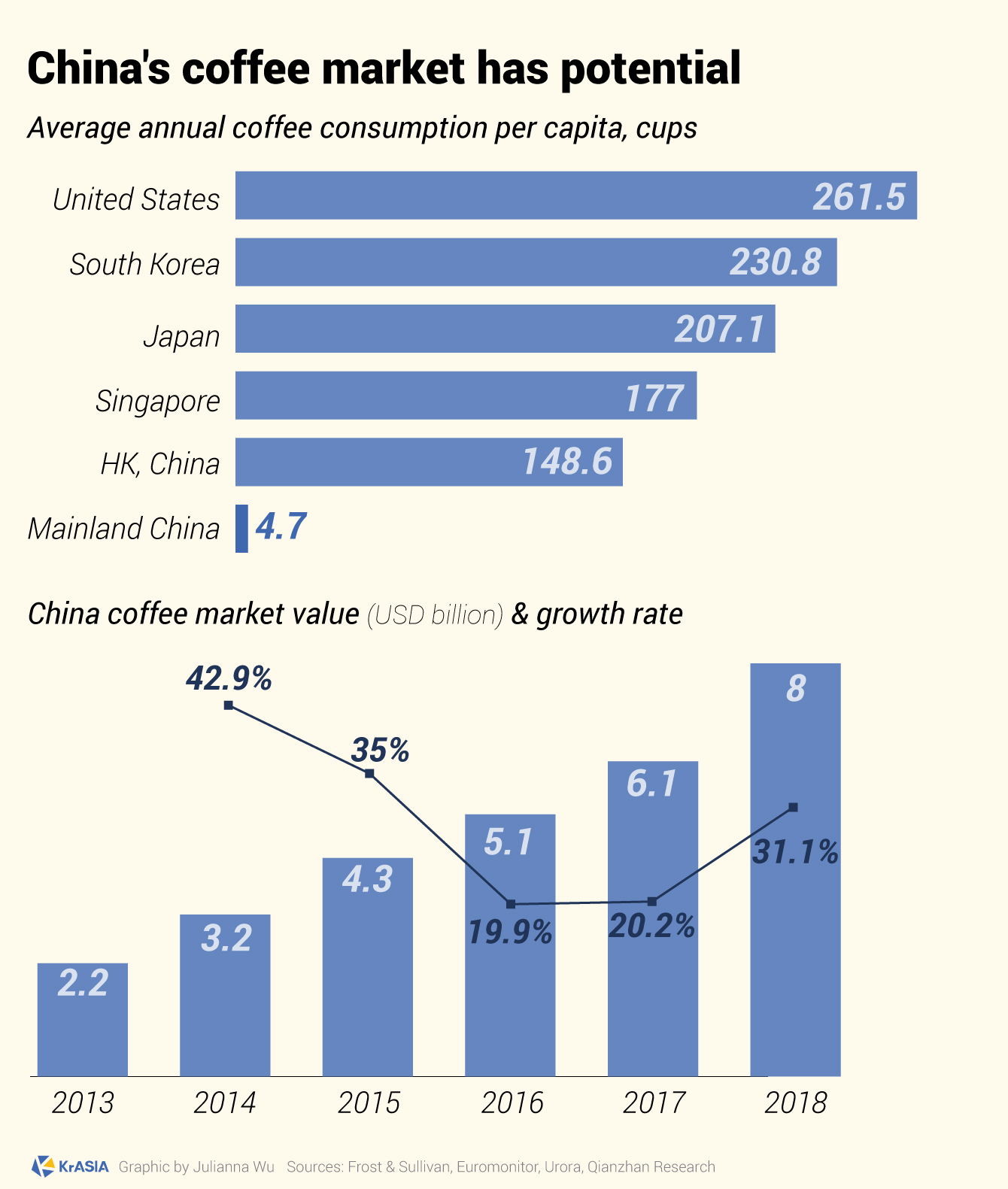 In recent years, coffee delivery operators like Luckin Coffee and Coffee Box gained huge investment as they provide a more cost-effective business model by minimizing the role of the offline stores.
Though under scrutiny for fraud allegation since April 2020, Luckin did raise as much as USD 695 million during its Nasdaq IPO in May last year. Coffee Box, at the same time, reached profitability in April 2019 after investments from Qiming Venture Partners and others.
SEE MORE: The top six Chinese coffee companies in 2020 bringing caffeine to China's new javaphiles
Starbucks has partnered with e-commerce giant Alibaba in 2018 to offer coffee on the latter's lifestyle services and on-demand delivery platforms.
Up till the end of 2019, Luckin had 4,910 brick-and-mortar stores in China, surpassing the 4,200 stores of Starbucks.