Chinese online real estate trading platform Beike is eyeing a New York initial public offering (IPO) as soon as the third quarter of this year, Nikkei Asian Review reported.
According to Chinese media IPO Zaozhidao, Beike has stealthily submitted its prospectus to the US Securities and Exchange Commission (SEC) and plans to raise between USD 1 and 2 billion, with investment banks Goldman Sachs and Morgan Stanley among others underwriting the deal.
The Beike listing is expected to be the largest Chinese IPO on the US stock market this year, the first to raise over USD 1 billion since Tencent Entertainment Group's (NYSE: TME) public offering in December 2018.
Though Beike has been rumored to go public since last year, according to 36Kr, Beike's New York public offering comes at a time when US-listed Chinese companies are actively seeking "homecoming" listings on domestic exchanges as they face increasing scrutiny in overseas capital markets.
In the first half of 2020, the Hong Kong Stock Exchange saw fewer IPOs, but raised 25% more cash, thanks to JD.com (NASDAQ:JD; HKEX: 9618) and NetEase's (NASDAQ:NTES; HKEX: 9999) secondary listings. On the contrary, the New York Stock Exchange and Nasdaq together welcomed three more China-based companies, raising only 12% more from the same period of last year, said a Deloitte report.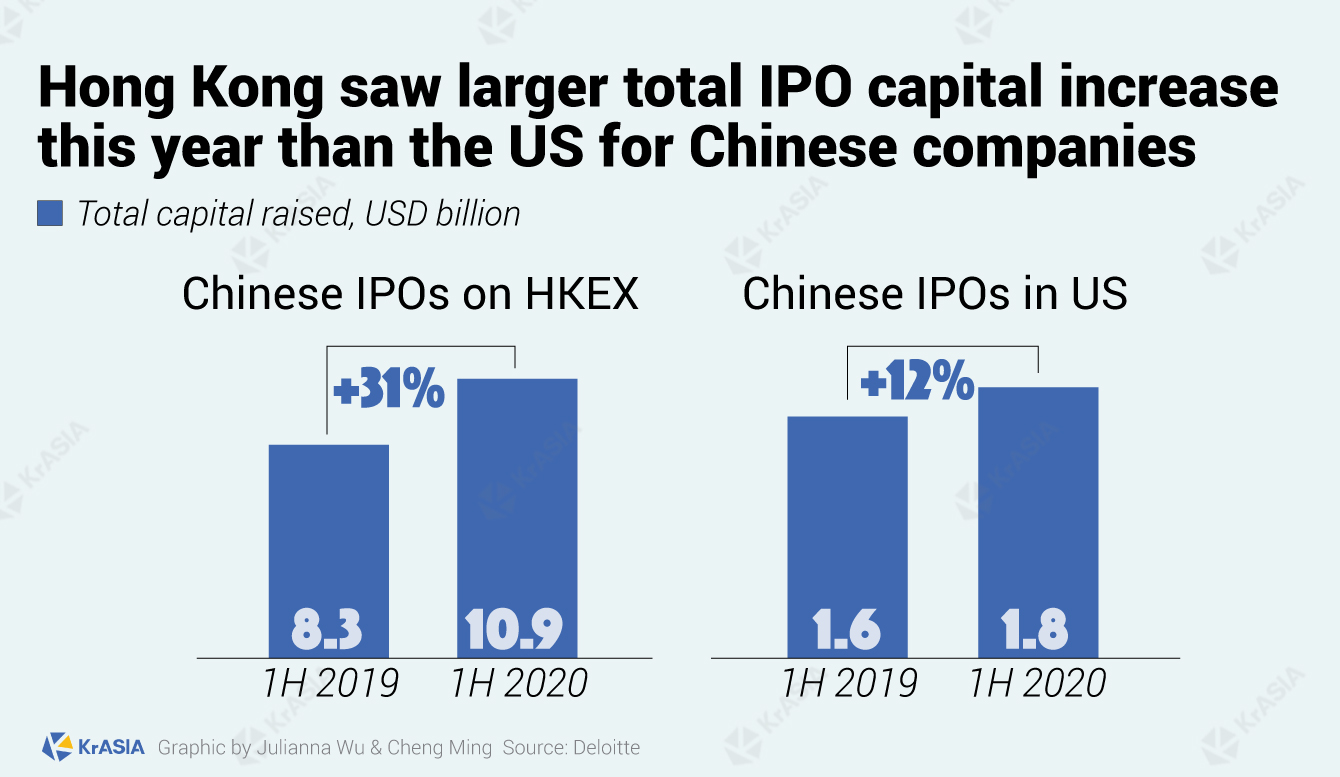 Operating one of the country's most popular property brokerage apps, Beike is the digital version of its parent company Lianjia, one of China's top traditional real estate agents.
In March, Beike reached a valuation of USD 14 billion after closing a USD 2.4 billion D+ round fundraising from big names including Tencent Investment, SoftBank's Vision Fund, Sequoia China, and Hillhouse Capital.
Almost immediately following the D+ financing, Beike's mini-program was pinned on Tencent's WeChat, China's most popular social app, allowing WeChat's 1.2 billion users to directly access "Beike property search" within the app.
According to the data provided by Beike on its 2nd anniversary on April 23 this year, it has operations in 110 cities in China, connecting more than 40,000 brokerage offline stores, and 370,000 brokers. Beike's app and mini-program combined have 35 million monthly active users.
Last year, the company's rival Fangdd (NASDAQ: DUO) collected USD 150 million from its Nasdaq IPO, KrASIA reported.