Pinduoduo (NASDAQ: PDD), China's third-largest online shopping platform by gross merchandise volume (GMV), has raised USD 1.1 billion in private equity placement, which could help fuel its competition and expansion at a time of uncertainties.
The fundraising, which is the company's second after going public two years ago in July 2018, is financed by some of its long-term investors through the purchase of newly issued Class A common shares representing around 2.8% of the company's total outstanding stock. The transaction is expected to be completed by early April.
The Shanghai-based company announced its Q4 and full year 2019 financial results two week ago, crossing for the first time a triumphal USD 140 billion (RMB one trillion yuan) GMV. It took Pinduoduo less than five years to achieve it in comparison to Alibaba (NYSE: BABA) and JD.com (NASDAQ: JD), which both employed more than ten years to hit this mark. The GMV feat needs to be set against Pinduoduo's widening non-GAAP annual operating net loss, though, which led its stock to fall by 7%.
The widening loss is partially a result of the company's marquee campaign dubbed the "Ten billion subsidy program", first introduced in the second quarter of 2018, which, according to David Liu, VP of strategy at the company, "has become synonymous with our platform".
The double-edged campaign has set Pinduoduo on a successful trajectory and upended China's e-commerce landscape by helping the company gain a firm ground in China's lower-tier cities, where consumers are more price-sensitive. Although, it also cost Pinduoduo the short-term probability of turning a profit. In 2019 Q4 alone, Pinduoduo's sales and marketing expenses stood at  RMB 9.3 billion (USD 1.3 billion).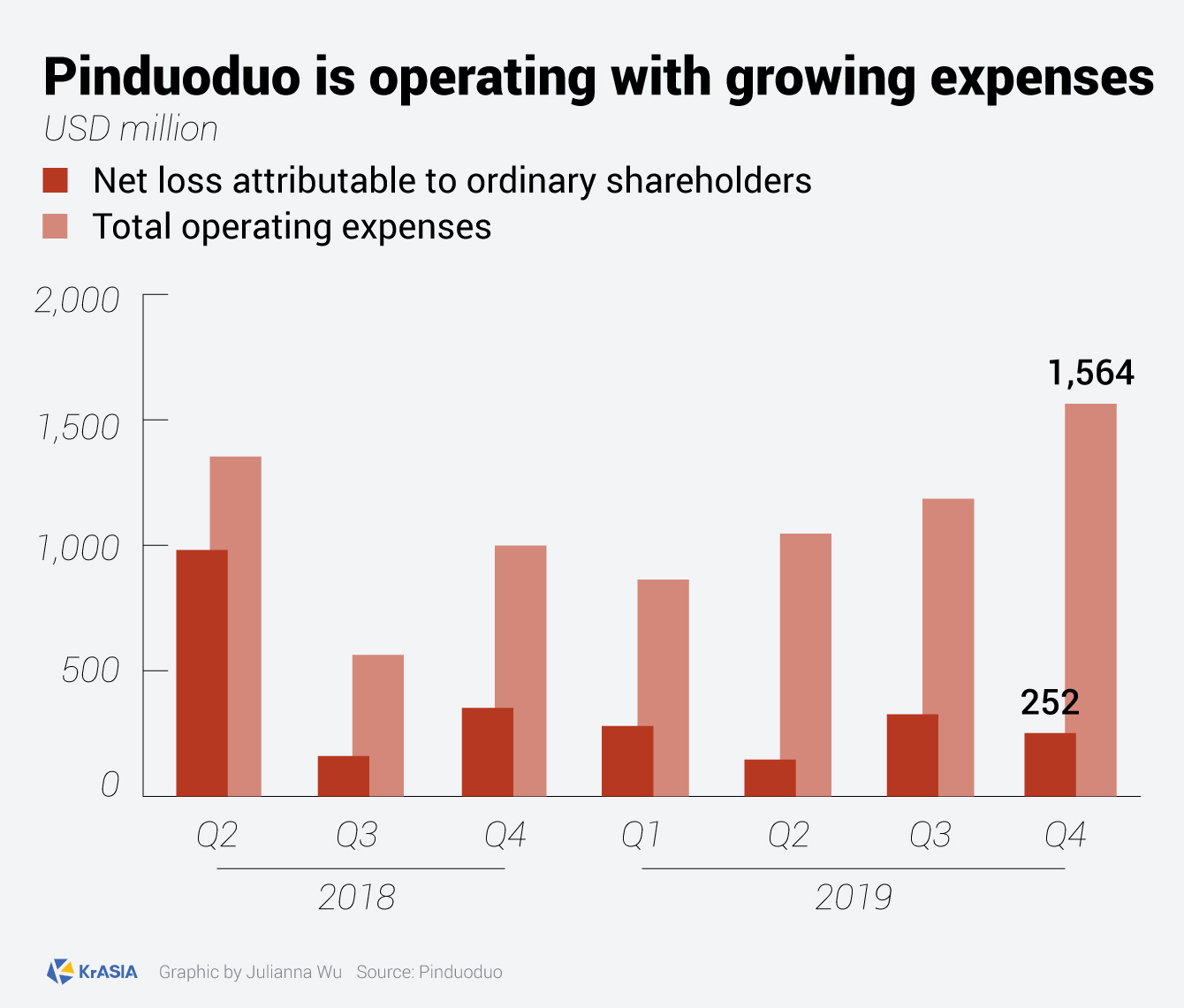 In 2020, Pinduoduo will roll out an upgraded edition of the subsidizing program, targetting to shift from premium brands like Apple and Dyson to high-street products, according to Latepost's report.
However, Pinduoduo might lose its edge as a bargain hunter soon, as competitors platforms including JD.com, Alibaba and Suning.com (SZSE: 002024) all followed suit, escalating an already fierce competition.
Pinduoduo's customers also have a lower purchase power compared to its rivals. Its USD 247.1 annual spending average per active buyer is more than three times less than that of JD.com's, according to the two companies' financial reports.