Long-term apartment rental operator Danke Apartment (Phoenix Tree Holding Limited, NYSE: DNK) announced on March 25 its first annual earnings report since its listing earlier this year, shedding light into how the company widened its net loss resulting from a rapid expansion strategy that drained its revenue in a fiercely competed Chinese long-term rental market.
For Q4 2019, and 2019 full year, Danke widened its net loss, respectively, to RMB 921 million (USD 132 million) and RMB 3.43 billion (USD 493 million), 65.6% and 152.2% higher than a year ago.
Its revenues increased 112.5% to RMB 2.13 billion and 166.5% to RMB 7.13 billion for Q4 2019 and the whole year, respectively, thanks to its last year's fast expansion pace.
It now operates more than 430,000 apartment rooms across 13 cities in China, with more than half of them, or over 220,000 rooms in first-tier cities Beijing, Shanghai, and Shenzhen.
With a larger number of units to manage, the company saw its rental costs, depreciation and amortization, rocketing 194.7% and 205% respectively last year, which are two of the main drivers behind the company's net loss albeit growing revenue.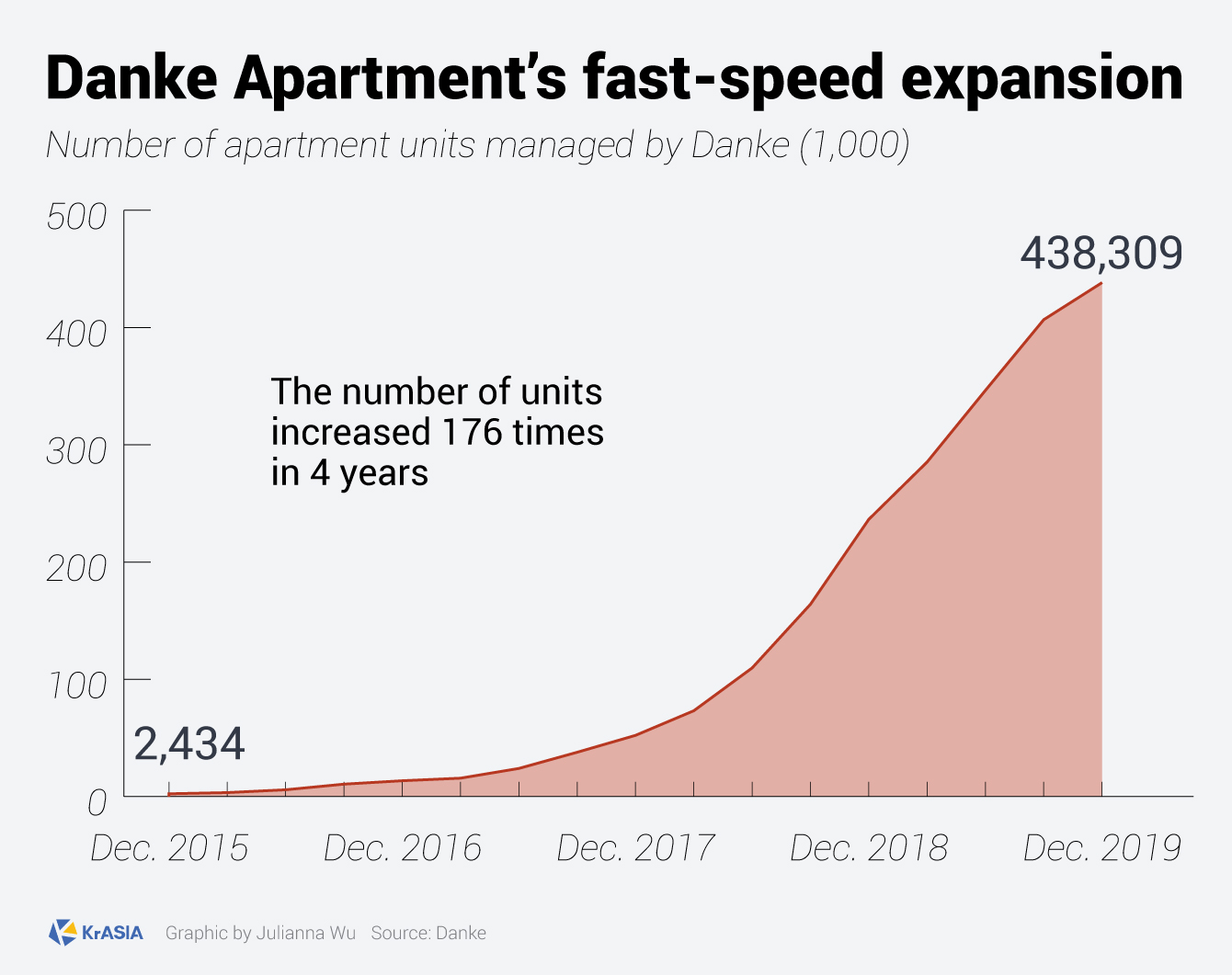 Facing severe competition in the long-term rental sector with players like SoftBank-backed Ziroom, and Nasdaq-listed Q&K, Danke's strategy is to grasp a large market share before making a profit.
"Profitability is not the most important thing at the moment," Danke's executive chairman Shen Boyang once said in an interview, adding that "seizing the time window to expand the scale of our business is important."
The strategy could have worked, had it not been for the coronavirus pandemic, which hits the world's economy so hard in early 2020, bringing new challenges to the rental operator's already draining cash flow.
Danke's RMB 3.4 billion cash and restricted cash (USD 496.4 million) as of December 31, 2019, can only support 4-month's business operation if the company keeps burning money as they did in 2019.
Last month, a landlord dispute brought attention to Danke's protention financial risk, KrASIA reported. Regulators in Shenzhen later started an investigation on the online rental segment on whether the business model could meet the liquidity obligations with both the landlords and tenants.
"With the coronavirus outbreak, we have experienced a challenging start to 2020," said Gao Jing, co-founder and CEO of Danke: "We are optimistic about our ability to execute on these strategies and we are confident in our ability to deliver long-term, sustainable value for our shareholders."