The demand in China for satellite internet access has surged in recent years, spurring the nation to expeditiously weave its web of satellite network, giving rise to a demand of 25 tons of spacecraft payload in 2021 alone.
Five tons of the payload is to be served by state-operated Long March rockets, leaving the remaining 80% to private commercial space startups, said investment institute China International Capital Corporation in a recent report.
China's private space tech sector is at a turning point: huge market demand and policy support are encouraging more and more startups and investors to join, but the high cost and low frequency of launching rockets keep many of these firms from turning a profit.
The government gave the green light on private commercial satellites in 2014. By the end of 2018, more than 141 commercial aerospace companies were registered in the country. In 2019, the sector collected a total of USD 266 million investments from 23 deals, according to 36Kr.
In April, China's National Development and Reform Commission (NDRC), the country's top macroeconomic management and planning agency, for the first time included satellite internet in its new infrastructure economic stimulus plan, as part of the country's telecommunication infrastructure alongside 5G and Internet of Things (IoT). The announcement has further shored up investors' confidence in the country's commercial spacecraft sector.
SEE ALSO: Satellites become key vertical within China's growing space sector
Vehicle maker giant Geely also announced in March that it will launch two lower orbital satellites this year.
However, the extended life cycle and lack of monetization opportunities make it difficult for many companies to earn a profit."It takes SpaceX RMB 30,000 to 40,000 (USD 4,200 to 5,600) to send a kilogram of cargo to space, but in China, it's difficult to do it less than RMB 100,000 (USD 14,000)," an unnamed investor from venture capital investor Jiuyo Capital told 36kr.
Recently, Lei Jun, the CEO, and founder of IoT and smartphone manufacturer Xiaomi suggested that the Nasdaq-like STAR board in Shanghai should welcome more space startups in his proposal at Two Sessions, China's annual national political plenary.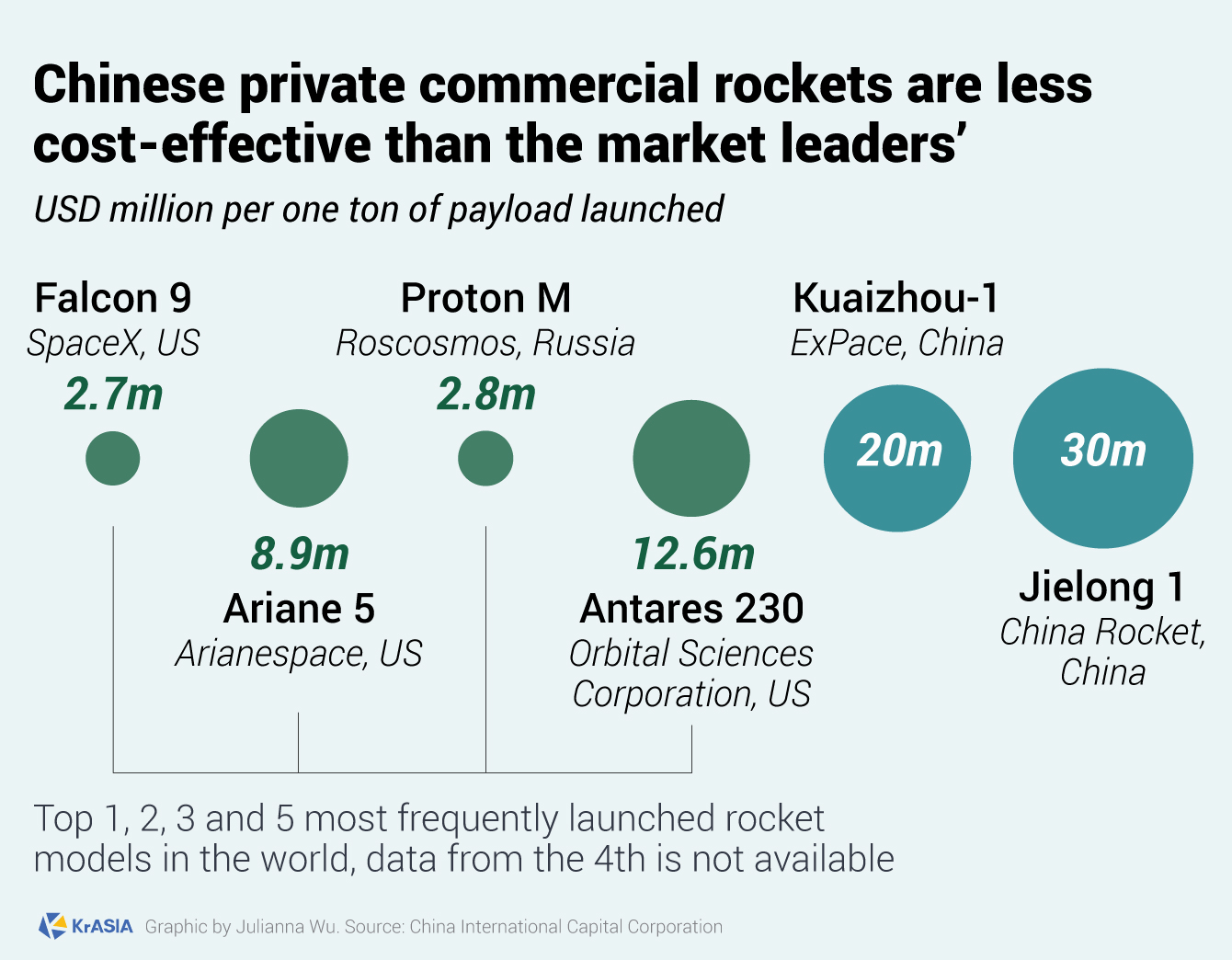 "The market urgently needs a rocket power company that can provide low-cost, safe, and reliable rocket power," said the same Jiuyo Capital investor.
China's space tech startups are latecomers to the sector, lagging behind international leaders like SpaceX in the US and Soyuz in Russia.
On April Fools' Day this year, a (genuine) commercial rocket launch service is sold for USD 5.6 million through livestreaming on Alibaba's online marketplace Taobao, KrASIA reported.
Meanwhile, Elon Mask's SpaceX plans to launch its first astronaut on Wednesday.