Chinese online portal, video, search, and gaming business Sohu.com released its fourth-quarter 2019 results with a net income of USD 7 million, compared with net losses of USD 51 million and USD 17 million, respectively, in 2018 Q4 and the third quarter of 2019, reversing a 16-quarter-long losing streak.
The company reported a fourth-quarter revenue of 490 million dollars, which represents a 5% year-over-year and 2% quarter-to-quarter growth. Sohu's 2019 total revenue was USD 1.85 billion, up 2% from a year earlier.
Much of the profits is ascribed to the sequentially net loss narrowing in its portal and video departments, and continuous revenue growth from its search (Sogou) and gaming (Changyou) businesses. In a nutshell, the company's core portal and video businesses are still losing but at a slower pace, while revenues from affiliated search and gaming businesses successfully bolstered up a shiny reporting card.
Sohu's turnaround comes at a time when the now globally spreading coronavirus outbreak took a toll on Chinese companies, which are the major spenders of online advertisements. As a result, China's online advertising sector has come under further pressure. Sohu, unsurprisingly, pulls in more than half of its revenue from displaying online ads across its online properties (see graph below).
According to the company's first-quarter 2020 guidance, it expects brand advertising revenue to be in the range of between USD 25 and USD 30 million, indicating a 30-42% year-over-year decrease.
Founded in 1998 as one of China's earliest web portals, Sohu was the first internet content service sponsor of the Olympic Games ever, during the Beijing 2008 Olympics. In contrast to some other brands, such as South Korea's Samsung and China's Lenovo, which have successfully leveraged on the international sports event to become worldwide household names, Sohu, has become less relevant even in its home turf over the past decade of lost.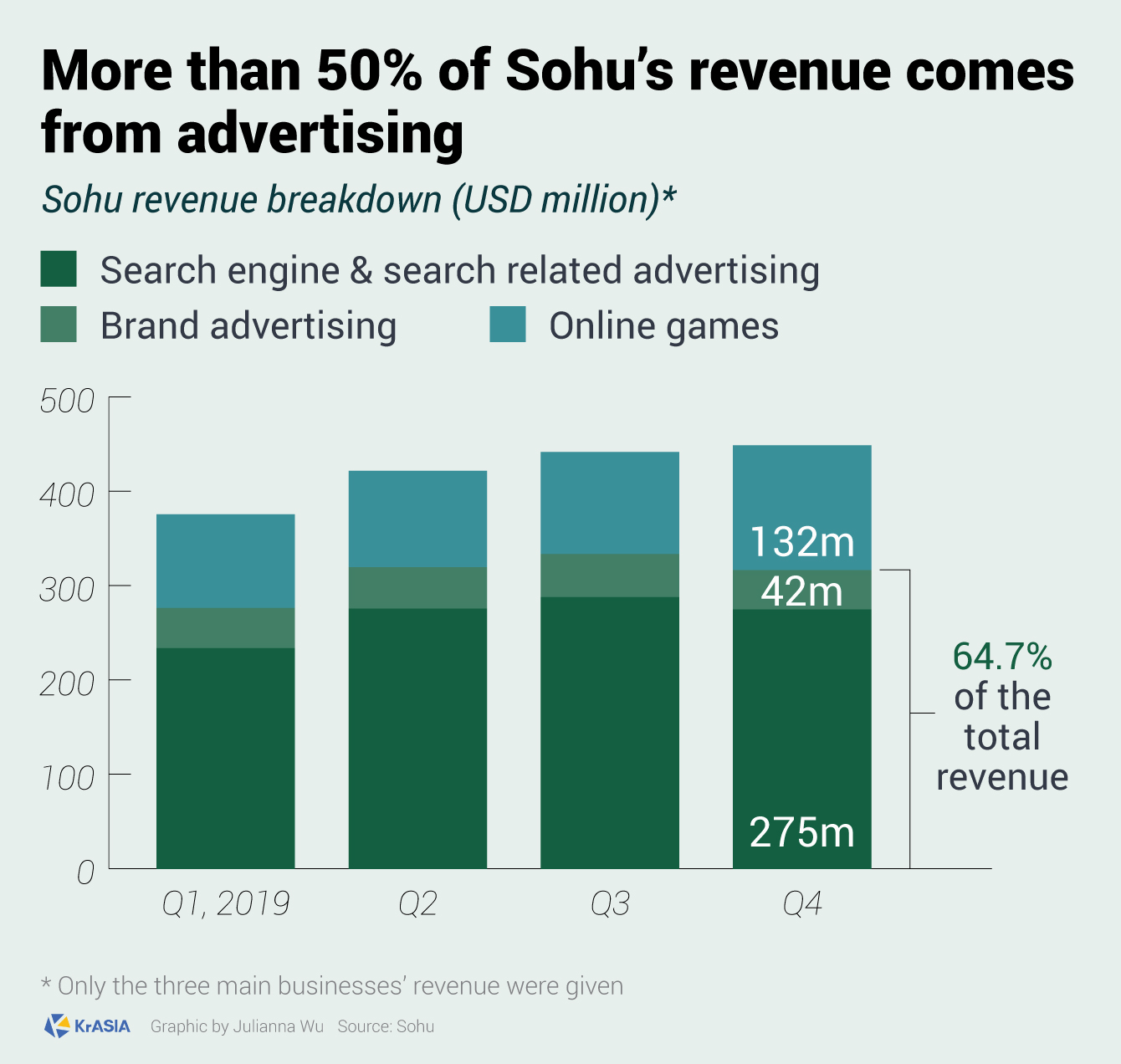 Sogou comes into rescue 
Sogou, the online search offspring of Sohu, is one of the few highlights in the company's latest results. It reported USD 301 million in quarterly revenue and USD 1.17 billion for 2019 whole year revenue, respectively 1% and 4% higher year-on-year.
Net income from October to December 2019 for the New York-listed company was RMB 35 million (USD 5.05 million), a 33% increase year-over-year, according to Sogou's press release.
Just like its parent's alarming dependence on advertising and gaming, Sogou, China's second-largest search engine trailing only after Baidu, also has its own Achilles' hill: the reliance on Tencent for search traffic.
"Approximately 36% of Sogou's total search traffic, measured by page views, was contributed by Tencent's Internet properties in December 2018," said the company in a file submitted to the US Securities and Exchange Commission in March 2019.
Aside from its standalone online search engine, Sogou also provides search services for hundreds of millions of users on Tencent's WeChat and QQ, China's two biggest chatting apps, since 2014. Tencent is also an investor in Sogou.
Tencent and Sohu, with respectively 38.2% and 33% of shares, are Sogou's top 2 biggest shareholders, regulatory file shows.