KrASIA Takeaways:

February saw the lowest level of smartphone shipments in China in eight years, a 56% year-on-year decline.
Already bothered by a saturating market, the coronavirus epidemic is posing new challenges to the country's mobile market
5G handsets are the only growing category, but it's not a gamechanger as demand might be partially tamed by premium 5G plans
China's mobile market, the world's largest, has been on a seemingly self-perpetuating downward spiral of smartphone shipment. The trend has only been accentuated by the coronavirus outbreak, as the latest data by market researcher Counterpoint and the China Academy of Information and Communications Technology shows.
In the last quarter of 2019, China saw its smartphone market declining for the 10th consecutive quarter in succession, according to Counterpoint. The downturn continued in 2020, under the double shadows of a pandemic that ground the country's economic activity into a halt and an overall saturating and decreasing smartphone market.
A total of 6.38 million mobile phones were shipped in February 2020, representing a 56% drop year-on-year, and the lowest monthly shipments number in eight years, KrASIA found out after viewing reports published on the official website of the China Academy of Information and Communications Technology, which has been tracking the country's mobile phone shipments since 2012.
Quarter-on-quarter wise, February shipments also dropped by 56.5% from January. Though Q1 usually sees the lowest number in sold devices during the year, February represents the first time shipments have slid below 10 million in eight years.
However, the only category defying the downturn is 5G handsets. The number of 5G devices accounted for 37.3% of mobile phones shipped in February, up from January's 26.6%.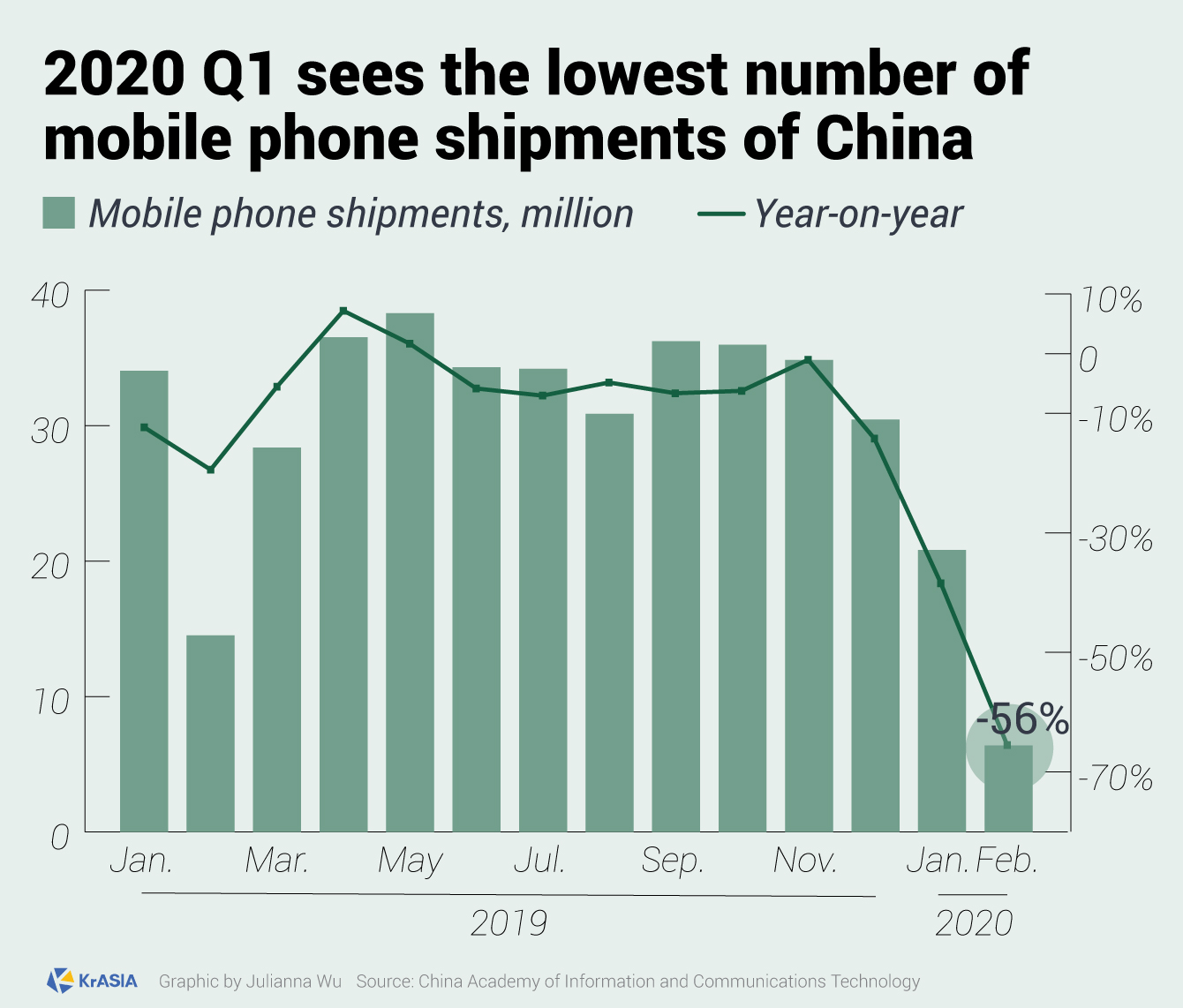 Crashed under the coronavirus outbreak's retail halt, and decreasing market demand, manufacturers in China are counting on the country's massive rapid 5G network upgrade in 2020 to drive up mobile phone sales, just like how 4G did back in 2014.
However, the high cost of 5G phones and carrier package might keep many customers away from the high-tech change expected by authorities and makers to salvage a slowing down market.
As of March 2020, most of the 5G phones available in China, including from brands like Huawei, Xiaomi, OPPO, Vivo, and others, are priced at a premium or at least medium level (see graph below), with only one product, the Redmi K30, starting at less than RMB 2,000 (USD 286).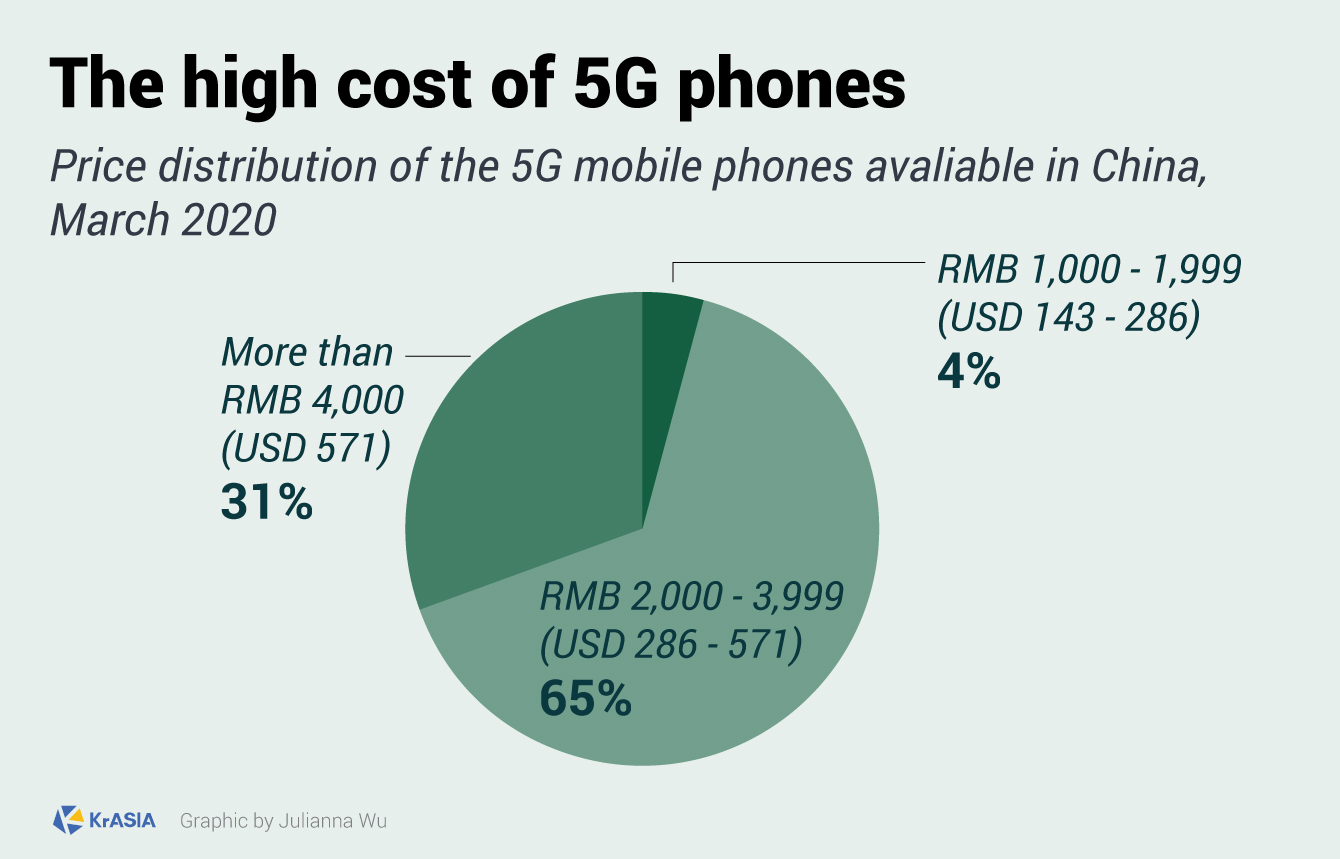 China's three major carriers, China Mobile, China Unicom, and China Telecom, have offered 5G services with prices ranging from RMB 128 to 869 (USD 18 to 124) a month. However, in order to experience the over-1000mb-per-second fast speed that 5G promises, users have to spend at least RMB 238 (USD 34) per month, which is a higher price than average spending in for mobile internet connection in the country.
China's three largest telcos are also investing big money on 5G. In 2019 alone, Chinese telcos reportedly spent RMB 34.2 billion (USD 4.95 billion) on 5G-related infrastructure, while their total spending on this technology is estimated to hit RMB 1.5 trillion (USD 217 billion) between 2020 and 2025, according to a report by Ernst & Young.
However, even when Chinese authorities announced plans to finish the construction of at least 600,000 5G base stations by the end of this year, it seems that full large-scale 5G mobile phone consumption is yet to come.