Ever since the outbreak of the COVID-19 disease late last year in China, masks of all types—surgical, N95, etc—have become a rare commodity across the country. And as the epidemic marches towards other parts of the world, countries like Japan, Korea, Iran, and the United States are also under the pressure of supply shortage.
China experienced the supply bottleneck over the past weeks mostly because of the huge demands from 1.4 billion citizens overwhelmed the outpaced supply, although China is also known for being the world's largest producer of medical masks.
The country, which made 2.7 billion face masks in 2019, accounts for more than half of the world's masks production.
Now, as the spreading of the epidemic began to slow down in the country—many places outside of Hubei reported no new cases for days on end, factories and manufacturers, including those who produce masks, have restarted their engines.
The government has urged manufacturers to resume face masks' production as soon as possible. As of February 29, daily production of face masks reached 116 million, 10 times higher than a month ago, data provided by The Na­tional De­vel­op­ment and Re­form Com­mis­sion an­nounced on March 2 shows.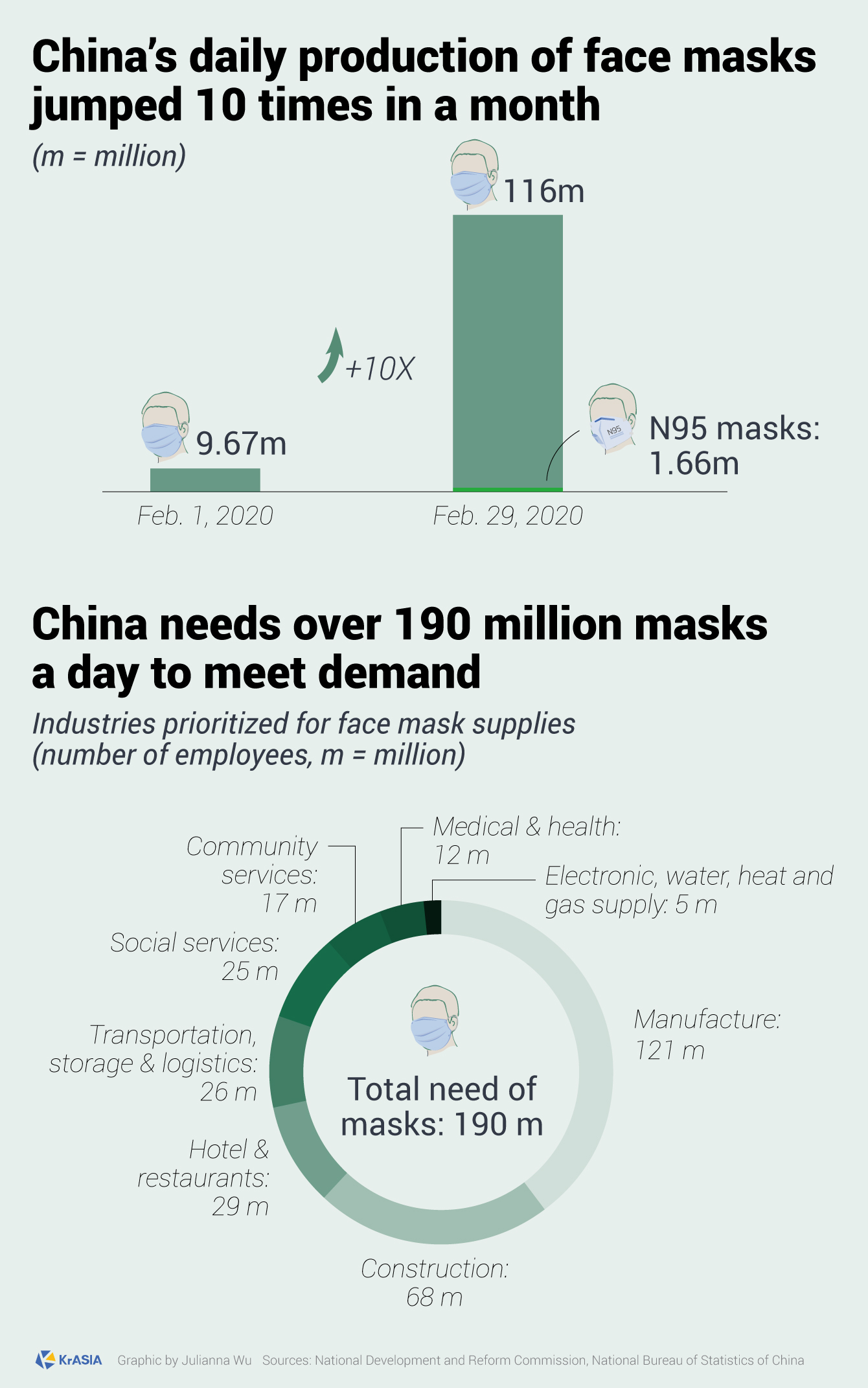 Based on the numbers from the National Bureau of Statistics of China, 190 million face masks are needed every day to ensure normal operations in the key industries, like medical & health, water & gas supply, manufacture, etc.
To increase the supply, 2,957 enterprises who previously did not produce face masks, including automaker BYD, elec­tron­ics man­u­fac­turer Fox­conn, and en­ergy gi­ant Sinopec, have also set up production lines to fill the supply gap.
China's mainstream e-commerce platforms, Alibaba, JD.com, and Pinduoduo, have all set up special channels in their apps for residents in Hubei province to buy masks since this week.
SEE ALSO: Alibaba and Jack Ma donate 1 million medical masks to Japan as coronavirus spreads globally