The global regulatory landscape for cryptocurrencies varies greatly from country to country, with some receiving more attention than others. While Hong Kong is often in the spotlight for its crypto-friendly policies, there is another country that has been quietly developing its own unique regulatory framework: Kazakhstan.
With a key focus on leveraging digital technologies to enhance the well-being of its people, the Kazakhstan government displays an open and receptive stance towards digital currencies and blockchain technology. Being rich in resources, Kazakhstan possesses the financial means to foster the growth of its fintech sector and integrate blockchain technology into the daily lives of its citizens.
Kazakhstan operates under two distinct jurisdictions — mainland Kazakhstan and the Astana International Financial Centre (AIFC) — each with its own set of regulations. To offer crypto financial services in Astana, the capital city, cryptocurrency exchanges must obtain a license from the Astana Financial Services Authority (AFSA), which governs operations within the AIFC.
One cryptocurrency exchange that recognizes the potential of Kazakhstan as a thriving crypto community is BigONE. With a strong focus on asset security and a 100% asset reserve for customer funds, BigONE aims to tap into the opportunities presented by Kazakhstan's crypto landscape.
KrASIA spoke to Athena Miao, Vice President of Business Development, and Aidar Beknazarov, Anti Money Laundering (AML) Compliance Officer, to learn more about the appeal of Kazakhstan as a catalyst for crypto adoption, and the challenges of reshaping public perceptions of cryptocurrencies in the country.
The following interview has been edited and consolidated for brevity and clarity.
KrASIA: Why did BigONE choose to focus on the Kazakhstan market instead of expanding into other prominent markets like Hong Kong?
Athena Miao (AM): Kazakhstan is a rapidly developing country that provides an open market for technological advancements. Its citizens have shown remarkable openness towards embracing technology, evident in their widespread adoption of cashless transactions, surpassing even the levels seen in Singapore.
In recent years, Kazakhstan has experienced remarkable growth in the cryptocurrency and blockchain technology sectors. Furthermore, this has been supported by the government, which officially recognized Bitcoin as a digital asset in July 2020. With its abundant reserves of oil, minerals, and resources, Kazakhstan is undergoing rapid economic development, and it has sufficient funds to invest in various sectors, including fintech and the crypto industry.
Kr: In your opinion, what is the current perception of crypto in Kazakhstan among the general population?
AM: In Kazakhstan, there is a less favorable perception of cryptocurrencies among the general public compared to traditional investments like stocks and bonds. University courses in finance and economics lack comprehensive coverage of cryptocurrencies, resulting in a knowledge gap that prevents the public from recognizing their value beyond an investment vehicle.
Many individuals view cryptocurrencies as speculative and similar to gambling, mainly due to a lack of understanding of the underlying blockchain technology.
Aidar Beknazarov (AB): While cryptocurrencies have been regulated as an independent business activity since 2020, concerns about scams in the industry persist among citizens. Coupled with the low level of financial literacy within the country, it is important to educate the public and promote a culture of investment and compliance.
Kr: How has BigONE been actively involved in promoting crypto awareness and adoption among the people of Kazakhstan, considering the country's low financial literacy rates?
AM: The Blockchain Association in Kazakhstan has been conducting crypto literacy courses, and we have expressed our interest in collaborating with them to enhance the curriculum. We're considering involving IT experts from BigONE as lecturers or trainers to contribute their expertise. Our goal is to have investors who understand the market and avoid uninformed investments that could result in financial losses.
Secondly, we plan to collaborate with second-tier banks (all banks in Kazakhstan except for the National Bank of Kazakhstan). This collaboration will involve knowledge sharing and training to help these banks understand how cryptocurrencies can be utilized as financial assets. By working together, we aim to promote the adoption and acceptance of crypto in the financial sector.
Kr: What is the government's perception of cryptocurrencies?
AM: The government adopts a forward-looking perspective on cryptocurrencies, recognizing their real-world applications and the potential of blockchain technology to enhance the financial environment's efficiency and transparency. Instead of dismissing crypto, they have taken steps to regulate it and determine the best regulatory approach.
The Astana International Financial Centre (AIFC) plays a crucial role, as it aims to regulate crypto activities within its jurisdiction, ensuring compliance with established regulations. This approach offers investors a sense of security and stability.
The collaborative approach taken by regulators is highly valued by us, as it provides an opportunity to openly share our perspectives and suggestions, enabling us to collectively shape the regulatory landscape.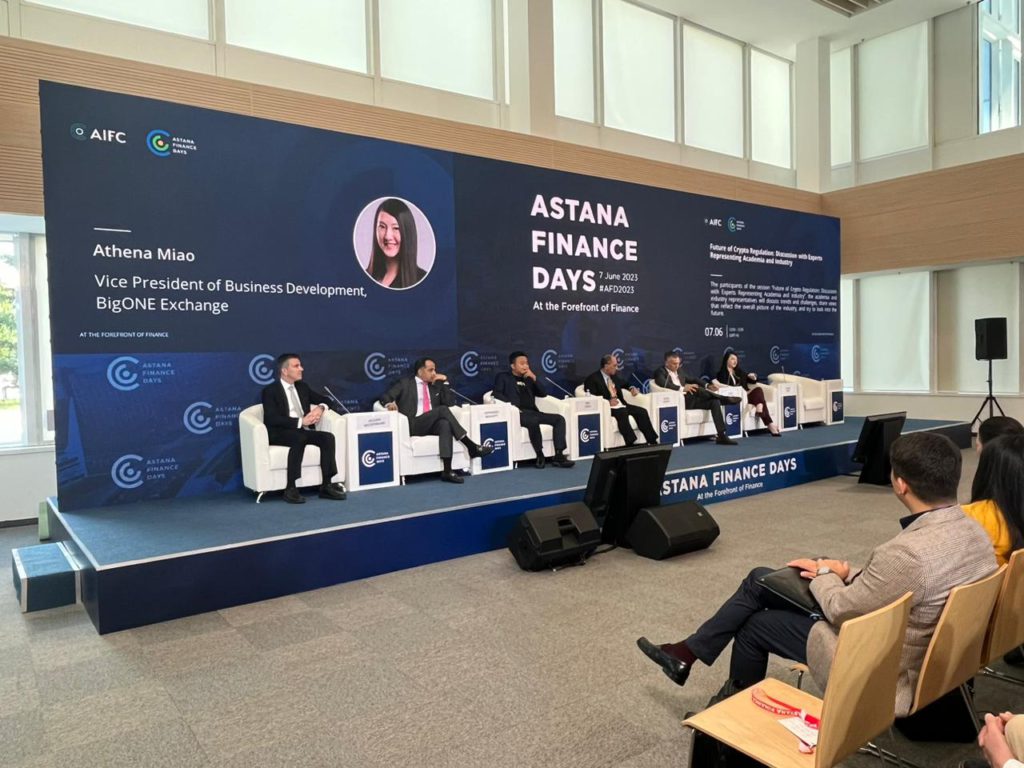 Kr: Who are the competitors and how does BigONE differentiate itself from them in the Kazakhstan market?
AM: We have two main competitors: Binance and ByBit. Our business strategy revolves around considering these competitors as healthy competition, rather than seeking to dominate the entire market. We recognize the mutual benefit of coexistence and understand that we need each other to thrive in this environment.
Nevertheless, we differentiate ourselves from other exchanges by offering diverse services and prioritizing user rights protection. Our key focuses are on education and close collaboration with regulators.
Our advantage lies in being a growing cryptocurrency exchange in conjunction with Kazakhstan's development as a financial hub. We are currently in a flexible phase, enabling us to experiment and overcome challenges alongside the AIFC.
AB: Obtaining a crypto license to operate within the AIFC is a critical goal for BigONE and other exchanges, and we are delighted to have received In-Principle Approval from AFSA.
Having gone through the rigorous and time-consuming application process, which usually spans several years, acquiring this license positions us as one of the top three global cryptocurrency exchanges in Kazakhstan.
Kr: What trends in the crypto sector are you most excited about?
AM: One of the exciting developments in Kazakhstan is the introduction of digital Tenge, a central bank digital currency (CBDC) issued on its own blockchain. We have engaged in discussions with the government to offer our expertise in blockchain technology for the development of this initiative, which is anticipated as a new payment method in Kazakhstan.
After receiving In-Principle Approval from AFSA, we now aim to contribute and have a stake in the digital Tenge project. Additionally, the concept of crypto debit or credit cards that enable instant conversion of cryptocurrencies to fiat currency has been discussed. We are keen on partnering with banks to explore this idea, merging traditional finance with the crypto industry in a regulated and friendly environment.
AB: Previously, second-tier banks in Kazakhstan were prohibited from participating in crypto-related activities. However, there has been an amendment allowing a special pilot project that permits these banks to collaborate with crypto exchanges. This cooperation enables individuals to purchase Bitcoin directly through the banks, simplifying the process of topping up wallets and buying Bitcoin.
Kr: What's the next big market after Kazakhstan?
AM: Our expansion plans primarily target Southeast Asia, specifically countries like Vietnam and Thailand, which have seen significant growth in the crypto and financial markets. We aim to establish closer partnerships and operations in the region before eventually expanding to Singapore, which would be a significant milestone for us as it represents a highly regulated environment.
For Central Asia, our strategy involves starting with Kazakhstan as our base and gradually expanding our user base to countries like Uzbekistan, Georgia, and Russia.