2020 has been an exciting year for Alex Wicks and his Yangon-based logistics startup Karzo. Since navigating the countrywide lockdown during the COVID-19 pandemic to win the regional edition of Startup World Cup 2021, Karzo has become one of the success stories of Myanmar's startup scene.
Wicks started his entrepreneurial journey in Hong Kong, where he launched a digital content marketing company to assist clients with web development and search engine optimization (SEO). Upon arriving in Myanmar in 2012, Wicks realized that SEO was practically nonexistent there, as the country had just started to digitize. He still remembers how Burmese would tend to search on Facebook, the country's most popular website, instead of Google.
However, Wicks did not launch another SEO firm. Instead, he formed a logistics tech firm: Karzo.
"I was very interested in the sharing economy model, companies like Airbnb and Uber were constantly on my mind. But at the same time, I saw empty trucks everywhere in Myanmar. There were 430,000 trucks in the country delivering 90% of the goods. Businesses had to use multiple suppliers, as the industry was very fragmented, it was absolutely a headache," he said.
Launched in 2016, Karzo operates in the business-to-business (B2B) trucking sector, matching trucking suppliers with businesses. According to Wicks, the firm currently manages the largest virtual trucking fleet in Myanmar, with over 5,000 drivers on its platform.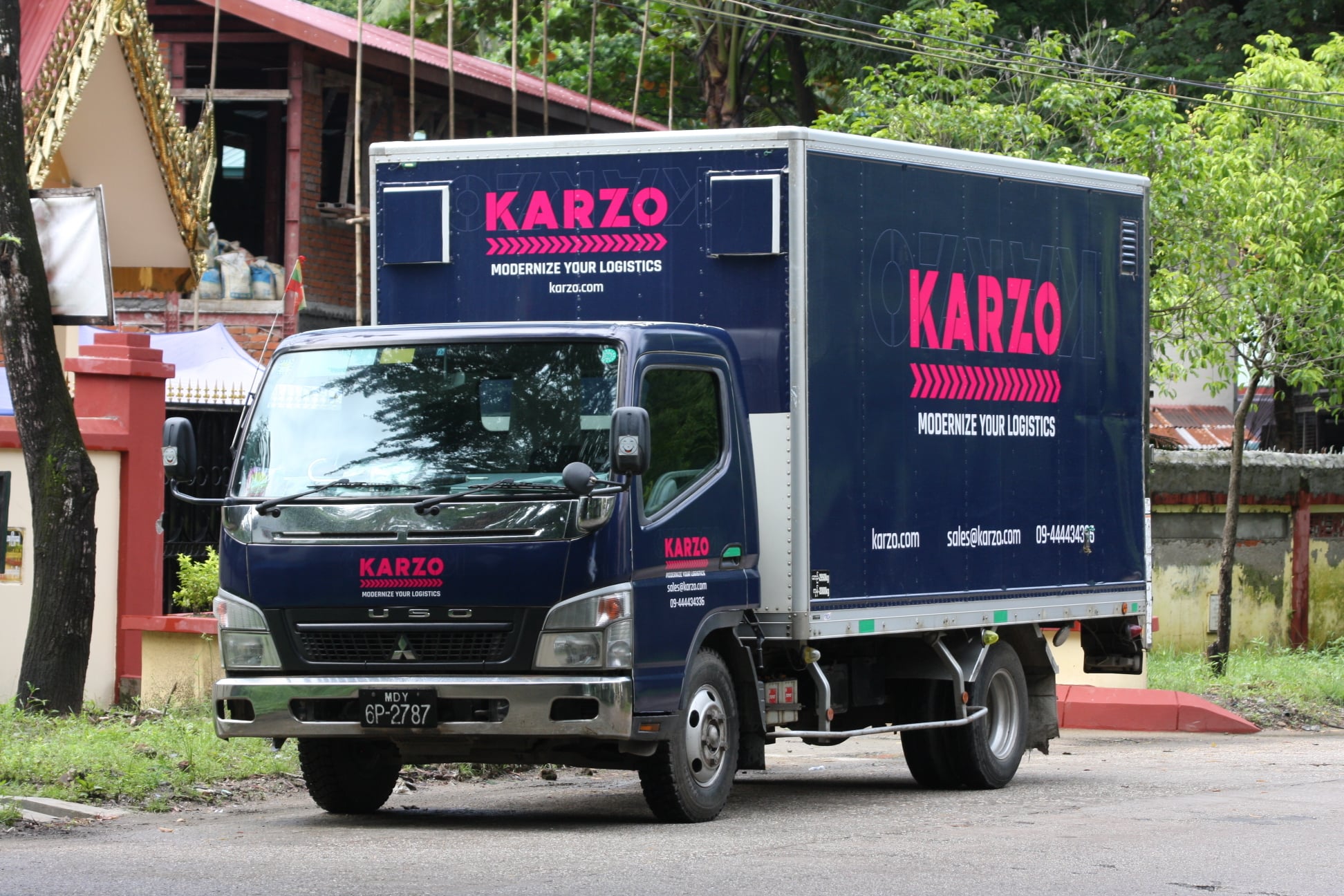 Solving logistics pain points
Myanmar's freight and logistics market is expected to reach a market value of USD 4 billion by 2025, driven by a fledgling e-commerce industry and surging trade activity. Yet, despite increasing demand and the entry of new international players, the sector remains largely fragmented, with over 4,000 logistics firms scattered around the country's primary corridors, including Yangon, Mandalay, Muse, and Myawaddy, according to a report conducted by Ken Research.
"The tracking system in the country is mostly paper-based and manual. The whole country is made up of very small and fragmented fleets, which is a big pain point for businesses that have to use multiple suppliers," said Wicks.
Karzo is trying to solve this fragmentation by connecting truck drivers, fleet owners, and third-party logistics firms (3PLs) through its application, while it also prevents middlemen from eating into drivers' margins, Wicks explained. The platform allows clients to ensure their deliveries are on track, track and trace distribution. It provides an array of other services too, such as last-mile distribution, line haulage, and truck-wrapping.
The tracking platform accounts for the majority of its revenue, according to Wicks. The platform charges 5–10% commission from its business clients, while it does not take any commission from drivers. Karzo has sought to further diversify its business offerings, with a plan to build an end-to-end supply chain service in the country.
"We started doing core trucking, line-haul trucking, and warehousing for cross-border logistics, where our customs clearance is fully operational now in Thailand. These are the foundation of our plan to build an end-to-end supply chain, and that is where the margin really comes from," Wicks explained.
Four-week standstill
Karzo suffered a four-week standstill in April, when Myanmar endured a countrywide lockdown due to COVID-19, testing the firm's stability, Wicks explained.
"In Myanmar, April is considered as a holiday month owing to the Burmese New Year. The country essentially shuts down for two weeks. However, with the country-wide lockdown, all the truck drivers went home and they could not travel back to the city [after the holiday], so we lost three weeks of business in April. It was tough timing."
However, from the second week of May, after the end of the lockdown, the firm experienced an uptick in its businesses.
"The average margin across the company was 1% in the first quarter this year, as we were only doing core trucking along the four freight corridors at the time. Since then, we have shifted our focus to building out a whole supply chain for corporate businesses, and our margins have exploded to 15% this month [November]," he said.
Increasing competition from regional and international players
Myanmar's developing economy and its strategic location between China and India, sharing borders with Bangladesh, Laos, and Thailand, has attracted the attention of regional players like DHL, DB Schenker, Kerry Logistics, and Indonesia-based Kargo in recent years.
Myanmar-based KoneSi Freight, which received a six-digit investment from local early-stage VC firm Yangon Capital Partners (YCP) and Vietnam-based VC Nest Tech last November, is another contender. The company operates an online logistics platform that connects businesses with individuals and small fleet owners, with a base of over 100 business shippers and over 2,000 trucks.
However, according to Wicks, the firm's biggest competitors are still middlemen agents scattered around the country. "There are not too many competitors in our space. While there are other international logistics players like DB Schenker, they also use us as their key supplier. So it's a natural tendency for us to be the number one key supplier."

Eye on Series A funding
Although logistics contributes 12.24% of the country's gross domestic product annually, the sector remains largely untapped. While modernizing and optimizing Myanmar's logistics is embedded in Karzo's vision, the firm also has a vision to improve the cargo links between Southeast Asia and South Asia, Wicks said. "Myanmar's logistics market is expected to grow by 300%. We need a scalable technological solution to connect all these markets together."
To expand to other markets, the firm is set to raise a Series A round in the first quarter of 2021, Wicks said.
This article is part of KrASIA's "Startup Stories" series, where the writers of KrASIA speak with founders of tech companies in South and Southeast Asia.