For the very first time in its five years of operation, Bengaluru-based edtech startup Unacademy made its technology available to educational institutes that had to temporarily shut due to the outbreak of novel coronavirus in the country.
Backed by the likes of Sequoia Capital, Blume Ventures, and Steadview Capital, Unacademy offers live classes on its web platforms for students preparing for competitive exams such as engineering, banking, CAT, and GATE among others.
Unacademy founder and chief technology officer, Hemesh Singh told KrASIA, that at a time when students can't attend classes in schools, the company is trying to ensure their studies don't get affected. The company claimed almost 500 educational institutes have already signed up to organize live classes that are free for six to seven weeks.
"We never thought we would give our technology to anybody. We always thought that the entire product—tech as well as course content—would be used together," Singh said. One major change that the company had to make post the COVID-19 outbreak was to make its live tutoring feature open for everyone who has access to its tech. "Earlier only our own educators were able to live-stream their classes. But, as we gauged the impact of the outbreak we realized it made sense to make it widely available," he said.
In addition to this, it has also opened its subscription-based content for students, offering them up to 20,000 live lectures without any fee until April end. In fact, ever since the coronavirus pandemic forced India to go under a 21-day lockdown beginning March 24, a lot of online tutoring companies saw this opportunity to offer their learning platform to students for free, albeit for a limited period.
Edtech startups such as Byju's, Vedantu, Toppr, among others said they are seeing a lot of interest from new users. Byju's claimed it has witnessed "a 60% increase in the number of new students." Unacademy recorded a 3x growth in its free live classes and claimed it's clocking 30 million minutes of watch time every single day. Meanwhile, Toppr saw the number of students attending its live classes double over last month and Vedantu registered a 10x growth in the number of users signing up ever since the outbreak.
On the face of it, it seems edtech platforms have come forward to save the day at a time when schools and colleges have had to close, forcing over 300 million Indian students to stay behind their syllabus. However, what most B2C edtech startups are offering doesn't match with the need of the students—finishing their school syllabus.
Beas Dev Ralhan, CEO and co-founder of Next Education India Pvt. Ltd, a B2B edtech company told KrASIA that the B2C edtech apps largely offer supplementary, co-curricular study material, and courses that are a value-addition for students and don't necessarily follow schools' curriculum.

B2B startups to the rescue
Industry experts who KrASIA spoke to said it's the educational institutes that need technology tools in order to really benefit students. Teaching students using interactive tools would certainly help them better understand certain concepts, but with no reference to the school syllabus that students have to cover, studying using an app doesn't help them academically. Moreover, it doesn't emulate the school environment for children. According to Ralhan, companies like Byju's are not going to have a classroom concept where the whole curriculum is tracked and teachers modify lesson plans as per the need.
"For the vast majority of school kids, self-learning apps do not work. Even if you give them access, they lose interest very quickly and hence the dropout rate is very high. Only the top 10% of the students who are self-motivated go for them," said Amol Arora, vice-chairman and managing director, Shemford Group of Schools that runs about 650 schools in the country. "That's why these apps work better (when preparing) for entrance or board exams," he added.
At the end of the day, consumer-facing edtech companies are merely roping in more students as parents are worried about their kids sitting idly at home.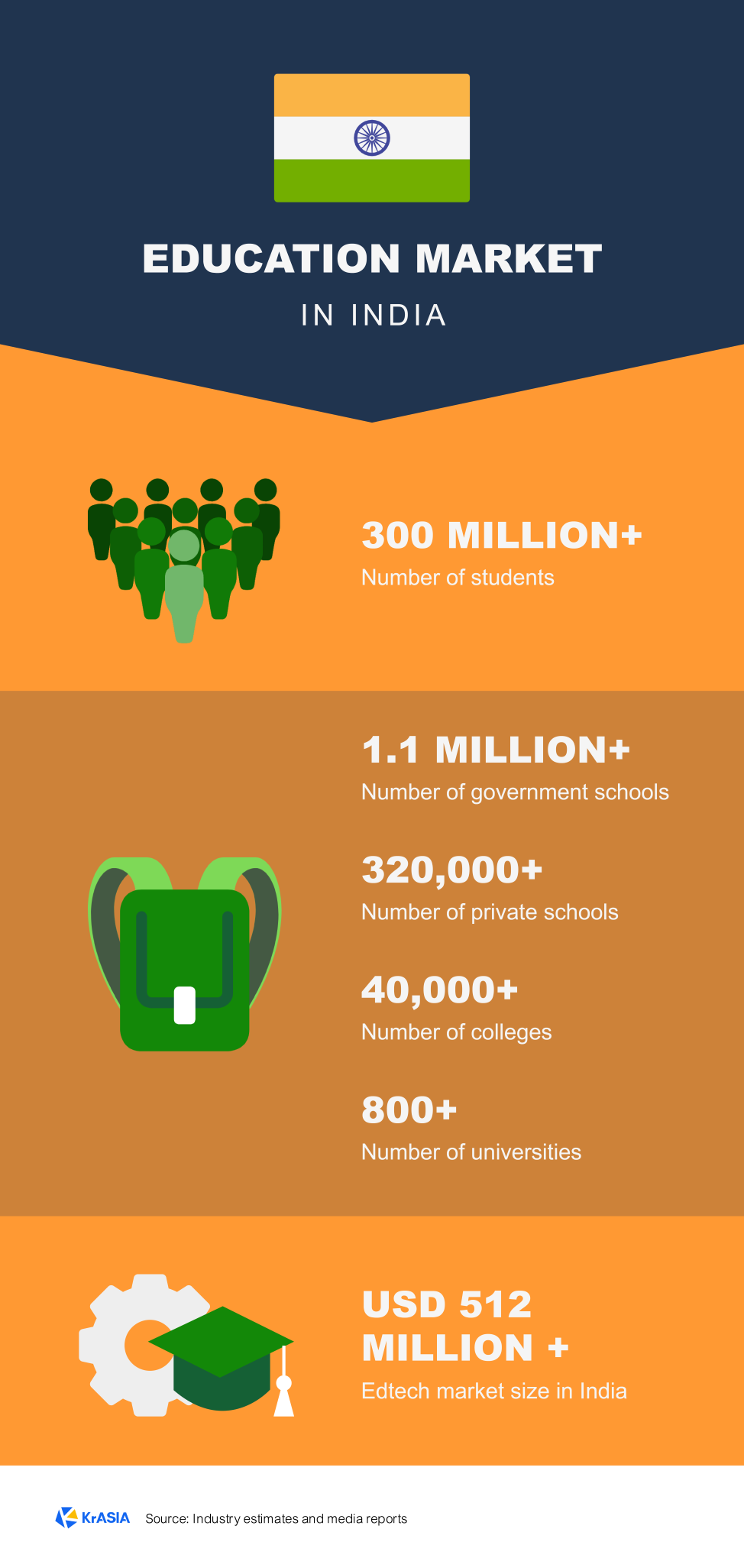 To this end, a few B2B edtech startups like Eupheus Learning and Next Education have come forward to offer their live-streaming feature to educational institutes free of cost. They have upgraded their platform to help schools and colleges set up virtual classrooms. Other than Unacademy, Vedantu is one of the few B2C companies that has jumped in to help schools rather than just opening the platform for students. Both the companies have temporarily lent their live-streaming platform to schools and other educational institutes for free.
However, live-streaming alone isn't enough to conduct a virtual class. Teachers need to be able to distribute assignments, check children's reports, give tests, and hold doubt-clearing sessions, as well as monitor attendance. This is why edtech companies that have tools designed for schools and other such institutes are in a better position.
Study from home
Next Education has provided its partner schools dedicated software like ERP (enterprise resource planning); learning management system (LMS), a digital platform for tracking, reporting, and delivery of educational courses; assessment platform as well as digital content and tools. However, it didn't have a live-streaming feature until a month ago. But the Hyderabad-based company quickly added live lectures to tap the demand. The company said it will make live lectures freely available for a month.
"Till now, schools were buying our solution to extend the classrooms so that whatever is taught in the classroom, children have it at home. They were not trying to use it to conduct virtual classes," Ralhan told KrASIA. "Now we have added the live lecture classroom, using which they can pretty much run a school session."
Ralhan said he expects around 700-800 schools that had signed up for its ERP or some other bits and pieces last year, to start using all the services over the next few months.
"Apart from making their general operations digital, schools are trying to move academic operations online, which they were not looking at earlier," he added. Agreeing with Ralhan, Unacademy's Singh said technology enhancements such as live-tutoring fits perfectly with the current education needs. "These alignments don't happen every now and then but this is the right time to speed it up," Singh said.
Similarly, New-Delhi based Eupheus Learning, which offers digital exclusive content and courses for schools, is also in the process of rolling out a live-streaming feature.
Amit Kapoor, co-founder of Eupheus Learning, told KrASIA it has reached out to 12,000 private schools including its existing 4,000 clients to try its live-streaming platform for free. Kapoor expects 500 to 1,000 schools would adopt the company's tools within a month.
However, even with the help of technology-led education startups, schools face several challenges to conduct virtual classes all of a sudden as it's not easy to simulate the offline teaching behavior in a digital world. Many a time, according to Arora from Shemford Group of Schools, kids just mark the attendance and walk off. Unlike in a physical classroom, it is hard to make sure that they fully attend the lecture.

But there are many teachers who aren't comfortable with LMS and then there are some who simply don't know how to record and upload a lecture.
"We are training our teachers to record lectures and put it up on YouTube, which can be later shared with their students on WhatsApp," Arora said. He plans to experiment with different methods to see what works in the long term and accordingly go forward with that.
"Many teachers are using Zoom calls, Google Hangouts, WhatsApp group chats, and different apps to conduct classes, give assignments, and tests," Arora said. "Meanwhile, we are mapping out online learning resources on various websites like YouTube or Khan Academy to send it to kids."
Edtech in the post-COVID-19 world
While the demand for B2C and B2B edtech startups have soared, it's difficult to tell if they would be able to sustain the current traction once they revoke free access. One benefit these online tutoring companies have is by the end of this they would have abundant behavioral data of students due to the increase in usage.
"Some of them might be able to use the collected data and convert these users as full-time paying customers once the healthcare crisis is over," said Next Education's Ralhan.
Unacademy's Singh said the company hasn't decided if it would keep offering its live-streaming tech platform to schools once the situation stabilizes. "It would depend on the kind of demand we see after schools open up again," he said.
According to him, the crisis has acted like a catalyst and fast-paced the adoption of online education. "It was going to happen anyway within the next one to two years, but because of the circumstances, it has happened faster," Singh said.