In recent years, we have seen technology advance rapidly and transform many areas of our lives. Much has been done to reinvent certain sectors, while others have remained untouched. Ron Gura and Yonatan Bergman, experienced entrepreneurs, have stepped into uncharted waters as far as startups and innovation are concerned to offer a new way to manage death.
Yes, death.
Together, Gura and Bergman launched Empathy earlier this year, backed by VC firms General Catalyst and Aleph. Headquartered in New York and Tel Aviv, Empathy provides a new financial technology application and emotional guide that aims to address the set of opposite needs that fall upon the bereaved: managing a maze of bureaucracy and coping emotionally with the pain of loss. These needs are very demanding. According to EstateExec.com, the average executor needs roughly 570 hours to settle an estate in the US.
"We think that death is the single largest consumer sector that is still untouched by innovation," Gura told NoCamels. "This isn't because of any regulatory or technological barrier. It is due to our aversion to addressing it. It is due to our human optimism. But at the same time, it is an industry." The tasks that pile up are left to be managed largely without the help of technology. Empathy utilizes the modern tools that we have become accustomed to in every other area of our lives to ease the burden of loss.
From structuring information to calculating financials, debt, or taxes, there is clearly much to gain. Additionally, the app provides an easy way to capture photos of key documents and store them securely in the cloud to facilitate collaboration among several people on a given topic.
This avoidance of death is why Empathy was first in line to provide such a service but is also an integral part of what the startup seeks to assist its users with. The heavy emotions brought up after the passing of a loved one cause many people to struggle with the logistical arrangements because of the pain they feel. Empathy's approach is to incorporate advanced technology and human support to aid users not only with tedious paperwork but in managing deadlines, stress, and all of the emotional issues that can come up.
Empathy's care specialists, who are trained in mental health assistance, work in tandem with the app's grief guidance audio guide.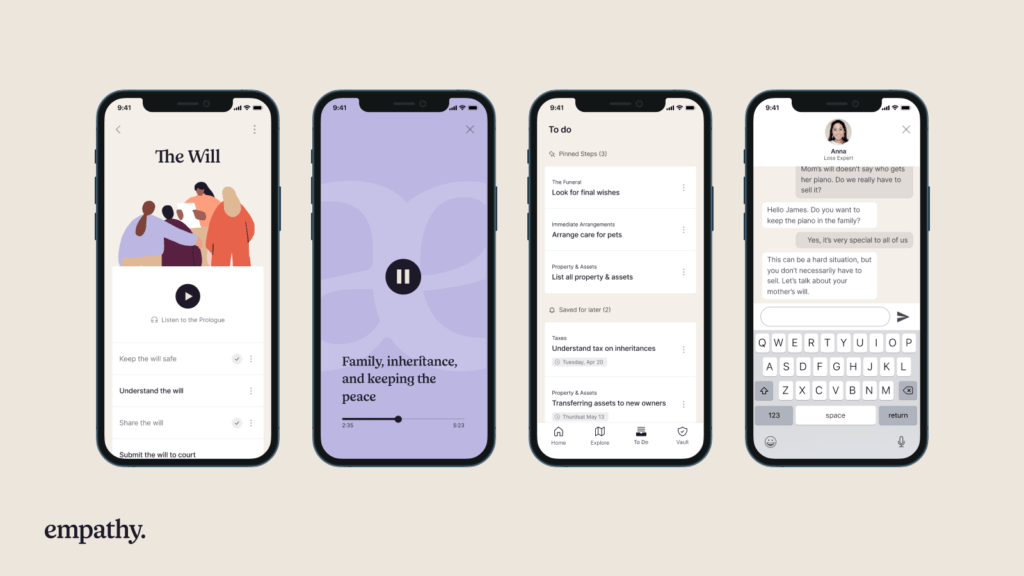 Gura and Bergman have a long and successful history of working together and last served in management roles at WeWork as senior vice president and vice president of engineering, respectively. The two have been developing the idea behind Empathy for close to a decade. After seeing an employee and friend cope with loss and endure the prolonged process of executing an estate, Gura was taken aback. He noted that the process was considerably more complicated than what he had experienced in Israel, and decided the timing was right.
Empathy launched in the US market in April 2021 after months of development and plans to offer its services in other countries as it grows. The app features a simple and intuitive interface and is being offered for a one-time flat fee of USD 65 for any length of time that the service is required. It allows users to safely upload information about the accounts, assets, and documents of the deceased to receive instruction about what to do and when, but also, critically, what can wait.
One of the vital things Gura seeks to provide is pricing transparency. "You don't call your neighbor to ask what a good price is for a casket. You do it yourself," he told NoCamels while lamenting the high prices paid to businesses like funeral homes that don't list their prices publicly. Today, Empathy's care specialists can help users find local service providers, but they cannot yet be booked through the app.
As the company grows, Gura and Bergman aim to expand features and services in ways that will fight exploitation in the sector and increase transparency. At the same time, these tasks are often the most difficult for the people who need the most help.
"High net worth individuals have service providers that make them plan for the sensible and inevitable future with trust creations, digital wills, guardianship documents, and attorneys. They have professionals who deal with optimizing taxation, social security, and veterans affairs. Most people think that they don't have something to lose, that their estate is not that big of a deal. They want to avoid the difficult conversations," said Gura. Later, however, that creates a situation in which their relatives "have to choose between being a good employee, a good husband, or a good executor." This challenge requires a different kind of brand, one that Gura and Bergman wish to create. They introduced Empathy with a human-operated helpline of care specialists to provide guidance and assistance with paperwork even after family and community support has subsided.
"Empathy doesn't aim to replace estate lawyers, something which most people don't even have," said Gura. "We can fill part of the role of a paralegal, an accountant, and an estate lawyer while providing a shoulder to lean on."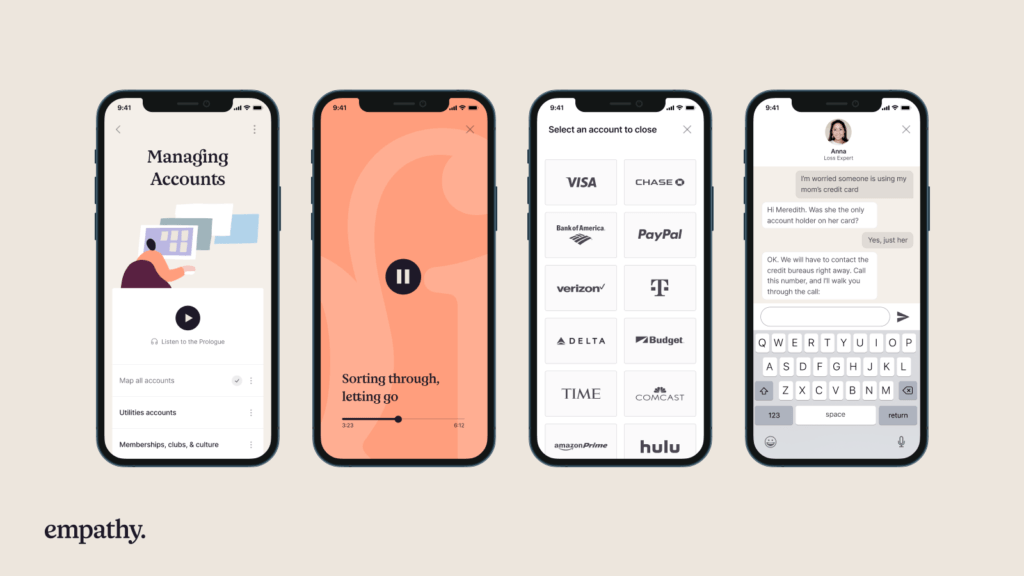 Empathy is offering the first month free without entering payment details, and the cost of the app can be deducted from the estate. The founders realize the difficult situation that many families face. To meet the needs of a growing number of Americans currently receiving assistance from nonprofit organizations, Empathy has offered to provide the service for free to those who could use it most. This gesture underscores the company's commitment to building a mission-driven, purposeful venture.
Gura is confident that his approach is a winning one. "If we become known as a brand that is trying to decrease the cost of life transition, saving money, time, and stress, then we can become a trustworthy brand. We want to become the 'go-to' for dealing with loss," he said.


The article was originally published by NoCamels, a leading news website covering breakthrough innovation from Israel for a global audience.