Like many events on a packed calendar, the annual Chengdu Motor Show organized in central China is an opportunity for Chinese carmakers to flex their technological prowess and showcase the best of their new models to consumers and the world.
But one lady was determined to send a message to electric vehicle (EV) maker Xpeng Motors this year. As the product launch kicked off at the show in September, Han Xue unzipped her jacket to reveal a T-shirt emblazoned with a slogan questioning the quality of Xpeng's vehicles. She held up a placard repeating the slogan for good measure, in full view of the company's co-founder, Henry Xia.
This act of defiance was soon followed by voices of support from car enthusiasts in and outside the convention hall. An unlikely rebel herself, Han told Auto-time that in fact, she had been a former avid supporter of Xpeng.
But the story of how she and other followers turned against this EV startup, long touted as China's answer to American giant Tesla, is one of many early warning signs about the bleak future of a once-promising industry.
Han earlier in the year noticed that a new Xpeng G3 model she had purchased was exhibiting a series of defects within months after leaving the showroom.
"There was a defect in almost every nook and cranny of the car," Han said. She claimed she had to shell out large sums to replace numerous malfunctioning parts of the car, from the steering wheel to the chassis. "Eventually, I was too scared to even drive my car [for safety reasons]," she said.
Han is not alone. In July, car owners protested outside Xpeng's offices in multiple Chinese cities claiming that they were cheated into purchasing an older version of the G3. That comes as a newer version was marketed just six months later — with improved functions and cheaper prices.
Fading glory
The Chengdu Motor Show has long been a bellwether for the industry. With fewer models slated for rollout this year, one industry insider admitted that many companies had chosen to stay away from this year's show to save costs.
"It is no laughing matter to spend millions of the Chinese yuan on an exhibition, and every carmaker needs to weigh the benefits against the costs," he said.
For years, China's electric carmakers have been able to thrive with generous government subsidies, as Beijing ramps up efforts to cut down carbon emissions and pollution. Total EV sales hit 1.2 million last year, making China the largest market in the world.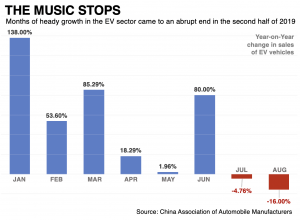 But EV sales have gone into a downward spiral after the Chinese government announced in June that national subsidies for new energy vehicles (NEVs), which include EVs, along with other cars powered by renewable energy like hydrogen fuel and electric hybrids, will be phased out by the end of 2020. Subsidies were cut by over half the same month.
Recent sales figures released by the country's largest auto industry association, the China Association of Automobile Manufacturers, have confirmed the industry's worst fears — sales of EVs fell in August to 69,000 units, down 6% from the same period last year.
Smaller EV firms, like Shanghai-based Aiways, are pulling out all the stops to attract new customers. For the launch of its electric U5 SUV, Aiways offered a three-month rental service for buyers to experience their new cars before making a purchase. One source within the company told Auto-time that the company was forced to adopt this sales strategy out of necessity.
"In smaller cities where no one knows what EVs are, or what our brand is all about, this is the only way to boost sales," he said.
Xpeng also maintains that there is untapped demand in inner cities. "We have opened five experiential showrooms in Chengdu so far," said chief marketing officer Xiong Qingyun.
Nio bears the brunt
None have been harder hit than Nio, however. The Shanghai-based maker saw its loss widen quarter-on-quarter to RMB 3.3 billion (USD 478.6 million) in the three months ended June.
The beleaguered startup has been bleeding cash despite a high-profile public listing on the New York Stock Exchange in September last year. It made a net loss of RMB 9.6 billion in 2018.
Nio has also borne the brunt of a series of safety scandals that have rocked the EV industry in recent months. Three of its flagship ES8 SUVs have caught fire in two months, prompting a voluntary and costly recall of nearly 5,000 vehicles.
Other electric cars produced by BYD and Tesla have also burned, stoking safety fears among consumers.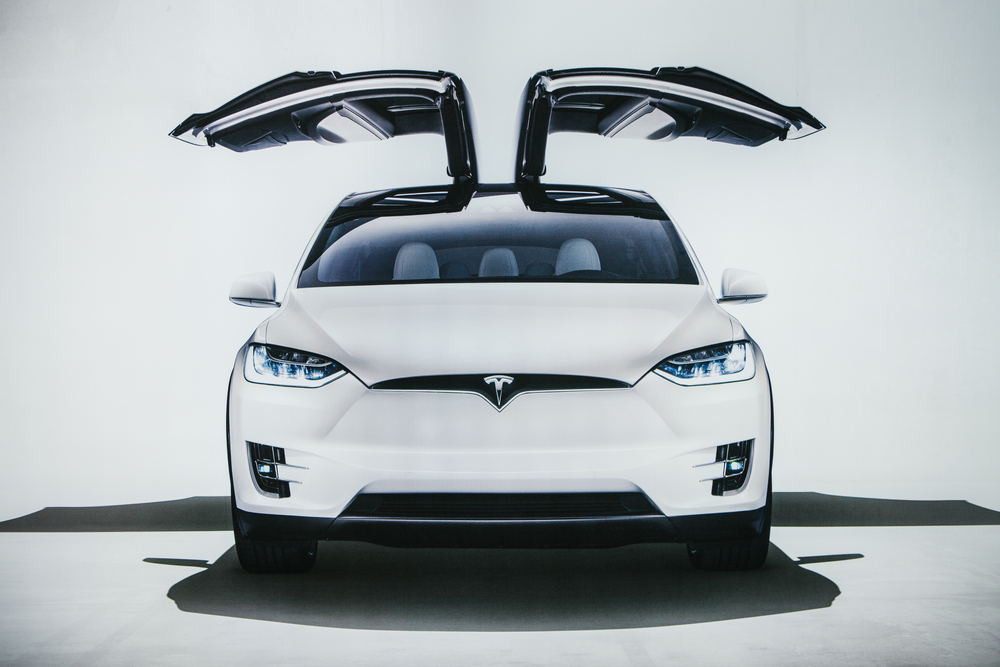 Nio has since embarked on a series of drastic cost-cutting measures, with plans to retrench up to a fifth of its 10,000-strong staff by the end of the year. The company is also planning to sell its noncore businesses in areas like Formula E racing.
Other EV startups have also been forced to check their ambitions. Byton burst onto the scene in 2017, with the backing of seasoned electric car executives, including co-founder Carsten Breitfield, formerly in charge of BMW's i electric vehicles program.
The company had set its sights on capturing western markets with a new concept all-electric SUV, the M-Byte. It has opened new offices in Munich and Silicon Valley.
Despite completing a Series C round of funding in June worth USD 500 million, the startup has fallen short of its plan to mass-produce the M-Byte by December, with the car still being in its prototype stage. The company's aim to start selling the M-Byte in European markets by next April is now in doubt.
In a further blow to the company, Breitfield resigned in April, along with numerous engineers. He later alleged that First Auto Works, China's oldest state-owned automaker, which invests in Byton, has interfered in the company's operations, leading to his dismissal.
Light at the end of the tunnel?
But Tesla has had more successes in China. The US giant saw its sales in the country rise 98% in the first seven months due to strong demand for the Model 3, according to research firm LMC Automotive. The company's revenues in China in the first half of 2019 were up 41.8% year-on-year, at USD 1.5 billion.
Apart from building a new manufacturing facility for its Model 3 vehicles in Shanghai, the company has also aggressively cut prices on its new models in a localization drive, designed to target local EV companies where it hurts the most – price competitiveness.
While some like Nio has downplayed the pressure of a price war, there is little doubt in the industry that the fight is on to snag consumers.
Even optimists struggle to identify bright spots on the horizon, as few expect a turnaround to come anytime soon.
At the Frankfurt Motor Show in September, Wei Jianjun, chairman of China's Great Wall Motor, acknowledged that the years of heady growth for the auto industry in general were long over, with sluggish growth being the new norm for automakers.
"Even if the long winter passes, there is one certainty," he said. "The industry will never be the same again."
The original article was written by Auto-time (Weilai Chiche Bao) of 36Kr, KrASIA's parent company.
Contact the writer at [email protected]