As Myanmar is set to hold its general election on November 8, the pressure is growing on Facebook, the country's most widely used social media platform, to limit the spread of false news, "hoaxes," and hate speech that could incite violence in the conflict-ridden country.
While the government adopted a hands-off approach to online hate speech, some local observers worry the complicated digital landscape will allow malicious actors to get away with the spread of fake news.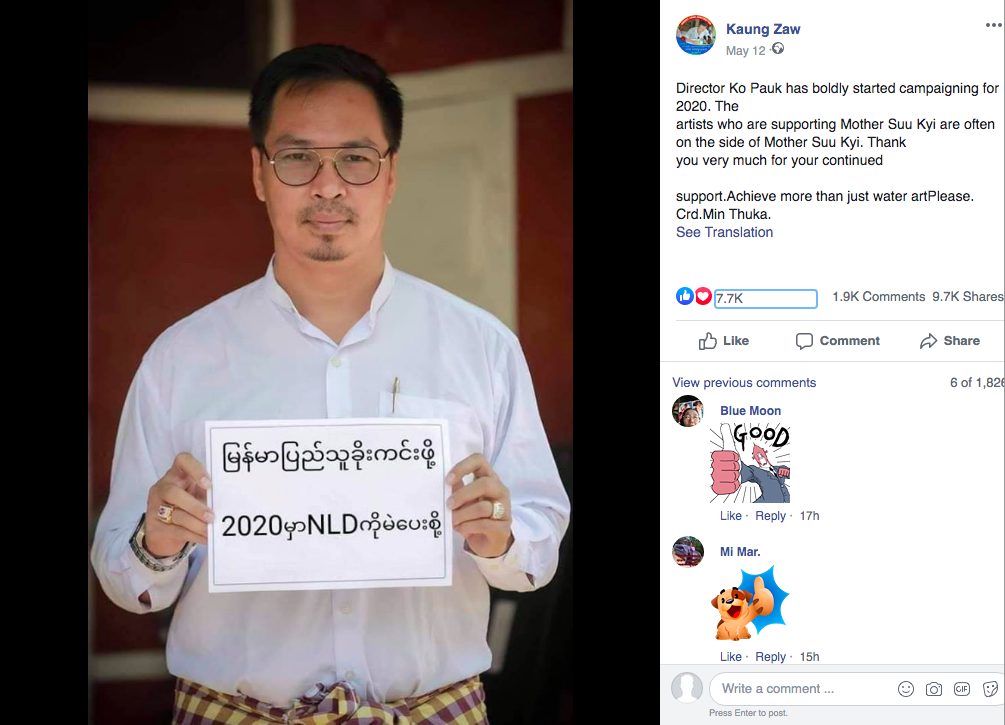 Facebook's problematic history with Myanmar
For most people in Myanmar, Facebook is the internet. While the social platform's user base in the country covers about half of its population of 55 million, some people and organizations found a convenient channel to disseminate hate speech and fake news, which has even led to deadly consequences.
In March 2018, a United Nations investigation stated that the social media juggernaut had played a "determining role" in spreading hate speech that fueled the mass expulsion of the Muslim Rohingya minority in Myanmar's Rakhine state in August 2017 and the death of thousands of Rohingya, according to findings released by the UN Human Rights Council.
Facebook refused to reveal posts and communications by members of Myanmar's military and police in its response to a Gambia-led case filed with the International Court of Justice, according to Reuters. The request was "extraordinarily broad" and would represent "special and unbounded access" to accounts, said Facebook.
However, Facebook changed its tune in late August, when the company said in a formal written apology that it has been cooperating with the UN's Independent Investigative Mechanism for Myanmar to provide data that was originally preserved in 2018. Still, the events set a dangerous precedent regarding Facebook's role as a source of information in the upcoming Myanmar elections.
"We're working hard to protect the integrity of Myanmar's upcoming election on our platform by combating harmful content, partnering with civil society organizations to identify and stop emerging threats, and reducing the spread of misinformation," Rafael Frankel, public policy director for Facebook in Southeast Asia, told KrASIA in a statement.

Political ads blitz
With most political parties advertising on Facebook aggressively, the social media platform has rolled out a new policy to improve transparency, requiring advertisers to undergo a vetting process and disclose who is responsible for their content. Also, all information about political ads is stored in the Facebook Ad Library, which is available to the public, according to the company.
The publicly available data will show not only how much money parties spend on advertisements on Facebook, but also aggregated demographic information such as the gender, age, and location of people viewing those advertisements.
The military-backed opposition party, the Union Solidarity and Development Party (USDP) that formed in 2010, had spent big on Facebook to promote its activities and plans. The USDP has invested more than USD 5,000 between December 22 and August 30 to run ads for its main page and subsidiary pages, USDP Farmers Committee and USDP Women Committee, according to data from Facebook's Ads Library.  
The USDP is not alone in using the platform for political interests. Myanmar's People's Pioneer Party (PPP), headed by former NLD stalwart and jewelry businesswoman Daw Thet Thet Khine, spent approximately USD 4,900 from July 27 to August 25, while the Union Betterment Party (UBP), led by retired general Thura U Shwe Mann, spent USD 1,500 from August 1 to 28, according to Facebook.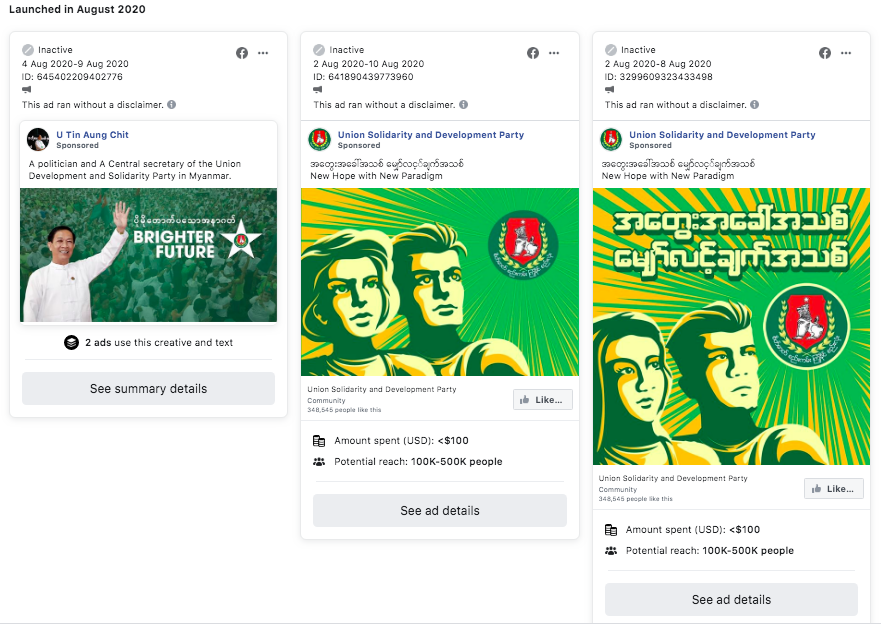 Facebook has worked with fact-checking partners to limit the spread of fake news and hate speech. The platform has expanded the size of its Burmese content moderation team to over 120 staff members, who scour the platform 24/7 and can react to reported content within 24 hours, according to a Facebook spokesperson.
With the help of AI technology, Facebook had already taken action against 280,000 pieces of content that have violated community standards in Myanmar. In all, 97.8% of that content was detected before users filed reports, the spokesperson told KrASIA.
But is Facebook doing enough this time?
Despite Facebook's efforts to prevent coordinated campaigns seeking to manipulate the public debate, a social media monitoring report by Democracy Reporting International, a Berlin-based civil society organization, found the presence of "conspiratorial and junk news sites and Facebook pages" masquerading as media outlets to spread misinformation and shape public opinion, between November 2019 and January 2020.
Many of these Facebook pages impersonate other news outlets. For example, "Radio Free Myanmar" has shared fake news in favor of the country's military and former general Than Shwe, falsely claiming to be part of international news outlet Radio Free Asia, according to the report.
National News Network is another pseudo-news outlet on Facebook that had posted more than 150 posts in just July this year. Among its posts, 43 were paid ads containing false news and hate speech, according to local news account Myanmar Now. Although some of these accounts have been removed by Facebook, false content had already been proliferated with hundreds of thousands of users within a short span of time.
"Such sources pose a risk to how opinions are formed online, and with general elections taking place in 2020, their popularity may grow. The narratives they spread could become more influential in the months to come, with the potential to influence voters," said the report.

Government adopts hands-off policy
While the spread of false news exposes the loopholes inside Facebook, the government has failed to tackle the problem in a timely manner, even after the introduction of different measures.
For instance, a social media monitoring team formed by the president's office in January 2018 with a budget of USD 4.76 million (MMK 6.4 billion) is meant to work with Facebook to prevent hate speech and false information during the election period. However, the move has been criticized by the opposition party, who claims the task force has a "double standard" which could "jeopardize the validity of the general elections." 
"The social media monitor team has also attracted criticism from civil society and media because nobody knows under which legal framework they are operating and for which purposes. I have more concerns about encroachment into the privacy of citizens because the government is more focused on criticism of officials than fighting hate speech," Htin Kyaw Aye, founder of Ānanda Data, a civic tech and open data organization in Myanmar, told KrASIA.
"It is being used for political benefits from both sides of the aisle. I don't see any real commitment from the government to meaningfully fight hate speech and defend freedom of expression," he added.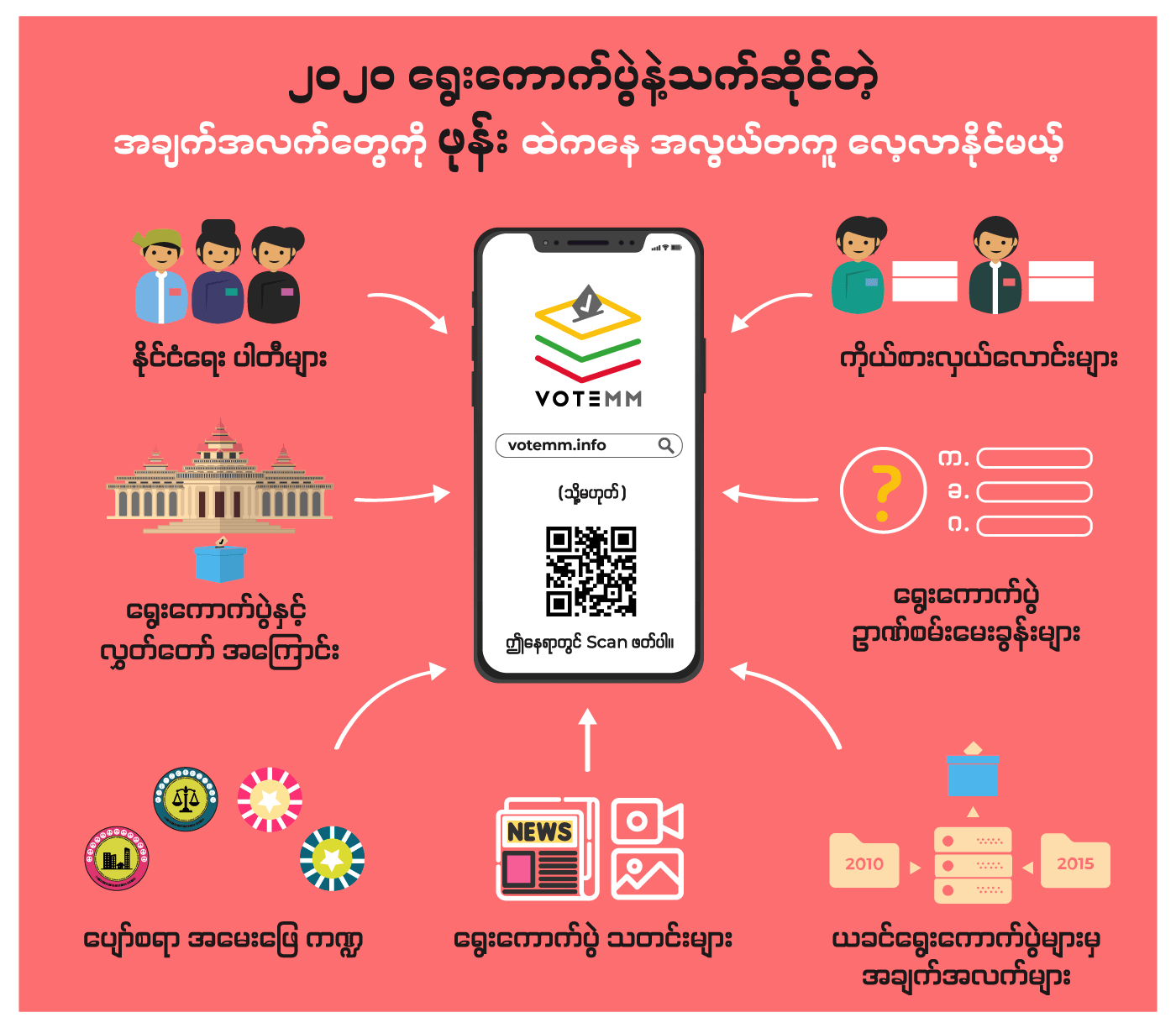 Community approach
Members of the civil society have stepped up to mobilize resources to tackle some of the problems. VoteMM, a website developed by Myanmar's local tech hub Phandeeyar, is one such initiative. The platform provides voters with updated and verified election-related information on its website and app. Since its launch in May, VoteMM has amassed over 8,000 users, according to Phandeeyar.
Local social media observer Soe Lin Htoot also highlighted how voters are leveraging social media to fight back against false news.
"In the absence of effective responses from the government, more people have started to leverage the reporting function on Facebook compared with the previous election, to report content that they deem as fake information or hate speech," he said.
Despite increasing efforts from all sectors, Soe Lin Htoo explained that another factor boosting the propagation of fake news is Myanmar's low digital literacy rate. "When it comes to fighting fake news or misinformation, the situation is more complicated than it seems. False news perhaps is easier to identify with the help of technology, but bad actors are difficult to detect," he added.
Even if over 40 political parties in Myanmar have received a verified badge on their Facebook's pages, which assigns official status to real political parties' pages, Soe Lin Htoot pointed out that this only accounts for 40% of the estimated 100 parties that will take part in Myanmar's elections.
Some parties may not even have a social media account like their resourceful peers, Soe Lin Htoot added.
For now, Facebook has made a broad, vague promise."Our commitment to keeping the platform safe doesn't stop at Myanmar's election. This is something that we, at Facebook, work all year-round and will continue to do after the election," said Facebook's Frankel.
While Facebook's pledge sounds promising, all stakeholders have to gear up for a battle over information and veracity, as voters need accurate information to cast their ballots.