In emerging economies across Southeast Asia, starting companies that have the potential to create jobs is sometimes automatically equated with improving social welfare. At the same time, there are venture funds that specifically seek out companies with "social impact." It can be confusing to figure out how, exactly, "impact" is defined.
For this week's "Venture Voices," KrASIA spoke with three investors based in Jakarta to figure out how social impact funds are different from tech-focused venture investments, and how the two can often blend together.
David Soukhasing, the managing director of ANGIN, says that the line between impact investors and VCs can be blurry:
You will see many deals co-invested by impact investors and VCs; the investors who heave the most capital into impact-driven deals are actually VCs (e.g. 500 Startups, East Venture or Alpha JwC), and some investors change their "label" based on their audience. Every deal done by VCs in Indonesia has an impact, and every entrepreneur I have met claims to have an impact as natural as job creation. To me, the inherent nature of the job is the same but there are two differences. The first is that impact investor bear the additional responsibility to justify why they use that label. Secondly, impact investors should play—invest—where other folks are not, so as to differentiate their mission from others' and create new impact dimensions needed to close funding gaps.
Tanisha Banaszczyk, the investment manager of Convergence Ventures, points out that there are, at times, financial incentives for all VCs to cloak themselves in the mandate to make socially driven investments:
In some cases, impact investors may generate greater returns than non-impact funds. As recently shared by the World Bank's investment arm, the International Finance Corporation (IFC), its realized equity returns outperformed the MSCI Emerging Market Index from 1988 through to 2016. The IFC now estimates that the global appetite for private impact investment—meaning VC, private equity, non-sovereign debt—is at USD 5 trillion.
There is one key difference, according to Banaszczyk:
Impact funds provide access to best practice approaches for measuring impact. One of the many value-adds of a dedicated social impact fund is its ability to advise on measuring, monitoring, and ultimately adapting the company if needed. For invested companies, this ensures that social impact is preserved as a core part of the business agenda; for the fund investors, these reported measurements provide a transparent platform for those seeking more than just a financial return. Given the importance of impact measurement in reporting to fund investors, the IFC just last week released a common discipline for measuring investments for impact, known as the Operating Principles for Impact Management, with the objective of becoming the common market standard for measuring impact.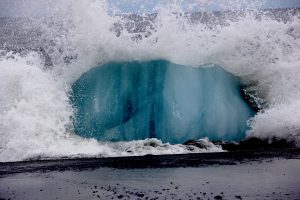 As a partner at East Ventures, Melisa Irene drives home the need to read certain startups as conduits for social change, even if these businesses aren't setting out with that goal in mind:
In principle, social impact funds are different from tech funds, given the more rigorous analysis for not only economic returns, but also social implications in the long run for the specific community group they hope to empower. However, if the fund operates in Indonesia, the beauty is this: social and economic focuses are not mutually exclusive. As tech VC, East Ventures envisions Indonesia's economy to thrive sustainably. A case example is Kudo—an O2O e-commerce enabler, which successfully doubled the incomes of individuals who previously earned less than minimum wage, and it is valued as a multi-million-dollar company. Or Warung Pintar, which empowers micro-entrepreneurs to participate in the digital revolution.
David Soukhasing was previously in charge of Indonesia for LGT Venture Philanthropy, a global impact investor. He is currently running ANGIN (Angel Investment Network Indonesia) and expanded it into the largest investment platform of individual and institutional investors committed to early stage investments. ANGIN has since then invested in more than 33 deals, including 15 that are impact-driven. David strives to create new ways to invest and is preparing the launch of the first crowdfunding platform in Indonesia. He also serves as a partner for Teja Ventures, one of the first gender-focused VC funds in Southeast Asia.
Hailing from Australia, Tanisha Banaszczyk started her journey in venture capital two and a half years ago when she arrived in Indonesia. At Convergence Ventures, she heads the investment team, which focuses on sourcing new opportunities for investments, undertaking deal due diligence, deploying capital, and providing ongoing support to the firm's portfolio companies. Banaszczyk and her team currently invest in early, seed stage tech companies operating within different industries that they believe are instrumental to enabling the continual growth of Indonesia's already thriving ecosystem. These include fintech, logistics, consumer commerce, education, healthcare, and more. 
Melisa Irene is the first woman to become a partner at East Ventures. Founded in 2010, East Ventures is an early stage venture capital firm that invests in startups in Southeast Asia and Japan. 99.co, MoolahSense, Traveloka, and Eastsy are some examples of the companies in its portfolio across a wide range of verticals, including property, financial technology, online travel, restaurant technologies, and social enterprises.
This article is part of "Venture Voices", a series where the writers of KrASIA speak with venture capitalists based in Southeast Asia to get their takes on topics of interest.