If a tree falls in the forest and no one posts a photo of it on Instagram, did it still happen?
One billion people—just over one-eighth of the world's population—use Instagram every month. In 2016, when Instagram had just half of its current subscriber base, its users made 95 million posts and generated a whopping 4.2 billion likes every 24 hours. And that doesn't even include the more than 500 million users who post Instagram Stories each day.
People no longer eat, shop, or go on vacations the way they did just ten years ago—Instagram today drives the search and discovery process for new trends and experiences, and has carved out a niche for Insta-worthy content creators. A recent Facebook study found that 67 percent of travel enthusiasts used Instagram to find inspiration for new places to visit. Another 2017 study by UK-based holiday rental home insurance provider Schofield's found that "Instagrammability" was the most important factor for millennials when choosing where to go for their next trip.
A quick search on Instagram brings up 421 million tagged post results for #travel, as well as 440 million for #nature, 108 million for #trip, and so on. Those hashtags translate to real tourist dollars. Out in the real world, Norway's Trolltunga viewpoint has seen a massive surge in visitors, up from just 800 people in 2010 to 80,000 in 2016 thanks largely to its popularity on social media.
Instagram and its ilk are here to stay, and they're disrupting every single major industry, including travel.
The good, the bad, and the Insta-worthy
Instagram's impact on Southeast Asia differs somewhat from what is happening in other parts of the world. The region's inexpensive yet exotic destinations have always been popular among tourists, who enjoy its sandy beaches, cheap beers, and numerous islands that offer experiences of a completely different climate and culture.
Yet instead of a spike in visitor numbers, Southeast Asia has experienced a slow and steady increase in the last decade, in what one Thai tourism expert terms "lazy" over-tourism. The first alarm bells started ringing when it was announced in April 2018 that the Philippines' world-famous Boracay beach would be closed for tourism for six months to facilitate an island-wide environmental rehabilitation. This was followed just two months later by the closure of Maya Bay, the Thai seaside location made famous by the 2000 Leonardo DiCaprio movie The Beach.
"It's like someone who has been working for decades and has never stopped," said Thon Thamrongnawasawat, a marine scientist and member of Thailand's national strategy committee on environment development, in a statement to the Associated Press at the time. "Overworked and tired, all the beauty of the beach is gone. We need a timeout for the beach."
Over in East Java, Bachtiar Djanan, who runs Backpacker Kawah Ijen homestay and hostel as well as the Tour Banyuwangi tour operator agency, concurs on Thon's sentiments about the environmental damage. He pointed out two instances where the local landscape was spoilt to create "selfie photo spots." In one case, tour operators in Mayang City painted rocks along a local river in bright colors; in another, the management team at Bromo Tengger Semeru National Park erected large signs with the park's name against its mountainous backdrop.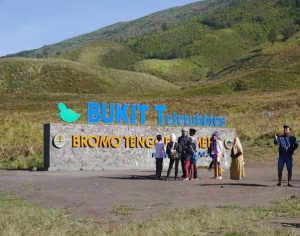 He notes the negative impact on local communities that compete with each other to go viral. Bachtiar's team works on community development programs to assist villages in developing sustainable tourism based on cultural conservation, nature conservation, and the environment. However, one of their recent programs in the Kampong Temenggungan Banyuwangi village was disrupted when the local government decided to turn it into an Instagrammable spot by painting the village houses in colorful shades.
"Village tourism is usually based on creating selfie spots with little substance," Bachtiar said. "Tourists come to take photos without interacting with the villagers; it's like the people are just objects. These selfie spots neglect the village's unique potential, and in many cases change its authenticity. This is happening in many areas in Indonesia."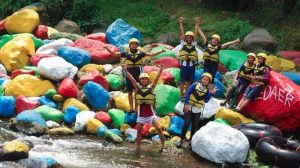 To counter actions like those, Bachtiar advocates sustainable, community-based tourism that develops the economy while also creating real, memorable experiences for tourists. One of his team's success stories is the Kopi Gombengsari Village in Banyuwangi Regency, which they have been assisting since 2016. At the time, profits were at an all-time low due to a proliferation of middlemen.
Bachtiar's team developed coffee plantation tours where tourists could take part in daily village activities. People came in droves. Leveraging on this new market, the villagers went on to pack and sell their own ground coffee as well. Bachtiar is quick to credit social media for Kopi Gombengsari Village's viral success, noting that the platform can be used to generate positive change.
"All tourism promotion for the village was done 100% through social media—Instagram, Facebook, Youtube—and was very effective," he said. "It reduced unemployment and urbanization. Young people came home from the cities to take part in these tourism and coffee businesses. Today, Kopi Gombengsari Village has seven brands of local ground coffee."
Simone Hoppenbrouwers, who runs the Salty Cowboy beach horse-riding stables in Kedungu, Bali, takes a more pragmatic approach.
"We have seen the impact of tourism, mostly driven by social media, in Canggu, a closeby village that grew into a highly Instagrammable destination in the past 5 years—tourists who sunbathe in front of temples where the locals have their ceremonies, the local infrastructure not keeping up with the number of tourists, and the beloved rice fields replaced with shops, bars, and restaurants. However, on a positive note, tourism brought awareness to Bali that it needs to take full control of its plastic waste," says Hoppenbrouwers.
"Tourists posting pictures of beaches full of plastic on social media became an instant threat to tourist income. It wasn't entirely Bali's fault because some of this trash was swept in after storms, but the government took quick action by banning all plastic bags from supermarkets and keeping the beach clean."
The #trashtag hashtag is also one example where Instagram had a positive impact on tourism globally; thousands of beachgoers started organizing #beachcleanup and #trashbagchallenge activities to do their part in caring for Mother Nature.
Hoppenbrouwers believes that travelers are entitled to share their stories and businesses to promote themselves on Instagram as there is no way to stop progress. The key is to strike the right balance, where people are respectful and the government ensures that tourism does not come at the expense of heritage and the environment. On Salty Cowboy's part, they are cognizant about their interactions with the local community and environment as "guests."
"We are responsible to 'blend in' and contribute to the community in a mindful way," says Hoppenbrouwers. "Our stables blend in the environment and we do not build on rice fields. We only employ Indonesian people and support local businesses like transport services, motorbike rentals, homestays, warungs [small family-owned businesses], and so on. We give away our horse manure to the farmers as fertilizer to grow vegetables. We also host a sterilization program led by Bali Pet Crusaders—the locals can bring in their dogs and we pick up stray dogs for sterilization."
Naturally, there are still tourists who are just doing it for the 'gram. As Bachtiar puts it, "Their focus is only on social media, just taking pictures, uploading it, but not really feeling the 'atmosphere' of their destination."
However, there is also a new wave of mindful, socially conscious people who are speaking up to change how we travel, highlighting the importance of respecting the environment and local, indigenous cultures. These are people who are more interested in sparking meaningful conversations, rather than just snapping the perfect Instagram shot.
It appears that these online debates are indeed bringing about change in the real world. In addition to the beach closures in Boracay and Maya Bay, Bali will soon introduce a USD 10 tourist tax on foreign visitors to fund programs that preserve its environment and culture, while Da Nang in Vietnam is taking a stricter stance on low-cost budget tours in favor of more sustainable ones.
Tourism marketing on Instagram 101
Two hundred million Instagram users visit a business profile on Instagram at least once a day, with 75% of users taking action—like visiting the brand's website—after looking at one of its posts. For businesses operating in highly Instagrammable industries like food, fashion, and travel, Instagram is an absolute necessity in 2019.
"My best friend said to me, 'Simone, if you are not on Instagram, you do not exist,'" says Hoppenbrouwers. It was shocking to hear, but it's what made her create an account.
"I started posting my pictures without really realizing there can be a whole concept behind it. I then started following my friends to understand what Instagram was about. I found horse lovers from around the world based on Instagram's recommendations, followed interesting horse-related hashtags, and friends from friends' recommendations."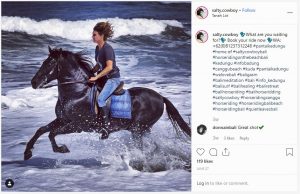 Posting on Instagram is now a daily habit for her. On Salty Cowboy's Instagram page, you'll find a mix ofsnapshots of customers, training sessions, and things that happen at the stables. Hoppenbrouwers relies on her experience as a horse lover to guide her content strategy.
"I think we stay fresh and relevant just by doing what we love so much—the love for the horses and the fun we have with them shows in the content. The pictures might not be highly professional, but from listening to the feedback from our customers, we know we are spot on in what we want to communicate. We differentiate ourselves from competitors by just being us."
The platform has helped make Salty Cowboys more visible to potential customers, with the business getting customers from all over the world who can easily sign up for bookings.
"We also get a sneak preview of our guest on Instagram so we can serve them on a more personal level—because we already have a brief introduction, it feels like taking a friend for a ride. Instagram can also show Salty Cowboy's personality, so people have a hint of what to expect."
Meanwhile, Bachtiar's businesses have an active online presence on Facebook, Instagram, and Youtube in addition totheir official website. While Facebook and Youtube are useful for directing potential customers to the website for bookings, Instagram attracts a younger crowd who complete their transactions on the platform itself.
"Nowadays, about 60% of our guests are from website visits—with around 35% of traffic from Facebook and YouTube, and 65% from Google's search engine. The remaining 40% comes from Instagram," he says.
For tour operators like Bachtiar who operate in a less niche sector, hijacking by competitors is a constant threat—these are rival businesses who steal photos, videos, and even customers by direct messaging post commenters to offer cheaper prices. It's no surprise, given the time and attention the team pays to their content.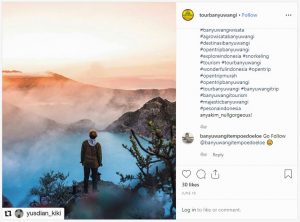 While his basic rule for content creation is 70% information about tourist destinations and tips, and 30% marketing, Bachtiar runs each platform with a different strategy. On Facebook, the team creates strong narrative content and photo albums with destination themes, while their Youtube account is focused on tour videos. Instagram is a compilation of the best photos and short videos from the other platforms.
The team updates their Youtube page and website once every one or two weeks, while new Facebook and Instagram content is uploaded once or twice a day. Of these, they target all ages on Youtube, those aged 30 years and above on Facebook, and a younger segment on Instagram.
Bachtiar stays up to date on trending videos and photos to draw inspiration for his own posts. Like many other brands on Instagram, he also relies on user-generated content, reposting stories, images, and videos from followers.
Riding the Instagram wave
With Instagram's 2.2% interaction rate—compared to just 0.22% on Facebook—businesses that do not engage with their followers whether through shares, comments, or likes are failing to take full advantage of its potential. There are a myriad of ways to utilize the platform in this day and age: polls and questions in Instagram stories, surprise gifts for potential customers who tag the business' account, mini quizzes and competitions, or cashing in on trends like the #trashbagchallenge.
It's more important than ever that businesses solidify their own brand presence online and engage directly with their users—industry reports show a shift from influencer marketing to more professional advertising as social media marketing matures. Marketing technology firm InfluencerDB's Influencer Marketing Benchmarks Report 2019 shows that while travel posts still have the highest like-to-follower ratio, with a 4.5% average compared to other sectors like sports (3.7%), lifestyle (3.6%), fashion (3.5%), beauty (3.2%), and food (3.2%), this average has dropped by 3.5% in the past year.
Other platforms are already taking note. In June 2019, TikTok rolled out a global #TikTokTravel campaign in collaboration with tourism boards across 100 countries and regions through which users could win prizes by participating in an in-app challenge. The short video streaming app is the hottest platform of its kind on the market right now, with 500 million active users worldwide. Its #travel hashtag alone has 400,000 videos with more than 1.7 billion views.
Social media isn't just a marketing tool to reel in tourists in this day and age. It's in the driver's seat of the industry, dictating trends and becoming an active participant of the experience itself.