KrASIA's Morning Briefing is a closed-door presentation that delves into an important topic every first and third Tuesday of the month. This is a recap of our eighth episode held on August 17.
Since the beginning of July, the Chinese government has embarked on a series of regulatory crackdowns on the county's companies that operate in the internet sector.
Regulations started rolling in on July 2, two days after Didi debuted on the New York Stock Exchange. China's cyberspace watchdog initiated a cybersecurity investigation into the company. Didi's apps were removed from the app stores while its shares plunged 40% from their IPO price. Listing in the US has become increasingly sensitive for Chinese companies, which are now required to obtain authorization from the Chinese government before doing so. In Didi's case, the company ignored multiple warnings from the government to slow down its IPO process in exchange for sufficient time to resolve potential data security issues.
A few days later, on July 7, Didi, Alibaba, Tencent, Suning, and Meituan were fined for violating China's anti-monopoly law in 22 deals. The minimal scale of the fines—RMB 500,000 (USD 77,000) for each offense—was no more than a slap on the wrist for the cash-rich tech giants. Yet, the penalties sent a firm message that the anti-monopoly rules apply to all entities, big and small alike.
On July 7, Huya and Douyu, with Tencent as their common major shareholder, were prevented from finalizing their merger. Combined, the two companies control a substantial market share of the gaming industry—70% in terms of revenue and more than 80% in terms of the number of active users. This marks the first case where platform-based business models were prohibited from merging.
China has seen colossal amounts of investment poured into its online education sector in recent years. The country's tutoring institutions have waged marketing wars, resulting in anxiety among Chinese parents to empty their wallets on massive tutoring spending for their children. Towards the end of July, the Chinese government issued policies stipulating that all education companies must operate as non-profits—a major blow to the industry. Scheduling classes during public and school holidays? Not allowed. Recruitment of foreign English tutors? Impossible. Public listings for tutoring institutions? Forget it.
Tencent Music Entertainment (TME) received a nominal fine of RMB 500,000 (USD 77,000) that brought with it accusations of creating a monopoly in the online music market. The developments of such a monopoly date back to 2016, and regulatory involvement indicates the government is examining deals from the past and not merely setting rules for the future.
Lastly, on July 26, the Chinese government issued new rules that require food delivery platforms, such as Meituan and Ele.me, to ensure social welfare coverage and improve the labor conditions for their food delivery personnel. Nowadays, food couriers commissioned by food delivery platforms must follow instructions given by the platforms' algorithms that are designed to maximize profits for the companies. As a result, there have been numerous reports about food couriers running red lights and causing serious traffic accidents in urban areas to meet unreasonable delivery deadlines.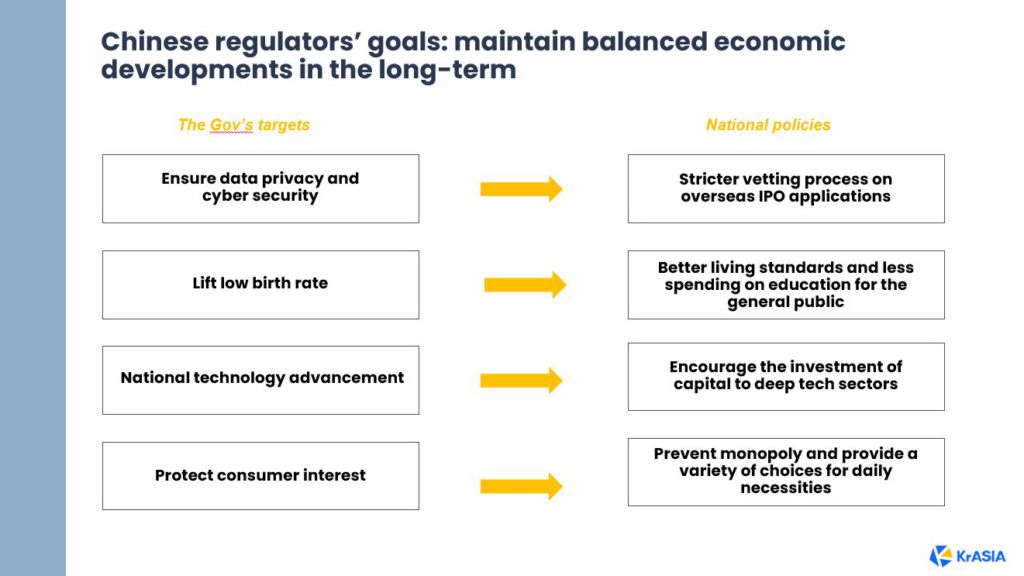 There are several reasons behind the July crackdowns. The Chinese government has long-standing principles that aim to transform industries that are closely related to the general public's livelihood. Since 2020, the government has been carrying out various forms of policies to tackle monopolies in the internet business sector and the disorderly expansion of capital. The long-term goals are clear.
First, the government wants to redirect capital to align with its developmental visions. Instead of chasing quick profits in industries like mobility, entertainment, and education, investors and corporations are encouraged to channel their capital and resources into ventures that lead to competitive strengths in deep-tech or manufacturing sectors.
Secondly, it aims to reverse the country's low birth rate. Rising costs of bringing up children are discouraging more and more young adults from having babies. The government believes cracking down on the education industry could improve the situation.
Lastly, authorities are striving to maintain a balanced and orderly market. In just a couple of decades, Chinese internet giants have grown too big to fail. Consumers have fewer choices while content creators lose revenue streams. If left untended, the situation could damage the nation's long-term economic outlook while a handful of corporations rack up staggering profits.
The guidelines set forth last month basically put an end to the way things have been done in the past two decades. The message has been delivered. But what other changes lie ahead?
Check out Morning Briefing's recaps here.