Subscribe to our newsletter to read this first thing on Friday morning. This is the preview of what you will receive in your inbox.
Never before has there been such a frenzy to invest in stocks and alternative assets including crypto in India as the country is currently witnessing—partially driven by the emergence of a new generation of young investors. In a recent interview with KrASIA, Brendan Rogers, co-founder of India-focused, Gen Z-centric micro fund, 2am VC, said the desire among young people to invest is at an all-time high in India as well as globally.
"The world is shifting—young people want autonomy for their time and income. They want ownership of what they do," he said.
The enthusiasm of millions of Indian millennials and Gen Zs to put aside money for future wealth creation has led to the rise of two crypto unicorns and a funding deluge for a host of fast-growing stock trading apps this year.
For this week's big read, we looked at the blooming stock trading apps and what's driving their growth in India.
The Big Read
India's stock trading apps bloom amidst unprecedented IPO scene
As India's stock market indices—from Sensex to Nifty 50—scale one peak after another since earlier this year and several high-profile startups file for IPO in a buoyant market, more and more novice retail investors are being drawn to stock investing.
Consider this: BSE Sensex, the benchmark index of the Bombay Stock Exchange that tracks 30 large and actively traded companies, surged 134% in 18 months, with the last 10,000 point rally coming in just eight months. Meanwhile, following Zomato's successful debut on the local bourses in July, a flurry of startups including Paytm, ixigo, Nykaa, and PolicyBazaar said they would go public this year.
No surprise then that the individual investors are charmed by bullish market sentiments. And since most of these investors have little if not zero experience in dealing with a capital market, a slew of startups are taking it upon themselves to launch services and platforms to educate the new generation of Indian individual investors on the rudiments of stock trading.
Startups like Zerodha, Upstox, Groww, Fundfolio, Stockal, and StockGro as well as establish players like Paytm are now busy wooing these new-age investors. While more than 150 million people use digital payment apps each month, only about 20 million of them invest in stocks or other investment vehicles. This signifies a huge room for growth for these platforms. VCs have already realized this, which is why India is witnessing a rise in funding for stock trading apps.
The Weekly Buzz
1. Automobile platform CarDekho became a unicorn with USD 250 million pre-IPO round. It is the 33rd company to turn into a billion-dollar-plus firm in 2021. CarDekho plans to utilize the fresh funds to grow pre-owned car transactions and automobile financing and insurance as well as to expand internationally.
2. SME-focused neobank Open raised USD 100 million round led by Temasek. Google and SBI Investment also participated in the round. The Tiger Global-backed startup will use fresh funds to expand its customer base to five million SMEs from the current one million and enter overseas markets including South East Asia, Europe, and the US next year.
3. After Flipkart and YouTube, Indian food delivery giant Swiggy plans to venture into social commerce space. Over the next two months, the Bengaluru-based unicorn will reportedly launch group buying and reselling features under Swiggy Bazaar, which will initially focus on grocery, FMCG, and fresh farm produce.
4. Home services marketplace Urban Company faced heat from women workers over unfair work practices. Over a hundred women from the home salon and spa sector protested against the high commission fees charged by the startup, in addition to low earnings and poor safe working conditions. The development has once again brought to the fore the issue regarding the working conditions of gig workers in Indian startups.
Top Deals This Week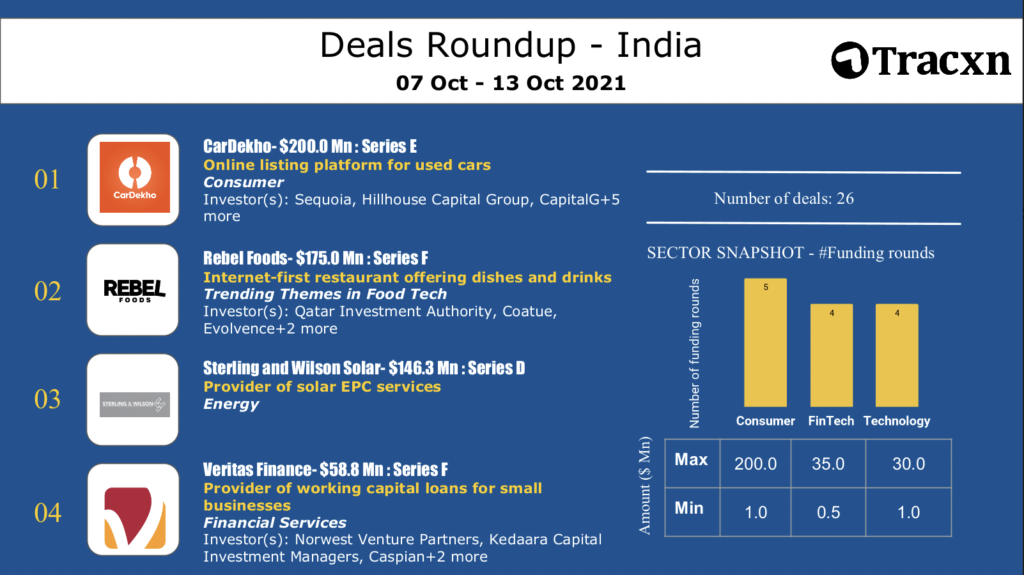 The Spoiler
Tune in next week to find out key trends in India's evolving edtech space.