It's a battle of two Chinese brands for India's budget smartphone market, which constitutes about 80% of the handset industry in the world's second-most populous country.
While Chinese giant Xiaomi entered India in 2014 and disrupted the smartphone market, toppling the Indian device makers and racing ahead of the Korean electronics giant Samsung to become the number one player over the next five years, a mere one and a half years old Chinese rival Realme is catching up fast, growing at a breakneck speed.
According to the recent data from research firm Counterpoint, while Xiaomi maintained the leadership position with 28% market share, Realme grew 255% expanding its market share from 3% in 2018 to 10% in 2019. On the other hand, Samsung slipped by three percentage points to 21% in 2019 over 2018.
"Realme prevented Xiaomi and Samsung from gaining more market share and they really pushed some of the fringe brands like ASUS, Nokia, Itel, and Techno out of the market," Navkendar Singh, research director with IDC India, told KrASIA. "It did not let any brand grow in the mass segment while carving out a decent market share for itself."
The company is now working on its grand plan to create an ecosystem for its users with smartphones and IoT (Internet of Things) devices, lending and insurance services, and offline experience stores. Realme CEO Madhav Sheth told KrASIA in an interview that the company expects to double its sales to 30 million devices, and it has already charted out how to do it.
With over half a billion smartphone users, and a projected 400 million more in the next three years, India has high stakes for global smartphone companies. While Apple, Samsung, Oppo, and Vivo, focus primarily on premium and high-end devices, Xiaomi and Realme are core mass-market brands, which grew on the back of soaring demand from the budget segment devices priced between USD 100 and USD 300.
As Xiaomi shifts its focus toward premium phones, where Realme also recently marked its entry, things are beginning to spice up. While the market leader and nemesis Xiaomi has often trolled Realme calling it a copy-cat, Sheth rubbished such claims. "If we had copied others, their growth should have been better than ours. We have definitely done something more than them to become one of the fastest-growing smartphone brands in the world," he said.
According to Sheth, "things will change" this year for Realme as he prepares to roll out a slew of new services.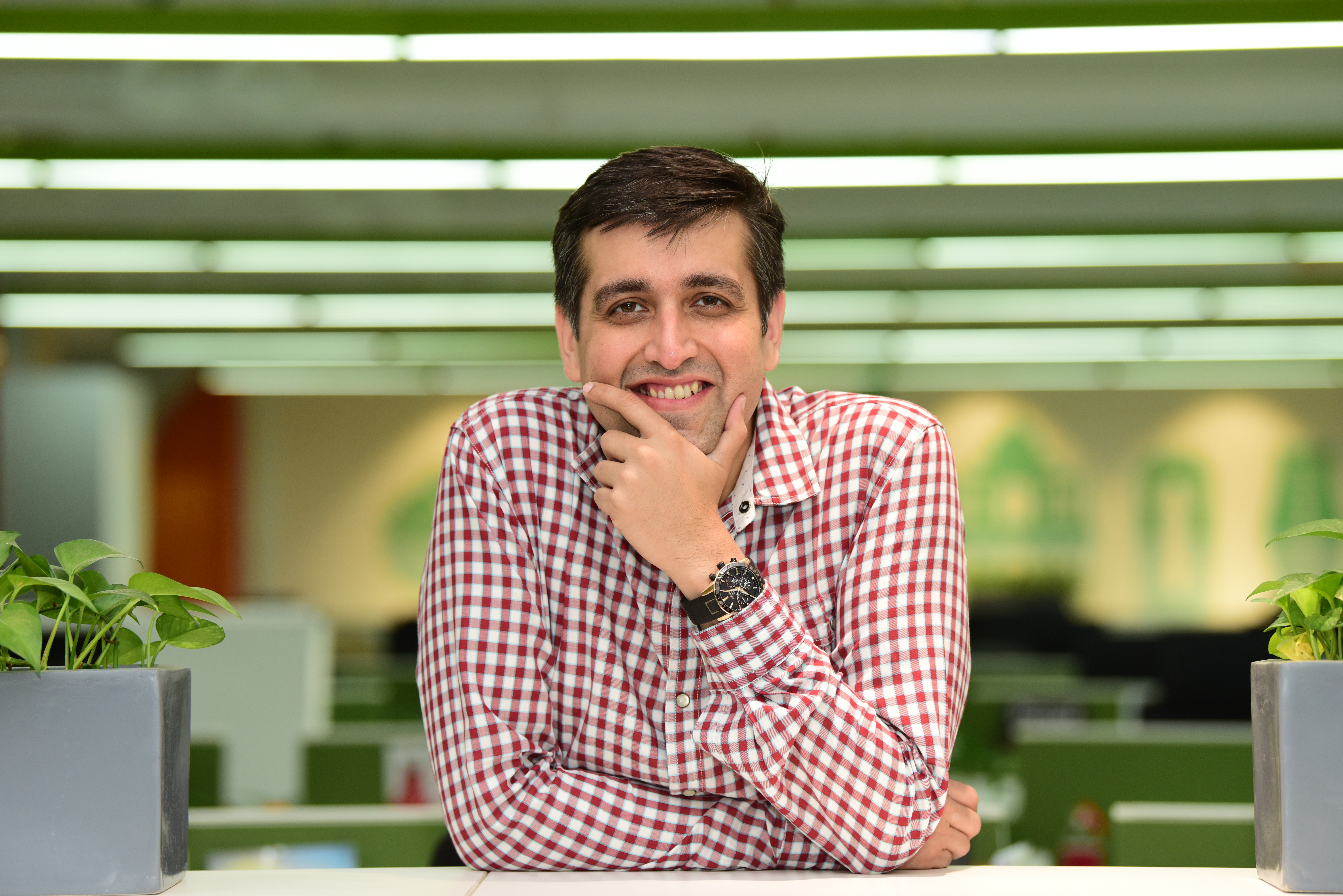 The sudden growth story
"In May 2018, when we entered the industry, there were only a few brands online, and people were looking for more options," said Sheth. "At the same time, because of the low margins in online business, consolidation was happening in the smartphone industry with brands like Lenovo, Motorola, and Panasonic. We saw that as a big opportunity, and hence the growth."
Tarun Pathak, associate director at Counterpoint Technology, believes Realme grew at the expense of other brands as the market consolidated, and the subsequent Huawei ban in 2019 also worked in its favor.
According to IDC's Singh, before Realme, there was no competition to Xiaomi in the sub-USD 200 market, which is more than half of India's smartphone market and where Xiaomi has been a clear leader with 45-50% market share.
"Realme has been conceptualized by Oppo to beat Xiaomi in the online channel. That was a single point of the mandate they had," said Singh. "And Realme has done it very successfully, matching or even surpassing Xiaomi's models in terms of hardware, design language, and specifications at similar or even lower price points."
"Any market needs freshness after a point. Although Xiaomi had good products, Realme bombarded the market and gave that alternative to people," he added.
Over the last one and a half years, Realme has brought devices at five different price points (below USD 420) with its five series, catering to different user segments with different expectations, and it keeps refreshing each series every four to six months.
Counterpoint's Pathak, in a recent interaction with KrASIA, said Realme had "a couple of firsts to its name" when it comes to product design and specifications.
"They were quite aggressive in bringing a lot of features that were necessary for the market like 64-megapixel camera sensor, SOC (system-on-a-chip) specifications, latest processors, and notch design. Its diamond-cut design, colors, the finishing touch, all were very good," he said. "And they brought a lot of features faster than other brands in the market."
The fact that the Indian market doesn't have brand loyalty, especially under USD 200, also worked in its favor.
Experts that KrASIA spoke to believe while Realme's product strategy gave it a good start, it got a real push from its partnership with Flipkart.
"Their partnership with Flipkart and specifically their aggressive price specification equation really took them to where they are," said Singh. "Flipkart helped them in executing, bringing models at the very price point where Xiaomi was very strong."
"It was head-to-head against Xiaomi, and the partnership between Realme and Flipkart really turned the tables for Xiaomi for some quarters, in the sense that Realme gave it a tough competition," he said.
It is to be noted that Realme partnered with Amazon for its first smartphone launch, but for the subsequent devices, it went ahead with Flipkart, which had been Xiaomi's preferred partner. Sheth said Realme devices were more suited for Flipkart's audience, hence they made the decision to switch.
Pathak believes what worked for Realme is launching products at the right time, with all the right specifications, at affordable price points, through a popular sales channel. By combining all these strategies, Realme hit the market where not many brands were focussing.
Although Realme is riding high, its journey, in the beginning, was dotted with road bumps.
Realme started as Oppo's sub-brand but was spun off to become an independent brand in July 2018. Industry sources claimed there was a conflict regarding the strategy since Oppo wanted to position Realme as an online-only brand, but Realme was keen on tapping offline channels as well to reach the masses.
However, by early 2019, Realme's partnership with brick-and-mortar retail chains such as Reliance Retail, Poorvika, and Sangeetha fell through over low margins.
"When we entered the offline channel, we were very clear that we won't give retailer margins that other brands are giving. We won't give them furniture or fancy benefits such as Euro trips at the cost of consumers," said Sheth. "We still offer the lowest trade margins but now retailers have begun to understand that it's not the margins that matter, but the net take-home which ultimately depends on volumes."
The grand plan
Realme is all set to expand its offline footprint, which can give its sales a big fillip. Currently, only 20% of its sales come from offline channels, while the rest is online.
Sheth aims to take the number of offline retailers to 40,000 from the current 10,000 this year. The company also plans to hire 10,000 promoters that represent the brand at retail stores. The idea is to make offline contribute at least 30% to 35% of the total sales.
But the bigger plans are in work for experience stores that Realme is planning to announce by next quarter.
"We are not looking at it from the point of sales. It will be more futuristic stores where we will showcase our vision for the next 15 to 18 months," he said, adding once the first store comes up, the company "will be multiplying it quickly."
Along with the company's plan to double the smartphone sales to 30 million this year, Sheth is looking to set up an ecosystem of smartphones, IoT (Internet of Things) connected devices like fitness band and TWS (truly wireless) earphones, and financial services including digital loans and insurance.
The company had rolled out a new service Realme Paysa in December last year to facilitate quick personal and business loans as well as screen and mobile damage insurance.
"It's a long term vision to create a complete ecosystem where once consumers enter, they can get end-to-end solutions—buying, selling, exchanging (phones), and funding, all at one place," he said.
The company is funding its distribution partners, giving them loans at low interest, to set up and expand their business.  Sheth said the company is tying up with banks to reduce the interest rate so that return on investment is higher for its freight, channel, and retail partners. He added that Realme will be adding a multitude of services under Realme Paysa in the coming months.
Industry experts believe, Realme Paysa is a move against Xiaomi's Mi Credit, which also offers financial services such as loans.
Meanwhile, Sheth said, the company will focus on the premium segment as well, the area which has also been earmarked as the key segment by Xiaomi for 2020. Later this week, Poco, which recently spun off from Xiaomi to become an independent entity, will launch a new device after one and a half years.
IDC's Singh said while for Realme and Xiaomi, the bread and butter is going to be devices under USD 300, which constitutes 80% to 85% of the market, going after the premium segment is a natural evolution.
"They obviously need to evolve as a brand in a market like India," he said. "Now that they have a huge user base, they want to go beyond USD 300 segment and launch some premium models so that the people who want to upgrade, they can have an option within and not go to other premium brands."
While the premium segment is going to be a tougher battle for Realme given that it would be directly competing Samsung, Oppo, Vivo, and OnePlus, "the largest challenge" for Realme, Sheth believes, "remains dealing with offline retailers" since it doesn't want to woo retailers by giving them free gifts like other brands.
In the last quarter, the company's shipment numbers were slashed to half as compared to the third quarter of 2019, as per the data collated by IDC and Counterpoint. Its lower offline presence might pose a challenge for Realme as post-festive periods, sales are generally driven by offline channels. Analysts, however, believe this is just a blip for Realme.
Sheth said the company deliberately shipped high numbers in July to September 2019 quarter to meet the festive demand and did not ship as many devices in Q4 since it did not want to risk sitting higher inventory. The company claims to have sold 5.5 million handsets during the Indian festival Diwali in October 2019.
Apart from its plan to quadruple the number of offline stores and unveil experience stores, Sheth said the company is exploring other online channels as well, and that Realme products will be present across the multiple e-marketplaces, rather than just being on Flipkart.
"But offlines remains our largest opportunity since we have a huge scope to grow," he added.