As the coronavirus outbreak forced many of China's 1.4 billion people to extend their Chinese New Year holidays, so too has it impacted a wide swath of businesses. While the illness hit most companies hard, some have found opportunities amid the unexpected.
From online entertainment to digital services like team collaboration platforms, online medical consulting, and education apps, some Chinese internet companies have been seeing a surge in demand during the crisis.
Online entertainment
With almost all gatherings forbidden as a measure to contain the spread of the virus, millions of Chinese have turned online for entertainment. Both mobile games and video streaming apps saw considerable increases in daily users from the beginning of 2020.
The Chinese New Year is the prime season for Chinese blockbusters, but this year, the virus led movie makers to premiere their movies on apps like Douyin and iQiyi to diminish losses.

Online medical consultation
The virus outbreak is overwhelming the country's health system and medical equipment supply. To ease the pressure, some medical service platforms have launched free online medical consulting services for people who might be developing early symptoms at home.
Doctors on Alibaba's online health platform AliHealth have processed more than 200 cases a day, said the company, while Ping An Good Doctor reported 10 times more registrations into the platform.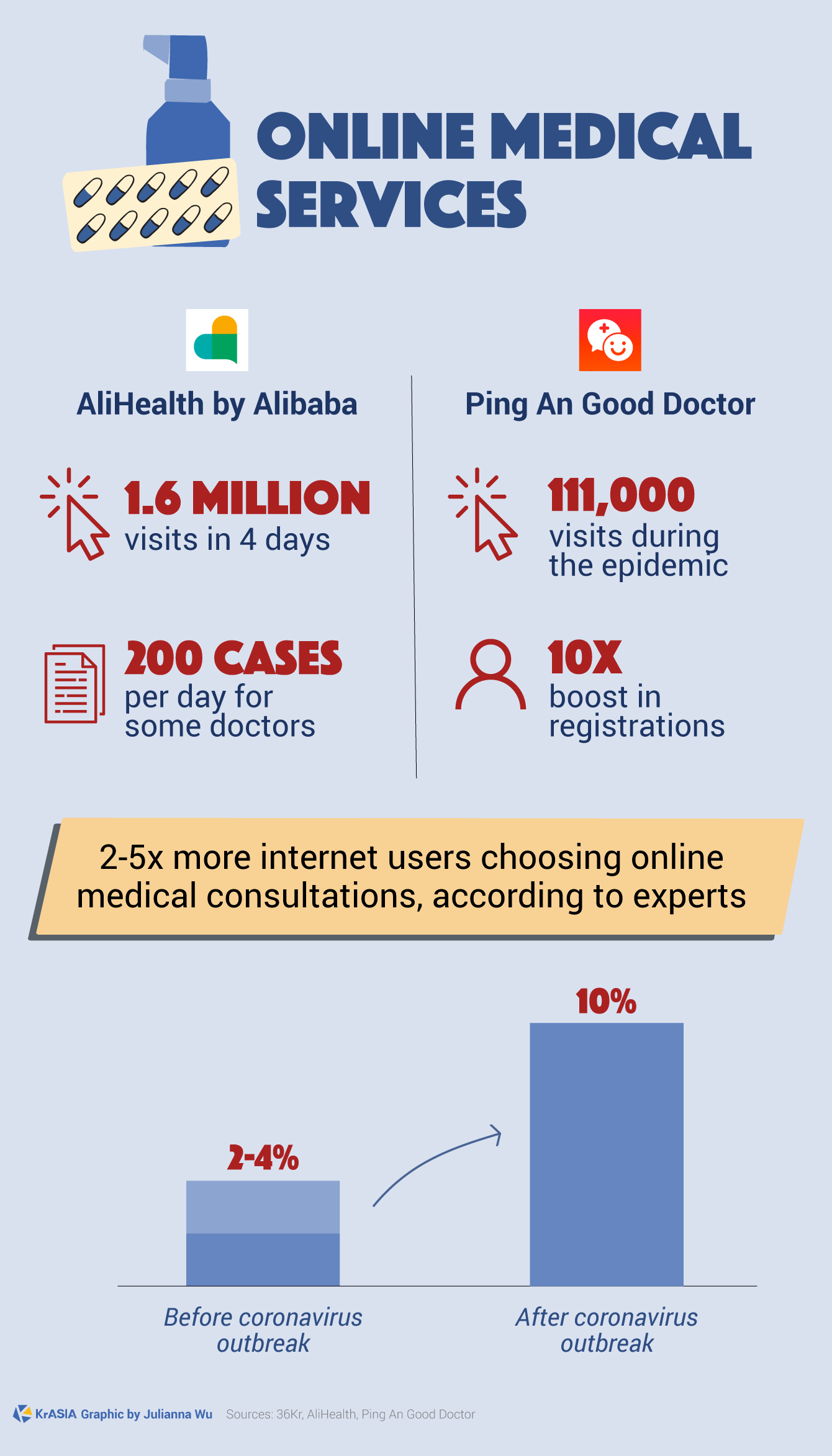 Work and study from home
To keep businesses running, companies are turning to team collaboration platforms to allow their employees to work from home. On Feb. 3, the peak of what has been called the largest work-from-home experiment in history, saw crashes on office communication apps like Alibaba's DingTalk and Tencent's WeChat Work.
Schools have also started to offer classes online for the spring semester, asking teachers to use live-streaming platforms to reach their students.

Fresh goods deliveries
Before the outbreak, many fresh goods delivery apps were said to be on their way out. However, the need for fresh produce, without the risk of going to supermarkets, has brought a lift for these delivery services.
Reportedly, Alibaba's grocery store unit Hema, and other similar platforms, are hiring Chinese restaurant chains' idle staff temporarily to meet the demand, as eateries kept businesses closed amid the outbreak.