What started as a small initiative in 2013 by Israeli-born brothers Guy and Erez Galonska and Osnat Michaeli to cultivate greens in the dead of the German winter, grew into a multinational brand that, in just six short years, has managed to draw a decent amount of media attention and bring in an impressive USD 134.1 million to date from investors.
Based in Berlin, Infarm has been pioneering a whole new wave of agricultural innovation with its product, a modular smart farm that operates on IoT and machine learning technologies to produce highly nutritious and flavorful greens that are grown fresh and sold in urban environments, such as local supermarkets and restaurants.
In recent years, the field of urban farming has rapidly expanded on a global level, and has been especially successful in places where the growing climate is seasonal and temperamental, like Canada or Saudia Arabia, or where the demands of a developing population can no longer be met solely by traditional farming practices due to spatial, financial, and environmental concerns. Large, industrial-scale farms that produce food hundreds and thousands of miles away from the final destination are slowly proving their inability to provide a constant, safe supply of produce, especially leafy greens, and sometimes result in public safety horrors that damage consumer trust and company valuations.
Infarm's model is based on hydroponics (a method of growing plants without soil), patented modular "growth trays" and energy tech. The company puts a premium on nutrition, taste, and freshness while also emphasizing an environmentally conscious approach. The Galonska brothers told Friends of Friends, an interview-focused Berlin magazine, in 2014 that they were inspired in part by NASA's biofarming methods and sustainable design.
"For us there is an important combination between gardens, flowers, trees—which is nature—and this more futuristic side of things: LED, artificial light, hydroponic fogs, the more NASA-style elements. We combine these two sides through experience. Experience for Infarm means tasty food: herbs from the vertical garden, for tea, for salads, for fresh products of any kind," according to Erez Galonska.
Infarm's unique, cloud-based technology allows its operators to monitor a network of 678 micro-farms (and growing) from its Berlin headquarters, gathering data to offer the highest quality products, and making it easy for their clients to sell the just-harvested greens. The systems produce enough still-living micro-greens, salad greens, and herbs to serve thousands of city dwellers which would not have ready access to that degree of freshness otherwise.
This approach also does away with food miles and has created an opportunity to provide the most nutritious versions of greens, even introducing plants that were previously unavailable because they do not transport well. According to Infarm, their system uses 95% less water and 75% less fertilizers to grow the produce. There are no chemical pesticides involved, and their product demands 90% less transportation and 99% less space than traditionally farmed lettuces and herbs.
Moreover, the cloud-based technologies utilized to monitor the growing processes of their micro-farms continuously feed data into their IoT and machine learning algorithms to maximize their growing methods according to criteria such as yield and nutrition. With 22 varieties of leafy greens and herbs, Infarm's systems offer a range of flavors, shapes, and textures that truly embody the values of farm-to-table cuisine.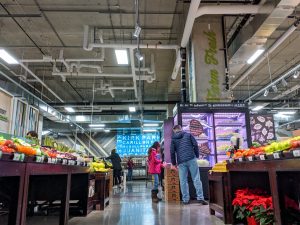 From trailer to brand
Erez Galonska told EU Startups in September that he and his co-founders "realized that our current food system's biggest deficiency is that it is too far removed from the people it is trying to feed."
At Infarm, "rather than asking ourselves how to fix these deficiencies in the current supply chain, we looked to redefining the entire chain from start to finish; instead of building large-scale farms outside of the city, optimizing on a specific yield, and then distributing the produce, we decided it would be more effective to distribute the farms themselves throughout the city," he explained.
The founders, he went on, came around the idea that "being close to the land and particularly its produce is vital to our health and creativity as a society. And from the beginning, we began to explore—through travel, growing, and experimentation—ways to bring natural vitality of the local farm into the city and the freshness and flavor back into our lives."
They began by building a hydroponic system in their home in Neukölln, creating a space for over 100 plants. "It was snowing outside and we had fresh vegetables inside," Galonska recalled in the Friends of Friends interview, telling the magazine that from that moment "we knew that we had something." The founders then moved to a studio and eventually bought a 1955 Airstream trailer, converting it into a mobile vertical farm and setting up shop in a popular urban farm space in the city.
"This trailer became a hub for our early experimentation, where visitors could harvest herbs and micro-greens and we could welcome a vibrant community of urban planners, designers, food activists, bio-dynamic farmers, architects, chefs, biologists, and hackers to explore the diverse challenges behind making urban farming a reality. This research station and lab would form the beginnings of what we today call Infarm," Galonska told EU Startups.
The company scaled in Berlin, earning a grant from Horizon 2020 in 2017 and later partnering with Metro Group, one of Europe's biggest wholesalers. In 2018, Infarm expanded and secured partnerships with two large German grocery chains and a number of restaurants. It also raised significant funding (USD 25 million from Balderon Capital) and launched its first Infarm system in France that same year.
By 2019, Infarm expanded to two other European cities, London and most recently Copenhagen. In London, where the company has a partnership with Marks and Spencer, Paul Willgoss, director of food and technology for the British chain, said in a press release that the collaboration is a "fantastic example of what can happen when passionate agricultural, food, and technology experts work together. We operate as part of a complex global food supply chain and want to understand the emerging technologies that could help provide more sustainable solutions, whilst also delivering fantastic products with exceptional taste, quality, and freshness for our customers."
Following a recent USD 100 million Series B round and a partnership deal with Kroger, the highest-grossing American supermarket chain, Infarm is also poised to rapidly expand in the American market.
Launching in Seattle, a city notorious for the amount of rain it receives annually, Infarm is set to prove how valuable its product is when the local climate is not conducive to growing anything, let alone delicate greens, in the depths of winter.
In a televised interview with Bloomberg, when asked how Infarm plans to spend the new investment, Erez Galonska responded by saying that "a big part of this round is really to start thinking about how we can build Infarm into a global company, expanding into the US and Asia, and building those relationships."
With partners like Kroger Group, Infarm is on the right track. "Kroger believes that everyone deserves access to fresh, affordable, and delicious food, no matter who you are, how you shop or how you like to eat," said Suzy Munford, Kroger Group's VP of fresh, at the first Infarm harvest in the QFC Kirkland store in Seattle in early December 2019. "Our partnership with Infarm allows us to innovate by combining groundbreaking in-store farming technology with our passion for fresh, local produce and ecological sourcing. Kroger is excited to be first to market and offer the best of the season, and we're proud to lead the US on this journey."
According to the Seattle Times, after the second location in Bellevue has opened, there are plans to open up in 15 more QFC supermarkets in Washington and Oregon by April 2020.
With an average of three new locations per month, Infarm is expanding at a rapid pace that isn't uncommon for tech startups that reach the west coast. Hopefully, the co-founders have learned from the mistakes of other west coast-based agricultural technology startups, and are prepared with data-backed solutions to tackle significant logistical, infrastructural, and marketing issues that frequently arise in this niche vertical.
This article first appeared in NoCamels, which covers innovations from Israel for a global audience.