Fadhil is a Jakarta resident who first heard about Tanijoy when he saw an ad on Instagram in 2019. The company presented itself as a peer-to-peer lending platform for agricultural projects, where lenders could choose to invest in dozens of initiatives in Indonesia and earn returns after harvests.
"The app was convincing. Each project was described in detail, including the profiles of farmer groups involved. Each project promised a profit of 5% to 13% within six to eight months," Fadhil told KrASIA. Considering the high interest rate offered by the platform, Fadhil thought that making an investment through the app would be a smarter move than a traditional bank deposit, which offers an interest rate between 2.85% to 3% per annum.
He invested in three projects: golden melons, granola potatoes, and oyster mushrooms, pouring in IDR 12 million (USD 838). The platform mentioned an expected ROI of 10% after six to eight months. Yet, nearly two years later, he has not received a penny from Tanijoy, even though the first project has been completed.
"The first project—golden melons—was supposed to be completed in early 2020, but it was delayed until June 2020 due to pests that caused crop failure. I still thought it made sense as part of the investment risks. In June, I received the investment return balance on my Tanijoy account, and the app said I could withdraw the money after 14 days. As it turns out, I still couldn't withdraw my money after months," said Fadhil.
Fadhil's communication with Tanijoy has been hampered since then. In August, the company's representative invited Fadhil and other affected lenders for a virtual meeting. Tanijoy's representatives explained that there were some problems in payments and collections. Due to partial lockdowns in many parts of Indonesia, the company had difficulty monitoring agricultural activities and allowing withdrawals by farmers, according to Fadhil. The company even blamed some farmers for being "uncooperative," he said.
After the meeting, the company created an array of Telegram groups to inform lenders on the latest developments, Fadhil said. Yet so far, the firm has failed to provide consistent updates. Since December, Tanijoy has completely stopped responding to messages in Telegram groups.
In search of answers, lenders organized themselves and created another Telegram group with over 450 members. In total, lenders claim to have invested more than IDR 4 billion (USD 280,000), without receiving any payouts and without being able to access the funds they transferred to Tanijoy.
"Projects that started in 2020 have not received any updates. Lenders cannot withdraw the balance on their accounts even when the projects are completed, and lenders can't withdraw 'fresh money' or top-up funds from their accounts," Fadhil said. "There is one lender who invested IDR 147 million (USD 10,300) in more than ten projects."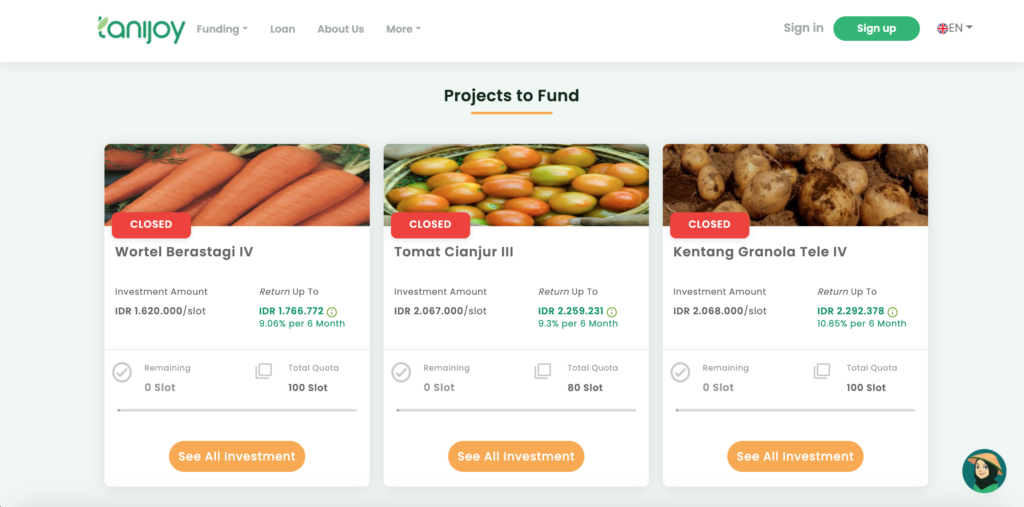 Raising public awareness
Several lenders began posting about the issue on Twitter at the end of July, with hashtags like #tanijoymenghilang ("Tanijoy disappeared") and #tanijoypenipu ("Tanijoy is a scam"), calling for local media outlets to investigate the startup's operations. Facing mounting pressure from the public, Tanijoy hosted another virtual meeting for its disgruntled users on July 30.
During the encounter, the firm's management team denied the allegations of embezzlement. Tanijoy admitted negligence in its operations, which caused delays in disbursing funds to farmers. The company also mentioned difficulties in monitoring activities and in collecting payments from farmers in the field due to COVID-19 lockdowns. This led to non-performing loans and delays in paying lenders, the company's representative said. The company then promised to pay back lenders through monthly installments.
"After being pressed, Tanijoy agreed to try to return the funds in the next three years, but we are not very confident," said Fadhil.
At the time of writing, Tanijoy's website is no longer accessible from Indonesia. Tanijoy did not respond to KrASIA's requests for a comment on the matter before this article was published.
Tanijoy's alleged fraud is not the first case of its kind involving a company or investment platform in Indonesia. In July 2020, the OJK demanded investment company Jouska cease operations over allegations of fraud, investment mismanagement, and illegal stock brokerage. In this case, at least 41 victims reported losses to the tune of IDR 18 billion (USD 1.2 million). Mahesa Strategis Indonesia and Amarta Indonesia were also shut down by the OJK under allegations of offering financial services without proper licenses.
All these cases have something in common—the impacted firms operated without a valid license from Indonesia's financial authority, OJK, which makes them illegal platforms. Fadhil knew this but still chose to trust the company, which said it was in the process of registering with the OJK, he told KrASIA.
Fadhil trusted the company's local and international reputation. TaniJoy won the 2018 best social impact award given out by local media outlet Tempo, and it was listed as one of the top 100 startups the same year by tech media outlet e27. Tanijoy was also a 2019 awardee of the DBS Foundation. "These recognitions from various institutions convinced me that Tanijoy was a genuine company," Fadhil said.
To obtain an OJK license, fintech companies must comply with a number of requirements. Firms must prove legal ownership of a physical office, have reliable customer service, and own a data center and a data recovery center. OJK also evaluates the company's business models and risk management, taking steps to ensure that the platform does not use public funds for unlawful activities such as money laundering and terrorism financing. Moreover, companies must be responsible for user losses caused by company negligence.
Companies that fail to secure permits from the regulator—like Tanijoy and Jouska—are not eligible to manage funds.


Increasing investment demand, low financial literacy
In general, investment interest in Indonesia has increased in the past year. Based on data from the Indonesian Central Securities Depository (KSEI), there were 4.9 million mutual fund investors in the country in June 2021, 55.27% more than at the end of 2020, when the count was 3.1 million people. Meanwhile, the number of stock investors rose to 5.6 million, an increase of 44.45% from 3.9 million by the end of last year.
The pandemic has accelerated users' interest in experimenting with investment platforms for the first time, said the mononymous William, head of PR and communications at Jakarta-based digital investment platform Bibit.
"We have about 1 million monthly active users today, with more than IDR 5 trillion (USD 349.2 million) worth of assets under management. We can't disclose the year-on-year growth, but in line with KSEI's data, we are gaining momentum driven by the pandemic, and we are seeing healthy growth on the Bibit platform," he said. Nearly 90% of Bibit's users are below 35 years old, William added.
Indo Premier, another local stock and mutual fund investment platform, also saw interest from millennial users doubling by April 2021 compared to before the pandemic, according to Paramita Sari, head of marketing and retail, as reported by local media outlet Kompas.com. Easier access to information about investing and the availability of online platforms that simplify the process for novices are the reasons behind this development, said Sari.
Yet, this free flow of information has not elevated financial literacy in Indonesia. According to the last national financial literacy and inclusion survey, conducted by the OJK in 2019, the country's public financial literacy was estimated at 38.03%. Basically, six in every ten people in Indonesia are not financially literate. Although this ratio has been consistently decreasing since 2013, when the country reported a public financial literacy rate of just 21.84%, the number is still low compared to the rapid rise of the internet and smartphone penetration in the country, which reached 73.7% and 58.6%, respectively, in 2020.
In an environment with many investment offerings, a low level of education and financial awareness could lead citizens to become victims of fraud and scams. Even legit companies like Bibit have dealt with illegal social media groups offering financial advisory on platforms like Telegram and Facebook.
"By July, we found more than 20 Telegram and Facebook groups using Bibit's name. The groups' creators persuade members to deposit their money into the admins' accounts to invest on the Bibit platform. They also promise fixed and large profits," said Bibit's William. "The group has tens of thousands of members combined, which shows that many people are curious and want to learn about investments, but they are getting information from the wrong place."
The company is currently coordinating with the OJK's investigation task force to remove those groups. "New investors are easily tempted by the lure of a high ROI within a short time," William continued. However, through social media, Bibit has repeatedly urged users to be more careful and not follow accounts other than the company's official pages.  
More public and private efforts are needed to limit illegal platforms reach
From January to June 2021, Indonesia's IT Ministry has already blocked 447 illegal fintech platforms, but new platforms tend to reappear quickly. Authorities know that the problem lies directly in people's low financial literacy, which allows shoddy investment companies to lure unprepared customers.
However, Bank Indonesia (BI) and other regulators are already working on several strategies to increase the financial literacy of younger generations, in particular, millennials and Gen Z, Junanto Herdiawan, BI department director, recently told local media during a virtual press conference.
For instance, the BI is preparing the Indonesia Payment Systems Blueprint 2025, which will look to navigate the payments and finance industry in the digital economy era, Junanto said. The blueprint focuses on five points: open banking, retail payment system, financial market infrastructure, data, and regulatory licensing supervisory. The central bank will work with fintech firms to ensure better regulations covering technology, business relations, and business ownership, Junanto added.
Also, to keep the public well informed, the OJK maintains an updated list of licensed fintech companies on its website, so consumers can check the legal status of a platform before making any investment or transaction online.
Private companies such as Bibit are also moving to educate the population. "We regularly educate through social media including TikTok and Instagram. We also work with key opinion leaders or KOL from various segments, and we regularly hold workshops or webinars," said William.
Shady investment cases, such as the ones involving Tanijoy and Jouska, are unlikely to be the last if regulators do not supervise closely and act firmly on unlicensed platforms that do business in the country. However, users should also do proper research before making investments or borrowing money from digital apps. With the convenience brought by online services nowadays, financial education and literacy matter more than ever.