Indonesia is one of the world's top producers of battery minerals and the first global producer of nickel, an essential component to produce lithium-ion (Li-ion) batteries. That places the country at the core of the electric vehicle (EV) revolution.
Home to 25% of the world's nickel resources, Indonesia also has rich resources of cobalt and copper, other essential minerals for battery production. Based on its assets, the country is developing its own EV industry and has plans to become a global EV battery production hub.
Under President Joko Widodo's administration, Indonesia is set to begin EV domestic production by 2021 or 2022 with the goal of exporting 200,000 EVs by 2025, or about 20% of the estimated total of exported cars.
The average price of an electric vehicle in Indonesia, according to Association of Indonesian Automotive Manufacturers (Gaikindo), is IDR 600 million, or USD 42,600. That means the exports could yield annual revenues reaching USD 8.52 billion four years from now.
However, as Indonesia's government speeds up the development of battery-powered EVs, rolling out initiatives to boost the industry, and welcoming more investment and mining companies, it must also deal with the waste and environmental impact that a robust EV industry generates.
Villagers from Tiu, Tontowea, and Marale, located in the North Morowali regency in Central Sulawesi, are already contending with some of the consequences. They used to make a living by catching and selling freshwater fish from Lake Tiu, but that changed in July 2019.
"The lake water suddenly turned brownish red, and we suspected that it was caused by nickel mining activity in the mountain nearby," said Muh Taufik, coordinator of the Central Sulawesi chapter of Mining Advocacy Network (Jatam), to KrASIA.
The red soil also damaged the area's rice fields and plantations, affecting the two main economic activities of residents, fishing and farming, Taufik said.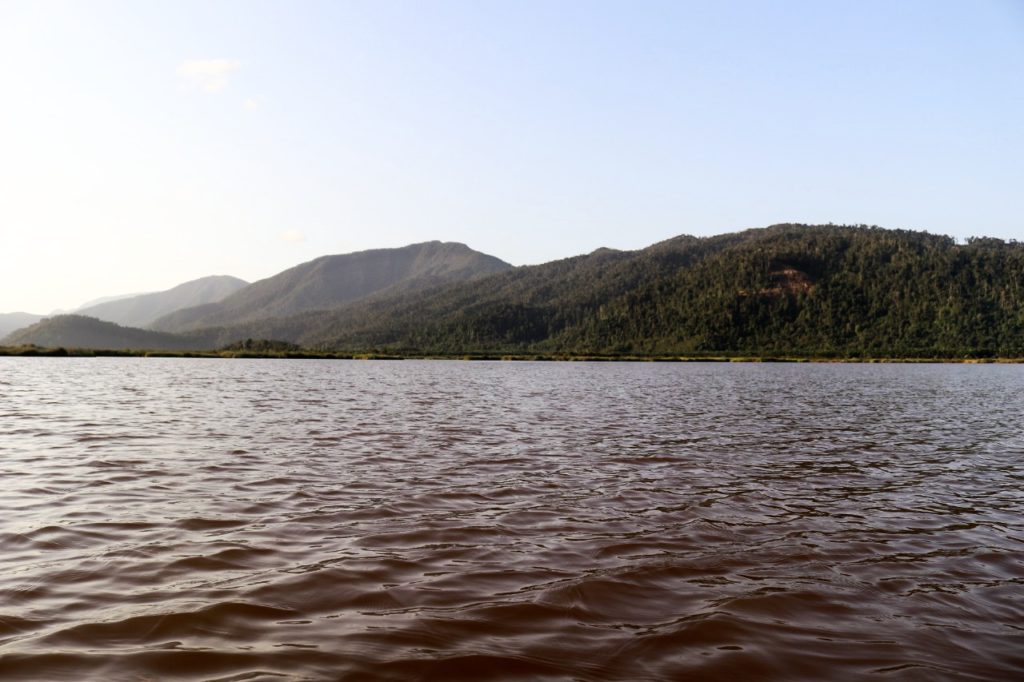 Supported by Jatam, locals marched in July 2019 to the regional Energy and Mineral Resources (ESDM) ministry branch and demanded an investigation into Tiu Lake's pollution. In March 2020, a probe conducted by the ministry found that two mining companies were responsible for the pollution, leading to a suspension of their activities. Taufik said that now fishermen have gone back to casting nets in the lake, although their catch has dwindled compared to before.
The lake's water condition has improved as the sediment has sunk to the bottom, Taufik said. But heavy rains still channel new sediment into the lake, polluting its waters.
Jatam has a long track record of advocating for communities where lives are impacted by mining activities. Central Sulawesi, where Taufik operates, has one of the largest nickel resources in the country, along with South and Southeast Sulawesi, North Maluku, and West Papua. While the situation affecting Lake Tiu is yet to be completely solved, Taufik's organization faces similar problems connected to new nickel mining companies entering the country to become part of Indonesia's EV strategy.
Large players coming in
Indonesia laid the groundwork for its battery production hub when the ESDM ministry announced a ban on nickel ore exports starting January 2020. Under the new rule, foreign players are forced to establish smelters in the country and produce locally. The country seeks to develop an upstream-to-downstream nickel supply chain, starting from the extraction, the processing of metals and chemicals used in batteries, all the way to manufacturing electric vehicles. Indonesia also looks to generate more income from processed products such as stainless steel slabs and battery parts, which command higher prices than raw nickel ore.
President Joko Widodo included nickel smelter construction in the country's national priority project, which was announced in May 2020. He signed new regulations to ease the processes for land acquisition and environmental assessment and permissions, despite a wave of protests from environmental activists, indigenous people, and university students.
The same year, the country signed an agreement with the world's largest EV battery maker, China-based Contemporary Amperex Technology Co Ltd (CATL), for a USD 5 billion investment in a lithium battery plant set to start production in 2024. A unit of South Korea's LG Group followed suit with a USD 9.8 billion deal for the "construction of an integrated electric battery factory from upstream to downstream," as reported by Reuters.
One important requirement in both deals is that at least 60% of the nickel ore used to produce batteries must be processed in Indonesia. US maker Tesla will also send delegations to Indonesia to discuss an investment in the supply chain for EVs, after President Widodo had a phone discussion with Elon Musk, CEO of Tesla, in December. Widodo also invited Musk to use Indonesia's territory for SpaceX ventures.
Currently, in the Morowali regency, which is also home to Indonesia's largest nickel industrial park, PT Indonesia Morowali Industrial Park (IMIP), there are two high-pressure acid leaching (HAPL) smelters for electric battery plants undergoing construction. The smelters are going to be operated by QMB New Materials and Huayue Nickel Cobalt—both joint ventures where Chinese companies have major stakes. And on Obi Island, North Maluku Province, there are two other smelters under construction, set to begin operations this year. They are owned by Harita Group's Halmahera Persda Lygend, a joint venture between Indonesian business conglomerate Harita Group and Chinese mining investment company Zhejiang Lygend.
The companies are not directly related to each other aside from their investments connected to Indonesia's grand EV battery hub strategy. Yet, problems surrounding their ongoing smelter projects foreshadow what might happen when similar, or even larger projects, commence. 
An unclear plan to manage environmental impact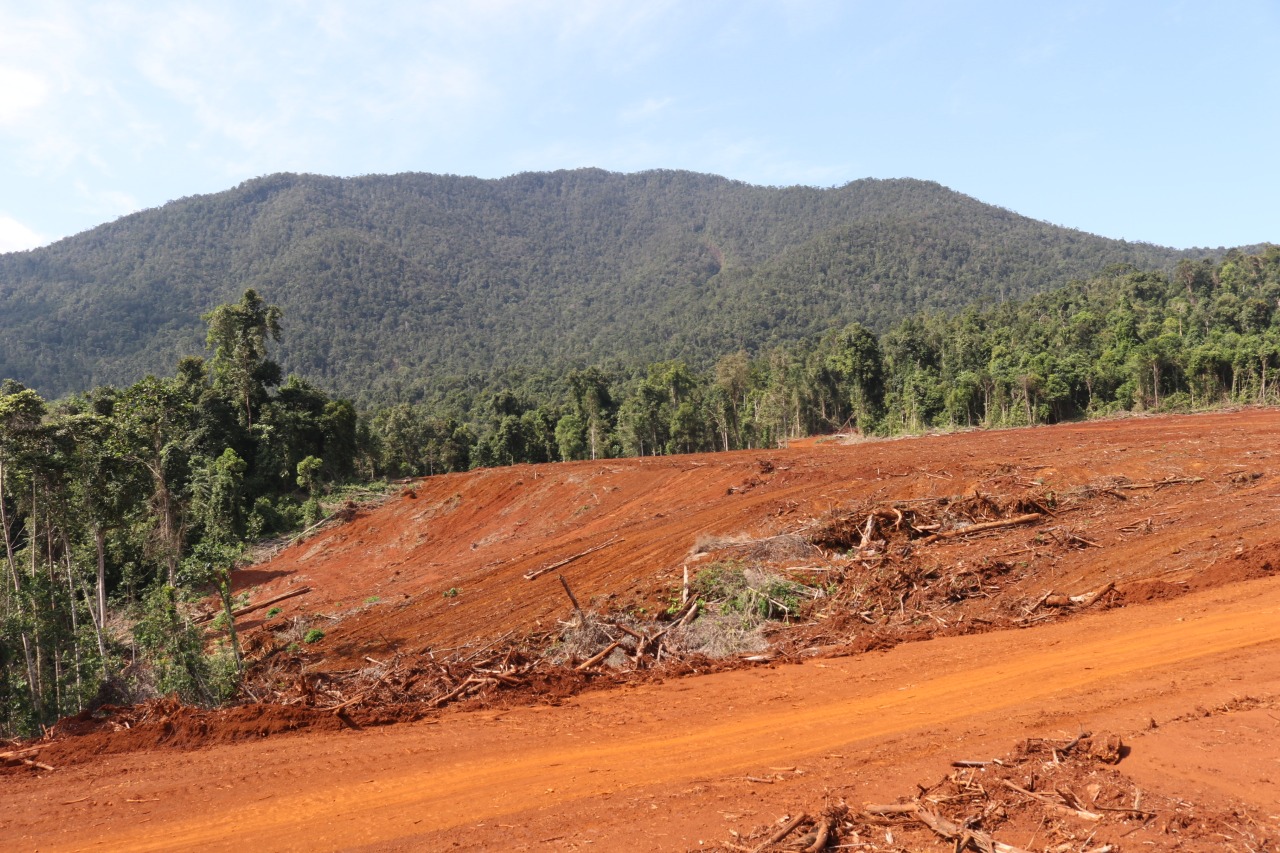 Nickel is found in two types of deposits—nickel laterites and magmatic sulfide deposits. Lateritic nickel ore deposits, which are dominant in Indonesia, are more extractable due to its location on the surface, but laterite smelting is more difficult compared to magmatic sulfide ore. To extract nickel and cobalt, which are used for battery components, nickel laterite ore needs to undergo a high-pressure acid leaching (HAPL) process, according to Pius Ginting, executive director of the Society for Ecological Action and Emancipation of the People (AEER).
"And the process produces mud waste called tailing," he told KrASIA. This waste is laden with toxic heavy metals such as arsenic.
Ginting said that smelters plan to dump more than 30 million tonnes of tailing per year into the ocean, at a depth of 250 meters. The practice is known as deep-sea tailings disposal (DSTD) and is favored by mining companies as it is the cheapest waste management method. However, it will also convert Indonesia's neighboring sea into the world's largest deep-sea dump site, according to Ginting.
"DSTD threatens the biodiversity of the Morowali and Obi Island waters, mainly because they are located in the Coral Triangle area, which contains the highest coral reef diversity in the world," Ginting said. The area also has fishing points, so pollution threatens the local food chain as fishermen could risk catching fish that are tainted by hazardous waste from mining sites. 
Environmental media outlet Mongabay reported in January that two nickel companies presented their DSTD plan to Indonesia's Coordinating Ministry for Maritime and Investment Affairs. One of them, Hua Pioneer Indonesia (HPI), which manages waste disposal for the smelters in Morowali, reportedly dropped the plan due to "the complexity of the impact of sea tailing" and is now considering "other technological options," according to Reuters.
However, the other firm, Trimegah Bangun Persada (TBP), still maintains its plans to perform DSTD near Obi Island, Ginting said.
The concern for tailing disposal management is also voiced by IMIP CEO Alexander Barus. In an interview with CNBC Indonesia, he urged the government to quickly come up with a solution before it becomes a problem.


So far, the Indonesian government has not clearly explained its plans for tailing and waste management, but DSTD has not been excluded as an option. Sayid Muhadhar, secretary director-general of waste and toxic waste management at the Environment and Forestry Ministry, told local media outlet Koran Tempo in an interview in March 2020 that his institution will "conduct field studies, including testing the proposed dumping depth," before approving any DSTD proposals.
In an online presentation for the Indonesian Mining Outlook 2021 event in December, advisor to the Energy and Mineral Resources Minister, Irwandy Arif, said that waste management is an ongoing problem in Indonesia and that solving this problem is crucial for "the success of a smelter project."
Officials from the ESDM ministry and Environment and Forestry Ministry did not respond to KrASIA's requests for comments.
Ginting emphasized that the Indonesian government "must never approve DSTD practices," which are banned in the US and Canada as well as condemned by 51 countries across the world, including China. "There are alternative options like dry-stack tailing, a method which absorbs all the water content in the tailing, then use the dry material for mine pit reclamation," he said.
Dry-stacking reduces the environmental threat towards marine biodiversity and allows metal recovery and re-extraction, while DSTD excludes these possibilities. However, considering the scale of the planned production capacity, a large dumping space will be needed, Ginting explained.
Even so, Ginting warned that dry-stacking is not a "silver bullet." A strict treatment system is still required to manage dry-stack dust and residual water from the filtering process. In certain situations, dry-stacking could spring leaks and contaminate water bodies within the vicinity.
Communities near the smelters will also have to face another threat: air pollution from the smelters and battery plants powered by coal-fired power stations. To build Widodo's EVs hub, the government has to carefully consider many factors, from plant energy sources to capping nickel exploitation, as well as define a solid tailing disposal plan, AEER executive director said.
"If the exploitation is not massive, the environmental impact can still be managed," he added. Rather than focusing on EVs for private transportation, Ginting suggested that the government should use them for public transportation instead.
Until now, the government's plan to address these problems is still unclear. If they fail to come up with a clearly defined roadmap, Indonesia's transformation to reduce carbon emissions and give the economy a jolt will be to the detriment of rural communities near mining sites.