Subscribe to our newsletter to read this first thing on Friday morning. This is the preview of what you will receive in your inbox.
Last year when Indian companies were struggling to raise money and were downsizing their team, Reliance's digital arm Jio Platforms went on to raise USD 20 billion from global investors. Jio Platforms managed to attract a little over USD 6 billion from PE and VC funds from the Middle East.
Mukesh Ambani-owned Indian conglomerate lured heavyweights from the UAE, including the likes of Mubadala, Abu Dhabi Investment Authority, and Public Investment Fund, to India. Encouraged by their presence in the India market, other funds such as Alpha Wave Incubation, Vy Capital, Investcorp, and Qatar Investment Authority also began investing in the country. As a result, it has become easier for Indian startups to expand their business in the Gulf market.
For this week's big read, we spoke with founders who have expanded their operations to the Gulf countries to understand what makes this market attractive.
The Big Read
Indian startups eye Gulf nations as the next market to conquer
What Happened
When food delivery company Zomato entered the UAE market in 2012, it was a rare feat for an Indian startup. For the then four-year-old Zomato, the Middle Eastern country was its first international expansion, which it used as a launchpad to enter the Gulf region, South America, and Europe over the next few years.
Since Zomato's attempt to create a strong footprint in the Middle East, several startups have tried the same, but few have succeeded.
With the Indian startup ecosystem maturing and more Indian startups wanting to expand in the Middle East, investors from the Gulf region that have invested in these companies are helping them set up camp.
For instance, omnichannel eyewear retailer Lenskart had set aside USD 50 million to establish its business in the UAE this year. But the company accelerated its plans in July after US-based fund Falcon Edge, which has a significant presence in the Middle East, participated in Lenskart's USD 220 million round. Social commerce startup DealShare is leveraging a USD 144 million investment from Tiger Global and Alpha Wave Incubation (AWI)—a fund anchored by Abu Dhabi's ADQ and managed by Falcon Edge—to foray into Abu Dhabi.
Until now, Indian startups have not been able to make their mark in the UAE as they lacked local insights, capital, and on-ground support. However, with Gulf-based investors stepping in and betting on Indian startups, that is slowly changing.
How Did It Happen
In 2016, a UAE-based early-stage VC firm Ideine Ventures wrote seed checks for Indian startups specifically to take them to the Middle East. Set up in late 2015 by an investment holding of a royal family of the UAE, it made five seed investments in India in 18 months. Its Indian portfolios include Infurnia Technologies, BuildTraders, Oxa Health, ReEstate, and Qriyo, ranging from SaaS services and health tech to edtech.
This was perhaps among the first group of local startups that tried to venture into the Middle East after Zomato, but none succeeded. At that time, Indian startups were not a priority for Gulf investors, as they were primarily interested in the US market.
A year later, the UAE hosted a startup summit for Indian startups for the first time to gauge engagement opportunities with the world's third-largest startup ecosystem. By 2018, Indian startups had started exploring the UAE market. PolicyBazaar, Urban Company, and Shipsy were among the few startups that rolled out their operations in the region that year. The same year, the Middle Eastern VCs and PEs pumped USD 1.2 billion into India—a significant jump from USD 667 million in 2017 and USD 502 million in 2016, according to data collated by Venture Intelligence.
As more and more Indian startups began establishing operations in the Gulf, it piqued local investors' attention. Compared to the USD 1.8 billion put in by Gulf investors in India in 2019, last year, they poured in a record USD 7.5 billion. By the end of 2020, investors like ADQ, Alpha Wave Incubation, Vy Capital, Investcorp, and Qatar Investment Authority had participated in multiple funding rounds in the country. So far this year, Middle Eastern investors have written checks worth USD 1.2 billion, as per Venture Intelligence data.
Many of these investors are setting the stage for local startups to foray into the Gulf countries and helping those with a presence there expand into neighboring regions.
The Weekly Buzz
1. Tiger Global leads BharatPe to the unicorn club with a USD 370 million Series E round. New Delhi-based fintech startup BharatePe has become the 19th Indian startup to enter the unicorn club. Tiger Global led the USD 370 million Series E round at a post-money valuation of USD 2.85 billion, BharatPe said in a statement. It has raised close to USD 600 million in equity and debt to date.
2. Lifestyle retailer Nykaa becomes the first women-led unicorn to file for IPO in India. While the company did not disclose the total capital it is planning to raise through the IPO, local media reports put the total issue size at INR 40 billion.The backers which will be selling stakes in Nykaa through an offer for sale include TPG, Lighthouse India, JM Financials, in addition to the husband-wife duo, Falguni Nayar and Sanjay Nayar, who together own almost 50% stake in the company.
3. SoftBank-backed Policybazaar files draft prospectus for USD 810 million IPO. The parent company of the online insurance marketplace Policybazaar and lending platform Paisabazaar has filed papers for an INR 60.17 billion (USD 810 million) initial public offering with Indian market regulator SEBI. The company is looking at a USD 5–6 billion valuation in the IPO that will take place by December. The Gurgaon-headquartered firm has become the fifth startup after Zomato, Paytm, Mobikwik, and CarTrade to kick off the process of going public.
4. SoftBank-backed Unacademy closes a USD 440 million funding round. The Series H round was led by Singapore's Temasek at a valuation of USD 3.44 billion. South Korea's Mirae Asset joined the round, along with participation from existing investors including SoftBank Vision Fund, General Atlantic, and Tiger Global. Unacademy plans to get into upskilling category, where it will compete with the likes of UpGrad, and Great Learning, which was acquired by edtech giant Byju's last week
5. Microsoft may invest in Oyo at USD 9 billion valuation. The SoftBank-backed startup is in advanced discussions with the American tech giant to raise a new round at a USD 9 billion valuation, said a report by TechCrunch. Oyo's valuation had dropped to USD 8 billion in mid-2020 amid the COVID-19 pandemic, from USD 10 billion in November 2019. The move comes shortly after Oyo revealed that it was preparing for an IPO by the end of this year.
6. Competition Commission of India is about to tighten its grip on digital companies. As the clutch of internet companies grows bigger in the world's second-most populous country, India's market regulators are increasingly getting wary of the market turning into a duopoly or monopoly. Last week, CCI said it is stepping up its scrutiny of digital companies that have grown significantly, so much so that they now have the power to control their respective sectors.
Q&A Of The Week
4 thoughts on audio social platforms from Vikas Malpani, co-founder of Leher
Earlier this year, when Clubhouse became a global sensation, a three-year-old Indian company called Leher decided to compete head-on with the Andreessen Horowitz-backed startup.
Serial entrepreneur Vikas Malpani started Leher in 2018 along with Atul Jaju, former senior vice president at Goldman Sachs. For the first two years, the company chugged along but didn't demonstrate significant growth. But Clubhouse's overnight popularity in 2021 changed that. Malpani decided to emulate Clubhouse's format and let users create private groups to invite select friends and acquaintances for live conversations.
Now, Leher has over 300,000 users who log on to the platform each month to discuss the startup scene, cryptocurrencies, films, spirituality, religion, and more. It aims to reach the 1 million mark in the next six months. Backed by Orios Venture Partners, Leher was selected for Google's accelerator program, Google for Startups, in November 2020.
We spoke with Malpani about Leher leveraging Clubhouse's popularity and its revenue model.
Deals This Week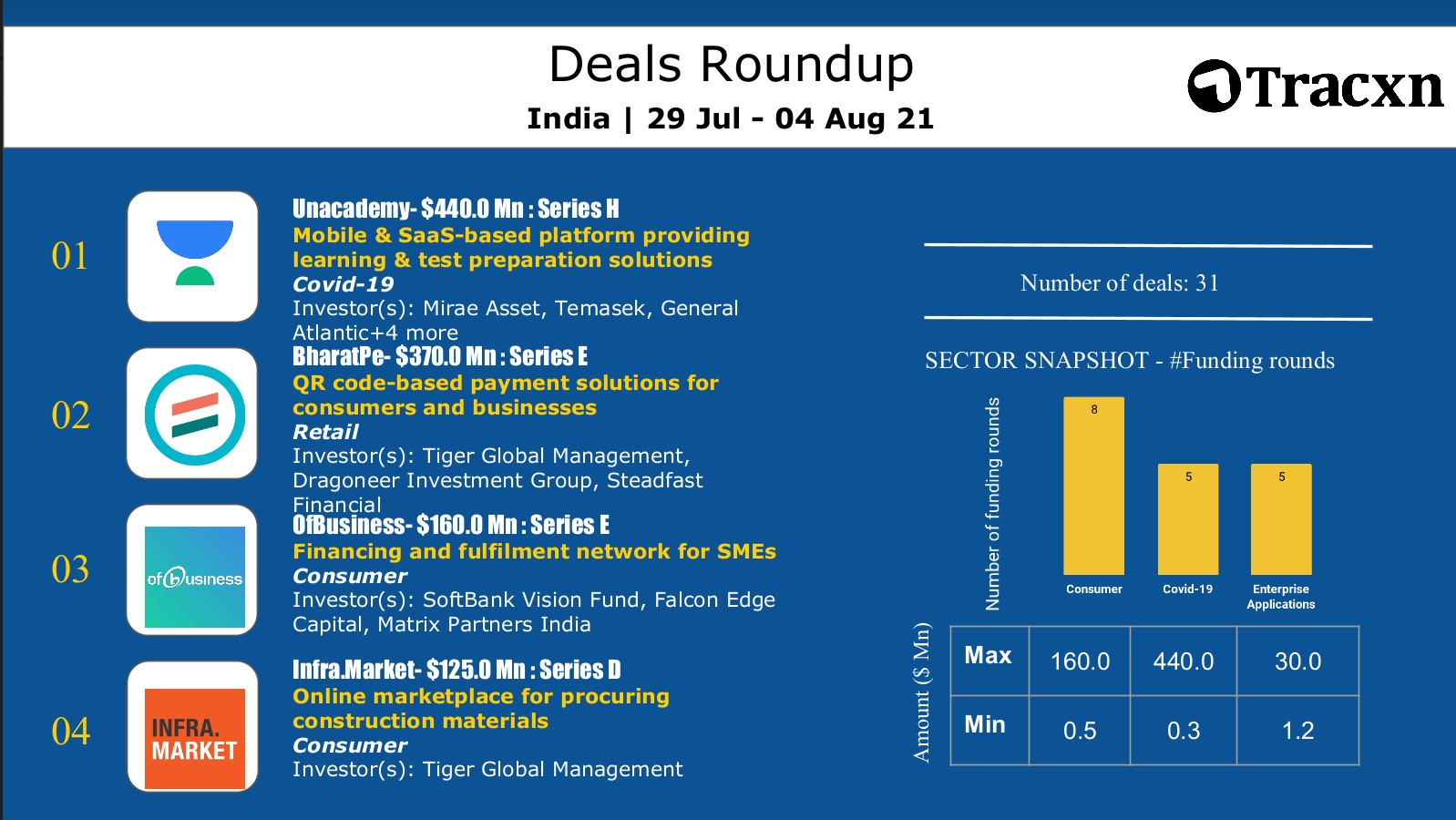 What We Are Reading
The future of content in edtech
Ashish Sinha, founder of NextBigWhat, in his blog contends that cohort-based education can't lead the future of online education. He says that even though there are tens of thousands of video content on several subjects their uptake is dismal. According to him, Udemy's course completion rate is 3%. He blames the content quality and not the length. After all, people are comfortable binge-watching 10 episodes of a web series but a 45 minutes course makes one sleepy. To get to his original point that cohort-based content doesn't work, he introduces a concept called "The Forgetting Curve." Read the blog to find out what it's all about.
The Spoiler
Tune in next week to read how a startup is working on making group-buying mainstream in India.