About 16 years ago, a Bengaluru-based education company called TutorVista embarked on a journey to offer online tutoring services to American kids. Founded by serial entrepreneur Ganesh Krishnan in 2005, when India only had 38.5 million internet users, TutorVista raised almost USD 100 million in the first five years of its inception from Sequoia Capital and Lightspeed Venture Partners.
By 2010, TutorVista had 10,000 students in the US who were paying USD 100 per month. Chuffed by its success, TutorVista came into the limelight, and over the course of two years between 2011 and early 2013, it was bought out by British publishing and education company Pearson for USD 150 million.
While it was hailed as one of the most successful exits at the time, it was the beginning of the downfall for TutorVista. Soon after the acquisition, Pearson merged all its Indian subsidiaries into one entity and started cutting costs to make TutorVista profitable. That turned out to be a fatal move as its online tutoring operations required capital to grow to a level where it could start churning profit.
The company that was once the pioneer of edtech in India remained in the red and was ultimately forgotten. Until one day in 2017, when Indian edtech giant Byju's acquired it at a huge discount, thinking it would give it a head start in the US market.
But buying TutorVista couldn't help Byju's crack the overseas market, which had been on its agenda since 2016. And after TutorVista, hardly any local online tutoring startups attempted to go global. They were too busy creating a stronger foothold in the Indian market while wooing venture capitalists who weren't too fond of the sector.
All of that changed when the COVID-19 pandemic hit the country early last year. As schools and other educational institutions were forced to shut globally, local edtech startups saw it as a chance to leap on a massive opportunity. And so did investors, who pumped in USD 2.22 billion in 2020 into the edtech space, compared to USD 553 million a year earlier.
Flushed with VC money and the new user sign-ups, not only did edtech startups begin to thrive in the world's second-most-populous country, but many of them also started harboring dreams of going global in search of high paying customers. Now, quite a few of them have already established a presence in international markets, while others are gearing up to roll out their services overseas.
Tapping overseas markets is also becoming increasingly critical for edtech startups as the domestic market has gotten extremely crowded and competitive, especially for the K-12 segment, over the past year.
The overseas playground
Last year, when it became clear that online education was going to play a major role in shaping the future of education in India as well as in overseas countries, Indian edtech startups started exploring new markets.
One among these local-to-global edtech startups is Cuemath. The Bengaluru-based math and coding tutoring startup, which has 10,000 local teachers on its platform, has expanded to over 20 countries since March 2020. The company had been operating a brick-and-mortar business for the first five years before offering online live classes in 2018.
"We always wanted to go outside India, but it was not until COVID-19 struck in 2020, resetting consumer behavior, that we started expanding overseas in a systematic way," Manan Khurma, CEO and founder of Cuemath, told KrASIA.
The startup—now present in the US, the UK, Canada, Singapore, Dubai, Qatar, Australia, and New Zealand, among other countries—saw its revenues triple in the financial year ending March 31, 2021.
"It has been a tremendous growth journey outside India. Today, more than 50% of our revenue comes from overseas markets, and this share will only grow. We think we can build a multibillion-dollar business just out of the US," he said.

Its razor-sharp focus on teaching only mathematics has worked well for the company so far. "Math is a universal need, and the curriculum and the concepts are roughly the same across geographies," he said. "So it is a fairly easy process from the product point of view to enter new markets."
Khurma believes that the total addressable market (TAM) for math in the global market is "easily USD 20 billion, if not more," and plans to take his platform to about 50 countries over the next few months. "We think by positioning ourselves as math experts, we will win a disproportionate share of this market," he said.
Cuemath, which raised USD 40 million in December 2020, is now looking to raise another round of mega funding "on the back of strong growth and big TAM."
Meanwhile, piggybacking on WhiteHat Jr, which Byju's acquired last year for USD 300 million, the edtech decacorn finally announced its entry into overseas markets in April. Byju's said its live online learning platform, Byju's Future School, would be available in the US, the UK, Australia, Brazil, Indonesia, and Mexico starting in May.
Across the spectrum
The ambition to go global isn't limited to edtech startups in the K-12 category. Companies across different education segments such as early learning for children below the age of ten, higher education, and professional upskilling are also eyeing overseas markets.
Online higher education startup Great Learning, which partners with top universities like MIT, Stanford, Northwestern, and IIT Madras to offer online programs for graduate and post-graduate courses, claims to have learners from 160 countries, with the US being its largest overseas market.
The seven-year-old startup began its operations with the blended learning approach where it ran offline centers as well but changed its focus to purely online courses in 2016. It first rolled out its programs for international learners in 2019, but with the onset of the healthcare crisis in early 2020, the startup saw 5x growth in paid users in FY 2021 over the previous financial year.
By March 2021, it crossed the USD 100 million revenue run rate, with international students contributing 40% to the total sales. So far, it has had close to 10,000 paid learners outside India, whereas the number of such users in India ranges between 45,000 and 60,000, Arjun Nair, co-founder of Great Learning, told KrASIA.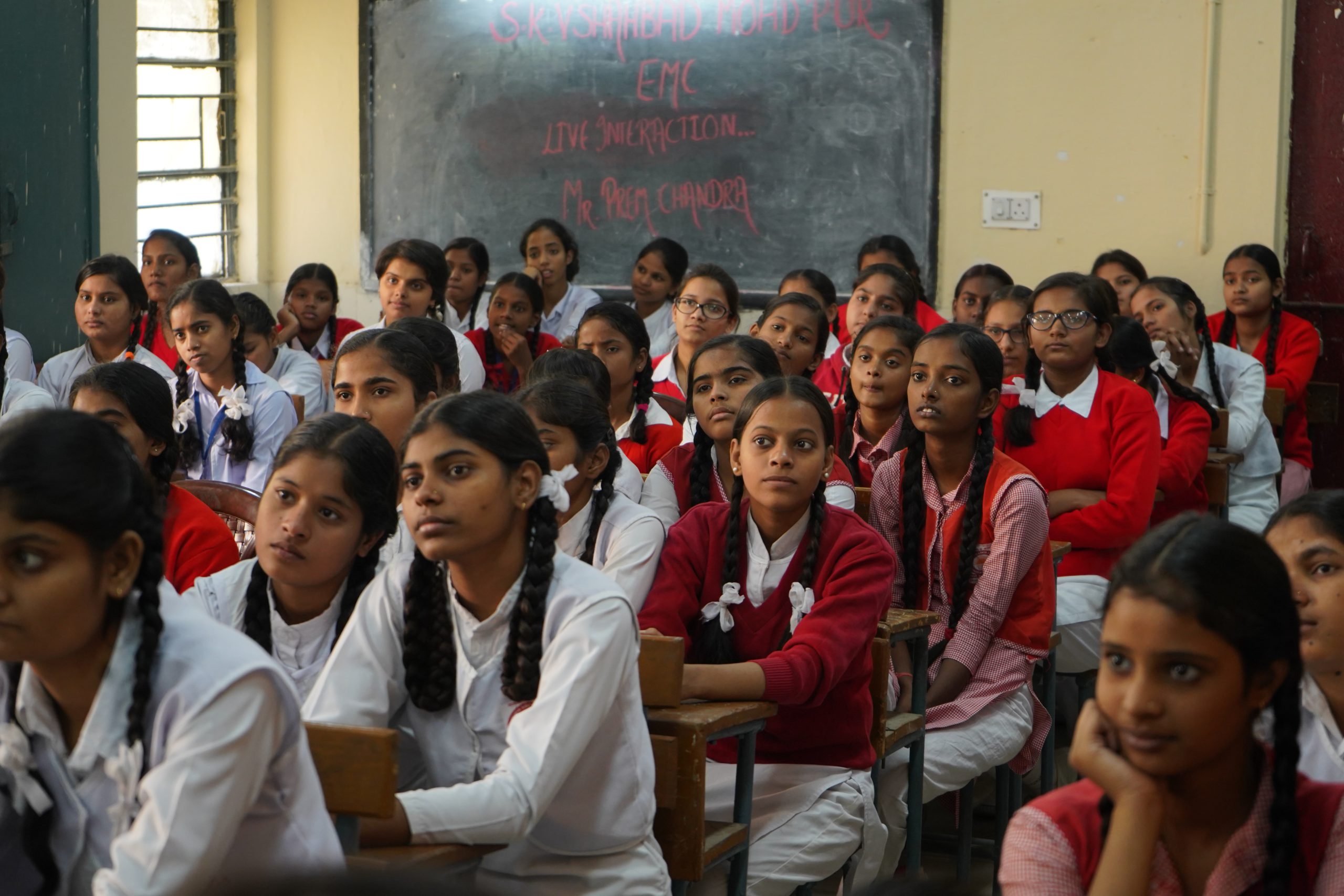 While the US market is certainly lucrative for Indian edtech companies, many wouldn't have thought of going global if not for the pandemic, which made the edtech market truly global.
Two-year-old startup HobSpace, which offers online classes for extracurricular activities such as dance and robotics, among others, was operating offline before the pandemic. "On the first day of the lockdown in March last year, we thought, what should we do now? We understood that certain things like arts cannot be taught online, so we spent six months figuring out activities that we could take online," Priya Goel Sheth, co-founder of HobSpace, told KrASIA.
In late 2020, HobSpace started online courses for chess, robotics, and languages like French and Spanish for Indian students, and since then, it has had over 5,800 paid students. "While building our platform, we started onboarding trainers not only from India but also from the US and South Africa," said Sheth. "Once we had everything in place, we thought, why should we limit ourselves to India?"
HobSpace launched its chess classes in the US and Canada early this year, which Sheth feels was "the great inflection point" for the company. In the last three months, HobSpace has had 600 unique paid users from the US. The startup is now looking to roll out its services in Singapore and the UAE in another two months. It plans to expand to nine countries by the end of this year and take this number to 30 by 2022.
Sheth feels it is easier to get customers from overseas markets, as compared to India, where the focus is still largely on academics.
"People outside India value experiential learning a lot. If they know their kids are interested in some activity, they are willing to get professional help," she said. "In India, people like to explore many things before zeroing down on that one activity that their kids might be interested in."
Similarly, one-year-old Teachmint, which helps teachers who struggle to organize online classes amid the healthcare crisis, realized it was a global problem which it can solve.
Backed by global edtech VC firm Learn Capital and Lightspeed, the startup offers a classroom digitization solution that offers live classes, automated assessments, administrative tools, and fee collection, among other solutions for teachers and coaching institutes. It claims to have amassed over 900,000 teachers, private tutors, tuition center operators, and freelance educators across the country on its platform.
Over the last few months, Teachmint has been seeing an increasing inbound interest from teachers on its platforms who want to conduct classes for their overseas students.
"We are first looking at international expansion from the lens of Indian teachers being able to teach their overseas students," Mihir Gupta, co-founder and CEO of Teachmint, told KrASIA. "Then we will take our product to select markets like North America, the Middle East, and Southeast Asia, where we are seeing an interest for similar products over the next year."
"There is a big gap that exists when it comes to solutions for digitizing classrooms across geographies," he said. "We are solving a global need. We are not creating content, so our platform is geographically agnostic."
The price leverage
Aside from the fact that India has a large pool of trained teachers who can speak English, what has helped edtech startups grow rapidly in international markets is the cost advantage.
Great Learning's Nair believes that operating in India, edtech companies are able to lower the prices dramatically, which makes them really compelling for users in other countries. For instance, the Bengaluru-based startup offers online post-graduate programs at one-tenth the cost in the US, where a masters' degree price ranges between USD 20,000 and 40,0000.
"I am very bullish on Indian edtech because of the cost arbitrage that exists. It is a very unique position we are finding ourselves in," said Nair. "Just like the IT outsourcing industry, edtech can be a very important growth driver for India."

Similarly, Cuemath courses in the US and the Middle East are priced at 3.5x and 2x of India prices, respectively, but still fall in the affordable range for users over there. "Revenue per user is higher in many international markets, and that drives a lot of revenue growth for us," Khurma said.
Anirudh Damani, managing partner at Artha Venture Fund and an investor in HobSpace, believes now that Indian tutors, who are known for being good at math and science, are coming online, they are not going to be limited to India as they can increase their income by teaching overseas students, especially non-resident Indians.
"An Indian tutor can charge INR 1,500–2,000 (USD 20–25) per hour and provide instructions across the globe sitting at home at a low operational cost," he observed. "Teaching online also means a tutor can take on more students than they did earlier and that creates enough revenues."
"Two sessions a week from 10 students at INR 1500 per session, nets them INR 30,000 (USD 400) per week. It is a neat sum of money for a tutor working from home and (most likely) working from non-urban centers," he said. "Therefore the overall math works out very well for the tutor."
"This is a learning process outsourcing in a way, and this trend is going to grow," he added.