Homegrown direct-to-consumer or D2C beauty and personal care brands are fast becoming a darling of investors in India.
D2C brands bypass the conventional method of multiple supply chain partners by marketing and selling products directly to the consumers. Some of the brands that have gained popularity among millions of Indians over the last couple of years include Nykaa, Sugar, Mamaearth, Wow Skin Science, MyGlamm, Skinkraft, and Plum. Currently, India has over 80 D2C brands across beauty, personal care, cosmetics, and men's grooming segments.
According to a recent report by Praxis Global Alliance (PGA) Labs and Knowledge Capital, between 2014 and 2020, investors pumped in USD 1.4 billion into the D2C brands, of which 54% went into the beauty and fashion segment.
The trend has continued well into 2021. Skin and personal care brand Juicy Chemistry has just landed a USD 6.3 million-check in a Series A funding round led by Belgium-based investment firm Verlinvest.
This is the first institutional fundraising by the six-year-old company, which plans to use the capital for building its brand and expanding the business, a report by local media Economic Times said. Founded in 2014, Juicy Chemistry offers organic products for face, body, and hair care. It was bootstrapped till 2019 after which it raised an angel round.
"We are keen to leverage this capital for the rapid expansion of Juicy Chemistry's thriving e-commerce platform and omnichannel distribution capabilities, to reach new and existing geographies, to hire talent, for brand building and to cater to the increasing demand for products, both domestically and in the international market," Juicy Chemistry's chief executive officer Pritesh Asher said in a statement.
Even though, last year the funding activity in the startup ecosystem nosedived in the second and third quarters due to COVID-19, the interest from VCs returned quickly on the back of rapidly increasing digital adoption in the world's second most populous country.
Last month, Sugar Cosmetics, which is backed by A91 Partners, India Quotient, and RB Investments, closed its USD 21 million Series C round led by Elevation Capital (previously SAIF Partners), which valued the startup at around USD 100 million.
Huge market potential
Mumbai-based financial services firm Avendus Capital, in a report published in October 2020, said the online beauty and personal care market would grow to become an opportunity worth USD 4.4 billion over the next five years, growing four-fold from USD 1.06 billion in FY 2020. While the overall beauty and personal care industry is projected to reach USD 27.5 billion by FY 2025 from USD 18 billion in FY 2020.
There were 25 million online beauty shoppers in FY 2020, and Avendus estimates this number to reach 135 million by FY 2025. The South Asian nation is expected to add almost 200 million online shoppers in the next five years, taking the total base up to 330-350 million, as per multiple industry reports.
"D2C brands in this category have flourished on the back of the product and price white space, business model innovation, and growth capital," the Avendus report states. It added that these new-age firms have been successful on the back of clear brand proposition, agile DNA, asset-light operations, and plug-and-play supply chain.
That product margins in the beauty and personal care category is one of the highest–about 70%–also makes these D2C startups an obvious choice for investors.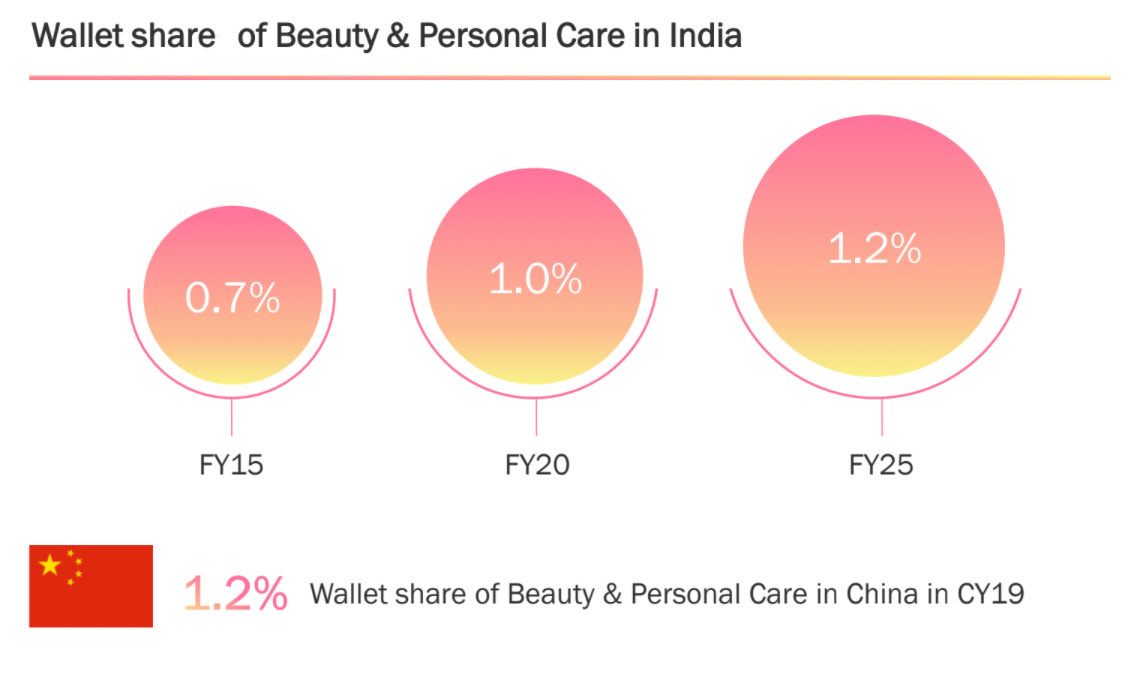 Although the Indian market has been dominated by traditional players for decades, they are more focused on their existing brand portfolio and thus have fewer brand launches. However, customer preferences are shifting toward "made-for-me" products that address personalized needs, Avendus report explains. For instance, consumers are looking for new categories like body scrubs and Vitamin C serums, that are not offered by mainstream brands in India.
Thus D2C beauty and personal care brands have been focusing on "niche, personalized, and targeted products."
Beauty and personal care brands have been able to find their niches and cut through the noise, the report said. This has given them early traction and credibility among millions of Indian users. These new-age brands have also cleverly found ways to resonate with emerging consumer trends such as toxin-free, organic, sustainable products, which is something larger corporations have ignored, it added.
Beauty and personal care D2C brands' ability to launch products quickly–in as little as three to six weeks–as opposed to one launch of a brand in a couple of years by bigger traditional players, as well as a wide range of products offering has given them an upper hand over larger corporates in the sector.
"Product innovation, adoption of digital distribution, and the inability of incumbents to tap into niche segments present an opportunity for (D2C beauty and personal care) brands," the Avendus report said.