32-year old Aishatun Agustina has utilized several Muslim prayer apps. She finally chose "Halo Ustadz," which allows her to have an interactive chat with an ustad—an Islamic preacher.
"It is very helpful. I use many features for daily activities and I have followed and known these ustads who give the sermons on the app," Agustina said. "Even during the pandemic, they are often online, so we can interact with them directly."
Ustad Rifa Anggyna is now preaching more than he could have done at the mosque. He is livestreaming daily sermons on umma, the Muslim social media app.
A devoted follower base
"During Ramadan, I can still communicate directly with pilgrims," Anggyana said. "They can ask questions and give alms. Thank God, every time I conduct a live online preaching, more than 1,000 viewers watch me. Once, it even reached 7,000 viewers."
Since last year, Anggyana and other preachers receive the necessary instructions in workshops organized by umma. Now, he interacts with the faithful through articles, pictures, videos, and chat. With the app, he has gained more than 50,000 followers.
Home to the world's largest Muslim population, Indonesia is a very attractive market for muslim apps. The pandemic provides an additional boost, as worshippers are locked up in their homes.
The Muslim Life app was established by former ustad Tri Wahyudi in 2019. It is trying to grow the flock of devotees with educational content on the Quran. Wahyudi says the app has more than one million users, including 15,000 premium subscribers. During Ramadan and the mandatory physical distancing in the past two months, the number of regulars has doubled.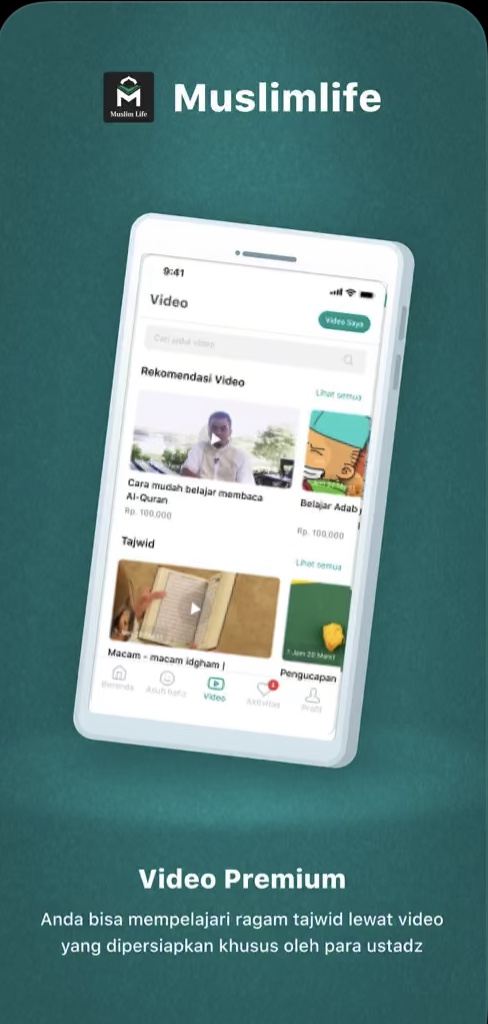 "It was the right moment to add more features like premium video learning," Wahyudi said. He wants to become top-of-mind for subscription-based educational content on the Islam.
The social media app umma, meanwhile, has chosen a different approach. Co-founder and CEO Indra Wiralaksmana's vision is to create a community, where new features and products can be offered and monetized. Backed by Adaro CEO Garibaldi Thohir and the Northstar Group, umma aims to reach 30 million users by the end of 2021 and expand in the Southeast Asian market.
Umma has been downloaded more than 8 million times since its inception last year. The company says that around 3 million of its users are active monthly, driven by new features such as livestreaming preachers and Quran readings.

Umma uses Facebook and Twitter to promote the app. It is also building relationships with Islamic boarding schools and holds digital events with them. Muslim Life is mostly relying on word-of-mouth and referrals, such as during Friday prayers in the office.
Aldi Adrian Hartanto, vice president of investment at MDI Ventures, said that these local muslim apps need many active users, and especially key opinion leaders, to build a community which can save them paid advertising.
"The Muslim social app is just a beginning. There should be a one-stop solution, which also embeds activities such as donations, travel, financing, and halal commerce," Hartanto said.
Popular Muslim prayer apps in Indonesia
Muslim Pro – Considered to be the largest and oldest Muslim app in the world, with more than 85 million downloads from over 200 countries. For millions of devotees it provides the most accurate prayer times and azan application on mobile. It features the full Quran with Arabic scripts, phonetics, translations, and audio recitations, Qibla locator, Islamic Hijri calendar, a map of halal restaurants and mosques, and more. The app is available for both iOS and Android.
Umma – Social media app for the Muslim community in Indonesia. Besides basic tools such as Quran reading and translations, prayer times, Qibla locator, Islamic calendar, it also provides features such as Q&A with Ustadz (Islamic preacher), daily content, chat groups and forums for specific topics. It has more than 8 million downloads and 3 million monthly active users. The app is available for both iOS and Android.
Muslim Go – Aside from basic features, this Malaysian app also provides articles and videos created by its in-house team and interactive communication with other users. Devotees can design their own postcards on the app. It has been downloaded more than 1 million times and is available for both iOS and Android.
Muslim Life – Indonesian app focusing on premium content, Quran reading, education, and charity features. It has been downloaded more than 1 million times and is available for iOS and Android.
Muslimpocket – Indonesian app created by PT Karya Mulia Digital Nusantara. It offers basic features, Q&A with Ustadz, and infaq (alms) for the mosque nearby. It has been downloaded more than 100,000 times from Google Play.
Kesan (Kedaulatan Santri) – This app was initially built for Islamic students (santri) guidance, but extended its interests to empower Muslim entrepreneurship and the Islamic boarding schools ecosystem. According to CEO Hamdan Hamedan, the app has reached almost 100,000 downloads from over 40 countries since it was founded in 2019. It is available for iOS and Android.