The tech industry has come a long way — it has shirked its boys' club image and embraced a more diverse workforce — and Southeast Asia is one of the most progressive on this front. The region has started strong in gender representation in tech, surpassing even some mature Western markets like the US and UK. According to a study by the Boston Consulting Group and Singapore's Infocomm Media Development Authority, women account for 32% of Southeast Asia's tech sector workforce, exceeding the global average of 28%. Several factors have contributed to this, such as the industry's targeted recruiting practices, openness to flexible work arrangements, and the growing emphasis on diversity and inclusion globally.
Shaking off the men-in-hoodies stereotype
While women in Southeast Asia are breaking barriers in the tech scene, it is not without struggle. It is telling that only a fraction of the region's tech startups has female founders or co-founders. This is a microcosm of an issue seen globally, where women are underrepresented and underestimated in tech. The World Economic Forum found that women comprise only 22% of workers in Artificial Intelligence worldwide. In the US, women make up only 17% to 20% of CIOs in large companies, and 27% of IT managerial roles. In the startup space, women founders reported having to prove that they have basic technical knowledge in presentations more often than their male counterparts.
Deloitte Future of Mobility Centre Solutions Development Leader Tong Chenchen counts herself lucky for never having encountered a situation where her gender was a barrier in her professional development. "I have also worked with many talented female colleagues who have consistently proven themselves to be top performers," she said. Nonetheless, she has often found herself being the only female in the meeting room or even the entire project. "We have to recognize the severe lack of diversity in the tech industry, be mindful, and take strong action to drive change."
As a step to address this gap in the industry, there has been a significant increase in female-focused incubators, accelerators, and venture capital funds to create more investment and mentorship opportunities for female-run businesses. Some examples include Her Capital, Patamar Capital's Beacon Fund, and Accelerating Asia's purposeful portfolio approach to investing in female founders.
Signaling a further turn in the tide is the rise of FemTech — female-focused healthcare technology, which includes wearables, apps, and intimate or menstrual care tech products, among others. The companies in this field are mostly led by women who have identified major gaps in tech solutions for women's health. In particular, telemedicine has enabled women to seek advice on topics typically considered taboo, such as reproductive and sexual health, by addressing barriers such as cost, inconvenience, and social stigma, especially in Asia. The global telehealth market for women's reproductive and sexual health is expected to reach USD 215.7 million in revenue by 2027, and the Asia-Pacific region is expected to see a compound annual growth rate of 18% over the same period. The potential of this industry may help change mindsets on women and women's issues in tech.
More female investors are needed at the table
To make it big, tech entrepreneurs often need investors. And when it comes to venture capital, it is no surprise that it is still a male-dominated world. Nonetheless, women are a growing force in the field. There has been an increasing number of young female partners in Southeast Asia's venture firms, one of which is Melisa Irene, who in 2019 became the youngest partner at Jakarta-based East Ventures — one of the most prolific investment firms in Southeast Asia. There is also Rachel Lau — managing partner of Kuala Lumpur-based private investment firm RHL Ventures, which she co-founded at the age of 30.
However, female partners remain more of an exception than a norm. In March 2020, KrASIA reviewed the rosters of 34 venture firms that are active in Southeast Asia. Only one-third of these firms have one or more female partners on their investment teams, and this may result in biases and 'blind spots' that could influence investment decisions. Global studies have shown that only 1% to 2% of the startups that receive venture funding are led by female founders, even though female-led companies make 200% returns on investment. Furthermore, women control USD 43 trillion in consumer spending, and are major drivers of the economy. With Southeast Asia's digital economy transforming at lightning speed, more women need to be part of the investment decisions that guide our digital future, as they can provide a better understanding of the potential in the female market and bring perspectives that may not be considered otherwise.
We can do better — and we will be the better for it
While Southeast Asian tech companies may be ahead of the global average, the industry still faces challenges in achieving gender parity. Of course, the gender gap is an issue seen across all industries. However, the situation is particularly marked in tech, where women's participation in schools and the workforce is lower than in other industries. Given the tech industry's exponential growth in this region, coupled with a critical talent shortage, women are an imperative resource. Research has shown that the benefits of gender diversity within tech teams and leadership include increased innovation, better group performance, and improved financial performance.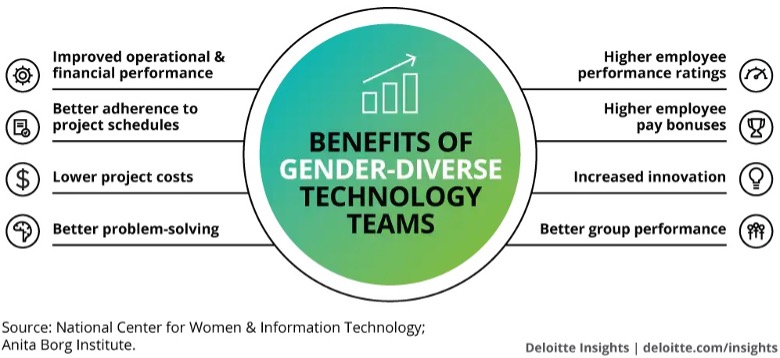 The key to closing this gender gap in the workforce is for organizations to recognize that gender equality is not merely about hitting diversity quotas. Instead, organizations should focus on creating a truly inclusive culture, as well as promoting structured programs and policies to support the career progression and retention of women in this field.
At Deloitte, initiatives such as the SheXO Programme and the ALL IN strategy reinforce the organization's commitment to diversity and inclusion. This includes accelerating the representation of women in leadership roles and maintaining a workplace where everyone has equal opportunity to grow, develop, and succeed.
"Equality is not a women's issue, it is a societal issue," said Cindy Hook, Chief Executive Officer, Deloitte Asia Pacific. "To get to gender equity we need men to stand with women and drive change as sponsors, mentors, advocates, and allies. When women thrive, everyone benefits. This is not a zero-sum equation."
In fact, during Deloitte's recent SheXO Forum 2021, Hook and Sun Xueling, Minister of State for the Ministry of Education and the Ministry of Social and Family Development in Singapore discussed that while female role models are vital, men have to be invested in the cause too. More men need to go beyond supporting change, to championing it by recognizing the importance of diversity for society and businesses.
In addition, to nurture a pipeline of women in tech, Deloitte has a strategic alliance with the Female Quotient to help advance inclusion in tech workplaces. The organization has also teamed up with the Ella Project and Girls Who Code to encourage young girls to pursue STEM education and inspire the next generation of women to see a future in tech. This will allow us to take another step closer to a more inclusive and equitable future.
About the authors: This piece is co-authored by Angeline Leong, Richard Mackender, Tan Shuo Yan, and Nadira Aslam.
Angeline Leong is the Enterprise Technology & Performance Leader for Deloitte Consulting in Southeast Asia and Asia Pacific. Richard Mackender leads the Deloitte Southeast Asia Innovation team, a cross-function, cross-country unit dedicated to driving innovation as a long-term value creator across Deloitte's Southeast Asia operations. This article was co-written with Tan Shuo Yan and Nadira Aslam, members of the team.