In Vietnam, citizens still carry wads of cash stuffed in their pockets, as 90% of economic transactions are performed using cash. Yet change is coming with the boom of e-wallet services providers luring the Vietnamese population to go digital with e-payments.
MoMo, one of Vietnam's leading e-wallets, has amassed 20 million users since its launch in 2012, equivalent to 21% of Vietnam's 97 million inhabitants. As the first local firm to be counted among the top 100 fintech companies in the world, MoMo reportedly raised USD 100 million from Warburg Pincus in January, making it one of the largest single funding rounds for a Vietnamese startup.
MoMo's chief financial officer, Manisha Shah, is a Harvard Business School graduate leading the company's efforts to forgo banknotes and coins in the country, after accumulating over 25 years of experience in companies such as JP Morgan, Morgan Stanley, Vodafone, and organizations like the World Bank.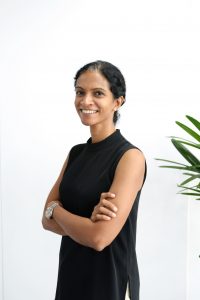 KrASIA recently spoke with Shah to discuss her trajectory as a CFO leading the company through rapid growth in Vietnam.
The following interview was edited for brevity and clarity.
KrASIA (Kr): Tell us a bit about yourself and how you started at MoMo.
Manisha Shah (MS): I met my husband when I moved back to India and we spent about seven years in Chennai, in Eastern India. We were thinking of where to go next, and then he was transferred to Vietnam, so we moved here. With a young child and no friends, I started thinking about building up a network after my first month in Vietnam.
I started reaching out to everyone, including school alumni. One of the first women who replied to my email happened to be an early investor at MoMo who introduced me to the company. But as a foreigner, I didn't understand how large it was. I felt that MoMo seemed to be a company that wanted to change the way Vietnamese people live using mobile to provide access to financial solutions. To me, that was a compelling vision.
I'm not hesitant to take a chance. I spent a lot of time talking with the chairman and investors, as well as the senior managers. They have great business acumen, a clear vision and a strong ethical code. They are people that I could be comfortable working with and trust.
Kr: How would you describe your leadership style?
MS: To be honest, my style continues to evolve. My management style is pretty direct. As a direct leader, you can be very strong but still be kind. I try to keep my employees in mind. I trust the people that work for me. For me, I always hire every employee, and I don't mind if you make a mistake once, everybody makes a mistake, just don't make it twice.
As I don't speak Vietnamese, I have to delegate a lot, which took some learning for me, but I now enjoy it. It required developing an ability to gauge what a person is able to do before you delegate to them. I try to play to my strengths and hire people in areas where I have less expertise. In certain things, I still can be very hands-on and detail-oriented, particularly when it comes to new projects and working with investors.

Kr: What challenges have you faced as a woman in the male-dominated fintech industry? How have you addressed them?
MS: I'm very proud to say that women now account for about 50% of our workforce. Yet, at the board of management level, we still need more female leaders. However, compared to my other jobs, this is one of the least male-dominated places I've worked at.
In terms of difficulty, the major one is the natural frustration that I cannot communicate as effectively as I want to. However, the organization and my colleagues, particularly at the broad management level, all switched their language to speak English with me. So for whatever communication difficulty I have, they are making a much greater change
Kr: Since MoMo's official launch in 2012, the platform has become popular in Vietnam. Were you surprised by MoMo's explosive growth? 
MS: I was really surprised. If I look at why and what makes the company successful, I would say that it's our shared purpose. If you look at the employees and managers, especially those who have been here a long time, some over 10 years), many of these are people studied or worked abroad and were not fulfilled at their jobs in large corporates. They wanted to part of a company where they worked to build something. A great Vietnamese company that had an impact on peoples' lives. They all wanted to push themselves out of their comfort zone. 
The mission of MoMo is a huge motivation for us. When MoMo started, there were no tech unicorns, trying to build one was not the focus. They just wanted to build a company where people's lives in Vietnam would be better because they could get access to technology and financial solutions by using their phones.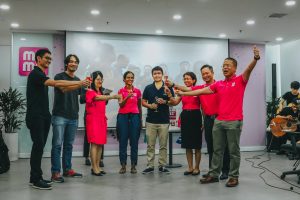 Kr: What is your vision for MoMo in five years? What initiatives can we expect from the firm? 
MS: Earlier this month, we just crossed 20 million users at MoMo, which is a huge milestone for us. It's amazing that so many people trusted us and use our services. To mark this event we launched a new game, named MoMo Academy, it's an interactive game where you can play against your friends or other users. We found that people really like playing against friends and comparing scores. As we grow, the social aspect of the app has grown a lot.
From a user perspective, I would like MoMo to be the homepage for all consumers in Vietnam. Whenever you want to do something, you naturally go to your mobile, be it to book travel tickets, pay utility and school bills, shop online, buy groceries, check movie reviews, get food delivered, find a good deal for a spa or restaurant, or send money to your friends.
One of our CEOs always says that when he went to the US in the late 1990s, he saw that people left their homes without cash, and he wanted that for people in Vietnam. Today you can easily spend the whole day in Ho Chi Minh City just using MoMo. We would like that for everybody in Vietnam – using mobile for everything they need.