The COVID-19 pandemic came like a storm and literally destroyed everything in its path, from livelihoods to businesses. While many industries, like those in retail and F&B, have been given massive support and risen to the challenges brought about by the pandemic, there are operators in hugely important industries that are scrambling. One of these is the general insurance industry.
General insurance is basically insurance for everything else besides what most of us would hear about: Life and health policies. Policies like work injury compensation, product liability, and property (mainly policies that businesses need) fall under the general insurance umbrella. To facilitate the purchase of general insurance, intermediaries need a specific license. Each licensed intermediary can only represent a maximum of three insurers.
I have spent all of my working life in various roles in this industry, including as an underwriter for multiple insurers. In my line of work, I had interacted with and became friends with hundreds of intermediaries.
Laborious workflow
For years, we have been talking amongst ourselves about how this industry, which accounts for USD 1 trillion worth of premiums globally, and is the bedrock of many businesses, have seen next to zero solutions built for what is a traditional, laborious process filled with siloed workflows.
The following illustration will give you an idea of how laborious this process can get for intermediaries to properly serve the needs of their clients, the end policyholder.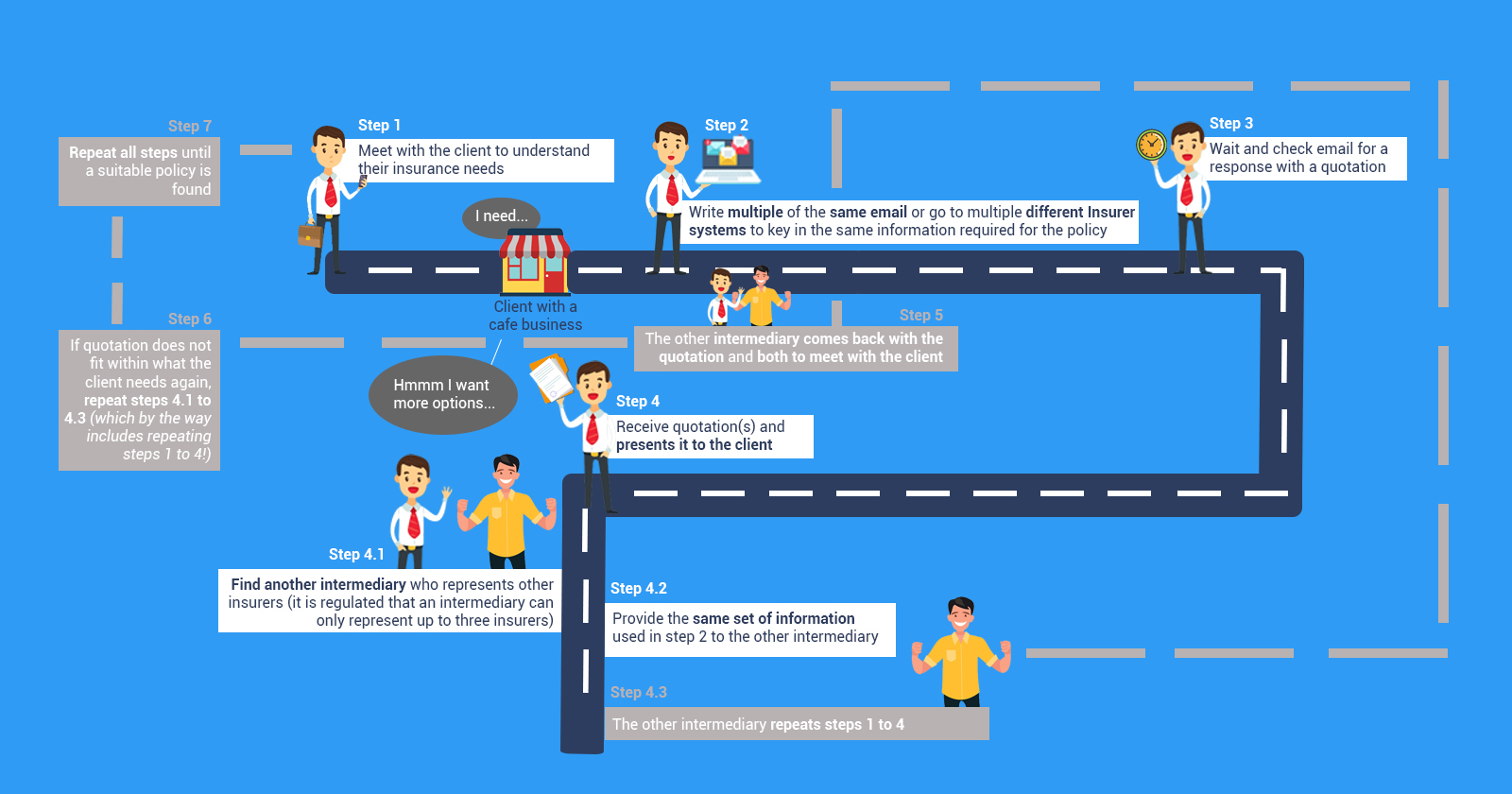 After getting these quotes, the intermediary has to organize them to present to your clients, and if there are changes to his or her initial requirements, you pray that you have everything well-tracked somewhere.
When the intermediary and the client are both satisfied with a policy, the intermediary will then have to go back to the insurer and/or the other intermediary he had worked with to finalize the policy. They then painstakingly write to all the other insurers and intermediaries of whom had quoted, to inform them that their quotes were not accepted.
The COVID-19 storm
What's more painful than being smacked with a problem is being smacked with one that you saw coming.
When the pandemic hit, it unfortunately came as no surprise when I saw first-hand, how my peers in the industry scrambled to cope with their general insurance business. It really hit me hard, given that these were people I personally knew. They no longer had the luxury of being able to complete steps 1 to 7 in the illustration above.
Along with my co-founders, I was already building Surer for two years when COVID-19 hit. I felt a certain degree of guilt for not being able to launch Surer earlier—intermediaries might not have to scramble, were we able to do so. We kept the faith and pushed to launch a beta version of Surer. We managed to get it out right before the government announced the circuit breaker.
One of our beta users was an intermediary who had an admin staff to help him manage deal processing manually, offline, via spreadsheets saved locally on his laptop. When the circuit breaker was announced, this admin staff who is Malaysian, was back in Malaysia on holiday and had left his laptop in Singapore. The intermediary had to pause all business operations for a while, purely because he did not know how best to follow up on the work his admin staff did.
This intermediary is now one of Surer's most active users.
By starting his transaction journey via Surer, he is now not only able to save close to 95% of the time he usually spends to source for a quote, the statuses of all his deals are tracked automatically as well; he does not have to manually update spreadsheets or search through email or Whatsapp message threads. When he receives quotes from his insurers or peers he referred a deal to, he literally just needs to click one button to generate a quote presentation (where previously, he had to re-organize quotes that came in multiple different formats). Most importantly, he has access to his entire business from anywhere in the world with an internet connection—never again will he have to go through the hassle and stress he had faced when the circuit breaker hit Singapore.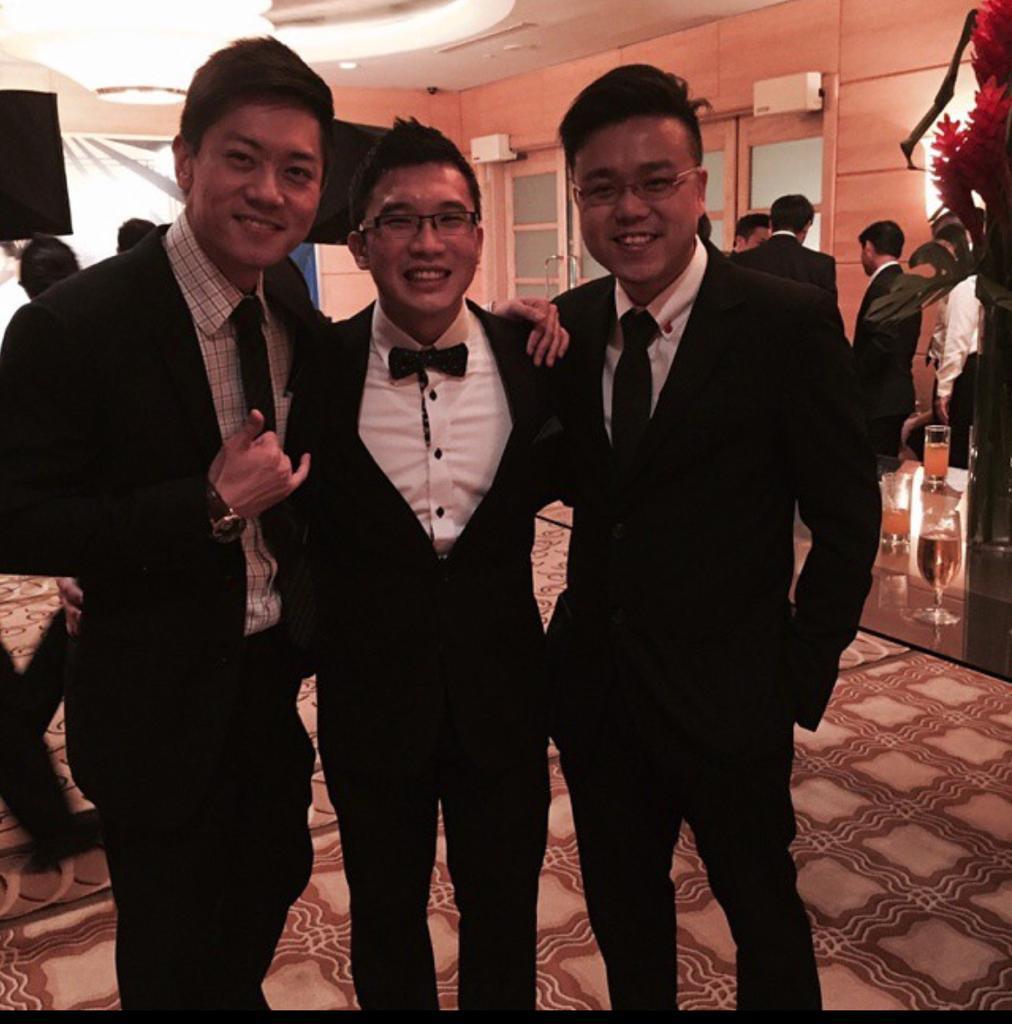 Weathering the storm
It is stories like these that led us to believe that in a post-pandemic world, mindsets about technology will change, there will be less fear of it taking over jobs; an openness to adopt it and ultimately a world where the true value of parties in an insurance deal is in knowledge, advise and digital collaborations.
The insurance industry has arguably weathered the storm of COVID-19 (although not in the clear yet), but the shock to the system was enough to make many realize that digitalization of their workflow and processes should not just be pub-talk—it is a very real need.
Like everyone else, intermediaries started integrating technology into their everyday lives—meeting clients via video calls or going online to conduct webinars.
Many realized that the value they brought to the table is that of a trusted advisor, not an order taker. Their clients need them because general insurance, especially for businesses, is complex and hard to grasp—they still need a human, the intermediary, who can understand their business, and at the same time have the knowledge of the insurance marketplace to match them with a suitable policy.
They realized that the laborious workflow they spend 70% of their time on CAN be alleviated with technology, automation, and network collaborations. Instead, time and energy can now be put to better use—to be focused on the needs of the client.
At the end of the storm, there's a golden sky
To borrow the famous lyrics of You'll Never Walk Alone by Gerry & The Pacemakers, indeed, 'at the end of the storm, there's a golden sky' or cloud.
With cloud-based solutions rife today, we were able to complete building and finally launching Surer recently. We hope to harness the power of technology to help all parties, from intermediaries to insurers, in the general insurance segment automate processes and drive network collaborations.
The pandemic, while torrid, fostered a level of comradeship between myself, my co-founders, and our users. Intermediaries trusted Surer, a startup, in its infancy, to drive what remains serious business, while we did our best to act fast on feedback to iterate Surer. Essentially, faith in each other was what drove mutual benefits.
---
To read similar stories, please hop on to Oasis, the brainchild of KrASIA. 
Derren Teo is the co-founder of Surer, a Singapore-based insurtech startup. Surer is a cloud-based, web platform with a market-first technology that helps all parties in the general insurance segment automate processes and drive network collaborations, enabling them to provide better service and support to their clients. It is the result of a passion to solve the problem of an industry he cares about but sees in need of supercharging. 
Disclaimer: This article was written by a community contributor. All content is written by and reflects the personal perspective of the interviewee herself. If you'd like to contribute, you can apply here.