This article is part of KrASIA's partnership with Web Summit. Written by Web Summit.
At Web Summit 2020, we'll welcome key figures from a range of branches of the European Union. One such branch is the European Investment Fund, a specialist provider of risk finance to benefit small- and medium-sized enterprises (SMEs) across Europe. It's part of the wider European Investment Bank (EIB) Group and, so far, has helped more than one million SMEs access enhanced finance. We chatted with chief executive Alain Godard about the EIF's plans to help European SMEs embrace digitalisation and emerge stronger from the pandemic.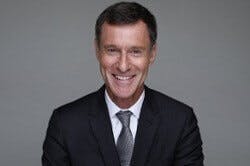 1. Is there currently a digital investment gap in Europe?
The EIB Group estimates that the total digital investment needed is about €380 billion, but the market can deliver about only one-third of this. An investment gap of €50 billion per year remains, and this may increase due to Covid-19. Last year, the European Commission and the EIF launched a Digitalisation Pilot programme aimed at bridging this gap. The initiative allows the EIF to provide support specifically for the purpose of the digital transformation of SMEs, and will constitute a blueprint for future action in this area.
2. Do SMEs have any advantages over larger corporations when it comes to digitalisation?
Our research shows that, when it comes to digitalisation, size matters. Larger firms have higher rates of digital adoption than smaller firms. Older or established small businesses tend to be persistently non-digital in Europe, while businesses run by younger entrepreneurs are more adaptable to digital technologies. At the same time, I think that digital technologies are disrupting market dynamics at increasing speed and creating unprecedented opportunities for smaller businesses and startups. These technologies allow them to scale, compete and disrupt in ways that were unheard of in previous generations – we are seeing this a lot during the Covid-19 pandemic.
"Older or established small businesses tend to be persistently non-digital in Europe, while businesses run by younger entrepreneurs are more adaptable to digital technologies."
3. What are some of the barriers SMEs face when it comes to digitalisation?
In the EU, a lack of access to finance – in particular to growth capital – is a key barrier to the adoption of digital technologies for smaller companies. The availability of skilled staff is also often cited as another major obstacle.
4. How is the EIF supporting SMEs across Europe to embrace digitalisation?
We work with more than 400 banks and 500 funds across Europe, sharing risk to provide financing solutions to smaller businesses for digitalisation investments. In addition to specific EU initiatives – such as the COSME digitalisation pilot, which is designed to support SMEs in their digital transformation – the EIF has recently selected the first six funds that will receive investments under an equity pilot programme focusing on AI and blockchain technologies. These funds will, in turn, also support digital SMEs.
6. What role will digital innovation play in solving the Covid-19 crisis?
The pandemic has clearly shown the importance of accelerating the digital transformation of businesses in almost all sectors, including health, manufacturing and education. Along with the provision of digital products and online services, technologies such as automated production processes, internet of things, big data and AI will help to bring about solutions to overcome the current crisis and drive recovery. But digital innovation can also help with financing by making access to finance faster, simpler and seamless. We are seeing more efficient processes develop, and even new fintech business models as well. This ultimately means easier access to finance for SMEs during this difficult period.
"We would be happy if as many attendees as possible found out more about the diverse opportunities the EU – and we, as the EU's financing arm for SMEs – can offer to support them in their endeavours."
7. What are some of the most innovative digital solutions you have seen since the beginning of the pandemic?
Clearly, the potential of AI in healthcare. Vaccines against Covid-19 were already being tested on humans in March, less than three months after the initial outbreak in China – a feat many researchers wouldn't have thought possible just a year ago. Many of those vaccines owed their speedy start to the power of AI or machine-learning systems and computational analyses. It gives us a glimpse of how much more it could do in the future to improve and save lives.
We've also seen strong growth in companies offering e-consultations, edtech solutions as distance learning becomes necessary, and, naturally, ecommerce. But one area which I found quite innovative was the development of apps for large buildings, be it in the form of building communities, helping each other out (like forming cycling or dog-walking groups), or more practical matters like controlling energy use, temperature or lighting, and reserving meeting rooms. Digitising something as non-digital as a building is quite interesting.
8. Will digital solutions help us to prepare for any future crises?
Digitalisation was a key ingredient in the recipe for keeping society moving during the crisis. It made our economy and society more resilient than it would have been without digital solutions. This can be even more relevant in any future crises if we further develop and improve on the digital experiences and solutions that have helped us steer through the current crisis. This applies as much to SMEs seeking to grow in the digital space or digitalise their business models as it does to public organisations, such as the EIF and our financial partners, as we digitalise our processes to make financing faster and more accessible for European SMEs.
9. How will the EIB Group promote the digitalisation of Europe at Web Summit 2020?
We can make it easier for investors and companies to invest in and venture into cutting-edge digital technologies like AI. During our two masterclasses, we will highlight our support for digitalisation and remain available at the event to talk to and assist digital companies looking for finance.
Read about the Digitalisation Pilot programme launched by the European Investment Fund and the European Commission to support SMEs across the EU.
Learn more from EIF's shareholder, European Investment Bank, through dedicated masterclasses, and from its president, Werner Hoyer, on day three of Web Summit 2020.