While most people use Telegram for more secured mobile chatting and messaging, Ravi Ojha, an undergraduate student adopted the messaging app so he could download copyrighted films and web series available on OTT (over-the-top) platforms such as Netflix, Disney Hotstar Plus, Amazon Prime and others, for free.
Till now, Ojha has downloaded popular web series such as Stranger Things, Panchayat, and Khuda Hafiz among others from Telegram.
And he's not alone in using Telegram as a hub to discover pirated contents.
Launched in 2013 by two Russian brothers Nikolai and Pavel Dirov, Telegram is an end-to-end encrypted chatting platform meant for secure interaction among people. Telegram is popular among journalists, whistle-blowers, and activists as it also allows users to hide their identity. Over the last two years, a new set of users have increasingly started using the app: former torrent users who would rather download pirated copy of films, TV series, and games, than purchase them.
Anish Kautilya, another Telegram user who exclusively uses the platform to download pirated content, says that the simplicity to access content is one of the best things about the messaging platform. "Earlier, downloading movies and series from torrent websites was an annoying and tedious process. You have to be smart enough to know which link will provide the right movie result. Now, it is a no-brain game to download contents from Telegram."

In the last few years, the UK-based messaging platform Telegram has emerged as the go-to platform for people such as Ojha and Kautilya, who are looking for a hassle-free way to download copyrighted content.
The cost of global online streaming piracy will reach USD 52 billion by 2022, according to a report by Digital TV Research. The loss of revenue for OTT players on the account of piracy in India is expected to hit USD 3.08 billion by 2022.
The making of the piracy den
Experts say that the ease of dissemination of pirated contents via the messaging platform, which had 40 million users in India last year is fuelling the rising loss to the content industry. In a recent blog Telegram said its global user base has grown to 400 million this year.
Given the fact that India is Telegram's largest market, it's probably also the biggest consumer of pirated content on the messaging platform. Private chat groups on Telegram such as Netflix, Hotstar Disney Plus Movies, Voot, Altbalaji Web Series, Hindi HD movies Netflix, and others are filled with Indian users. Out of top 10 most subscribed global channels on Telegram, six are a haven to illegally download Indian movies and web series.
The popularity of these groups can be gauged from the number of subscribers they have. A channel named 'Hindi HD Movies' has over 6.1 million subscribers and a daily reach of more than 31.3 million. This year alone, the particular channel has reached more than 7.4 billion impressions with posts having an average reach of over 943,000. Another channel called 'Netflix Movies Web Series' which added more than 499 million users this year, has over 1.5 million subscribers.
Experts say that the messaging app's heightened privacy and broadcast potential, with lesser limits on the number of people who can join a channel has made it a ripe platform to share pirated copies of copyrighted content. Telegram allows up to 200,000 people to join a private channel or chat group. Users can share files as large as 1.5GB. In comparison, WhatsApp only allows 256 people to join a group.
Moreover, Telegram's end-to-end encryption prevents any foreign intruders such as telecom providers, internet providers, and the messaging platform itself from being able to decrypt the conversation. The platform assures that only users who send and receive messages would be able to read them. In a group chat, users can also choose to hide their phone numbers if they don't wish to reveal their identity.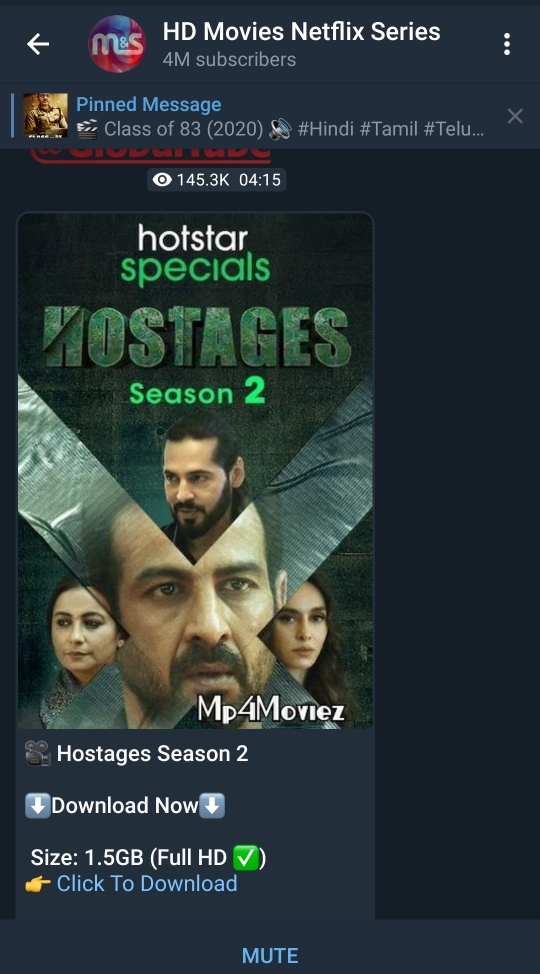 Unlike WhatsApp, Telegram has open API on which developers can create their own Telegram apps. The platform allows developers to build specialized tools for Telegram, integrate any services.
The whole bunch of services make it a go-to platform for many users.
While media organizations get their share of cyber-attacks, it is human corruption in the production house which leads to the rise of piracy.
Chaitanya Chinchlikar, Vice President at Whistling Woods, a film, communication and creative arts institute located in Mumbai, said technologically everything has been done to check piracy. He, however, added that most of the films get leaked during their post-production phase. The modus operandi is unique in each case.
For example, HBO's popular television series Game of Thrones was hacked and released ahead of time on multiple occasions. The episodes got leaked during the transaction with third parties on whom HBO relies to get its content globally available.
Once pirated, the movie is monetized by selling it to content platforms. Alternatively, hackers also ask for ransom money.
What does the law say?
Anti-piracy laws in India protect the owners of copyrightable work in terms of economic rights, moral rights, and rights management information.
Law experts believe that while provisions in relation to rights management information such as watermarking, offer protection of content, especially digital content, the real difficulty arises when it comes to tracing pirated content, as encryption and bot platforms offer complete anonymity and security of transmission.
"With the advent of dedicated apps such as Telegram and WhatsApp, which enable private and secure transmission of data, the difficulty in keeping tabs of pirated content and distributors of such content has put the enforcement authorities in a quandary," said Sajai Singh, Partner, JSA law firm.
Online platforms such as Telegram which qualify as 'intermediaries', enjoy 'safe harbour' under the IT Act. Safe harbour allows such platforms protection from prosecution against infringement and transmission of unlawful content by the users of such platforms. Intermediaries are obligated to take down content only upon possessing specific knowledge of transmission of unlawful content. This higher test of 'specific knowledge' has also made tracing of pirated content harder for authorities.
Singh added that it may be pertinent to mention that the judiciary has also played an evolutionary role in enforcement of anti-piracy provisions.
Fight it like this newspaper
Dainik Jagran, a Hindi language daily newspaper filed a lawsuit in the Delhi High court in May this year against various channels on Telegram which were uploading PDF format of daily editions of the e-paper.
While the reproduction, adoption, and distribution of e-papers was violating its copyright and trademark rights, it caused the publication a huge financial loss.
The Delhi High court passed an interim decision in May 2020 against Telegram to take down channels infringing Jagran's IP rights by unlawful circulation. The court has further directed Telegram to disclose the identities of users running channels on the platform. Telegram's response to this direction remains to be seen.
Another way the judiciary has tackled the problem of anonymous nature of online piracy is by passing John Doe orders, also known as Ashok Kumar orders in India. Ashok Kumar orders allow right holders to act against anyone infringing their IP rights.

Prashant Mali, a cyber law expert who has handled the copyright and piracy cases of films like Udta Punjab said that the film and online media are not serious about following the cases of piracy and copyright. We have seen some sporadic cases of follow ups by the media and film industry on piracy. They don't follow the cases of piracy as rigorously. The piracy network has become too large and almost impossible to curtail.
Globally, the US leads in consumption of pirated content, according to a study by Irdeto, a Netherlands-based company that provides digital security to platforms and apps.
Its report, titled The Irdeto Global Consumer Piracy Threat Report, said USA, Russia, Brazil, India, and Netherlands were the top five countries to record maximum peer-to-peer downloads between January 2017 and May 2018. The report said, P2P piracy is still prominent around the globe and plays a central role in distributing content to the online piracy ecosystem.
Experts, however, stressed on rising consumption of pirated contents via messaging platforms and said India will soon become the top consumer of pirated contents.