As a mom, I've always thought that kids should be discouraged from using gadgets too much, so as not to develop addictions. I believe they should play outdoors as much as possible and maintain a balanced lifestyle, with an emphasis on reading over TV, smartphones, and tablets. 
However, my convictions were put to the test as I found myself homebound with my 4-year-old daughter for over a month—her studying from home, while I worked from my room—as the coronavirus temporarily turned our lives in Beijing upside down.
Instead of spending hours in the office while she played happily at her kindergarten, I had to double my responsibility. I became both a tech reporter and a pre-school teacher on the side.
Luckily, as the whole country faced the biggest "work-from-home experiment in the world", help came from some unexpected places, as technology allowed life to proceed with some semblance of normalcy.
Online courses from kindergarten teachers 
When my daughter's kindergarten informed me her classes would go online, I was surprised. I had no idea what kind of education could be offered to kindergarteners in these circumstances. The online lessons required the use of a smartphone, so I had to hand my device over since all classes were to be held inside a WeChat group.
What surprised me the most, however, was that my daughter, without ever having used a smartphone, instinctively figured out how to unlock it with a finger gesture and how to input voice messages—just from watching me do it before. With just a little guidance, she was able to take a video of her drawings and share them with classmates.
Through WeChat, teachers sent videos of them reading poems, doing body movements, and drawing. As I had to work from home during this time, the digital classes were a blessing for me as they kept my daughter entertained while she was learning.

WeChat public accounts with professional content
During a conversation with a friend, he shared a link to a WeChat public account named Hapixiaoxuetang, featuring educational content about science. I was among his attempts to seek new followers, which would give him free access to the content as part of a referral marketing promotion by the account. I followed the account.
Next, I shared these videos with my daughter. Discussion on topics including how the human eye works, what creatures are living in the deep ocean, and what would happen if the earth stopped rotating, instantaneously grabbed her attention.
In addition to these free courses from Hapixiaoxuetang, the platform also recommends a wide selection of other courses, such as piano or guitar classes, which could be delivered from other apps. Founded in 2014, the company behind this service, Beijing Guogan Shidai Technology, also known as Mama+, is backed by investors including Yu Minhong, founder of Beijing-based and US-listed education giant New Oriental Education, and also The Walt Disney Company. 
Hapixiaoxuetang is not alone in offering content via WeChat. Kaishu Story is another firm exploring this market. The Beijing-based children's content provider just closed a USD 66 million Series C+ round from investors including Temasek and Baidu, and one of its podcasts, informing kids whether mosquitoes could be killed by raindrops or not, has been played nearly one million times as of March 27.
AI-empowered foreign language courses
As I always wanted her to learn English from a young age, I've introduced her to an app called Ivydad, which has teamed up with American publishing house Scholastic to offer 100 e-books for free in March. Ivydad claims that these books are also used as textbooks in some American kindergartens, which sounds extremely attractive to me.
She used the app to read and listen to some of these audiobooks, while repeating words, and recording herself. The AI embedded in this app evaluates how accurate her recorded pronunciation is, and gives her a score of up to three artificial flowers.
"If I get two flowers, I will try to get three flowers and if I only get one flower, I will try to get two flowers," she said, treating these flowers as her motivation.
Her intent to learn English has also improved after she became a regular listener to my morning conference call, during which I discuss my daily tasks in English with my foreign editors.
In addition to Ivydad, which is backed by venture capital firm V Star Capital, she also enjoys other English learning apps like Baima AI Ke, which is supported by Tencent. 
Story-telling robots who are also playmates
One of my daughter's favorite toys is a pen, but not just any regular pen.
She has been fascinated by this gift ever since receiving it from her grandparents on her first Children's Day in 2015, when she was just a few months old.
The rabbit-shaped pen, together with a set of 12 specially-made books, allows her to interact with words or photos from the books. Whether listening to lines of ancient Chinese verses, performing simple math, or learning about the solar system, the pen has enhanced my daughter's enjoyment while learning.
"I wish all my other books had such a reading pen!" she told me once.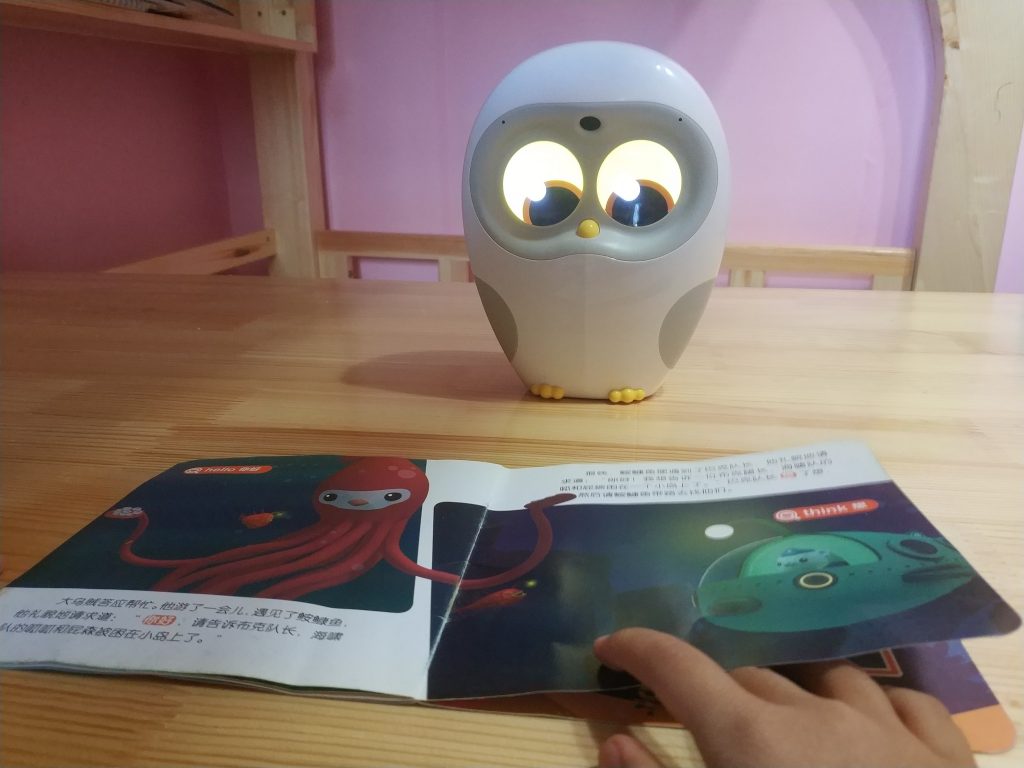 For her fifth birthday, her grandmother gave her a small robot called Luka, which, according to its maker, can read more than 60,000 comic books. The robot only cost RMB 799 (USD 110) but has lived up to all her expectations, reading her books one by one without the tiredness I may experience.
"Luka Luka, please read a picture book to me," she tells her new friend.
"Please show me the cover of the book," the robot replies, powered by Tencent's voice interaction technologies. 
Sometimes, she holds the robot as she would her teddy bear and takes it wherever she goes. Also, she always ensures Luka is charged. "It needs electricity, just like we need food to stay healthy," she once said.
As a working-from-home writer and mother, I am thankful for these different digital tools and the developers behind them, especially during the unique circumstances brought by the coronavirus pandemic.
Technology already plays a significant role in my life, and I cannot imagine how important it will become for my daughter.

Song Jingli is a Beijing-based reporter covering tech beats for KrASIA.