For entrepreneurs, there is no recipe for success. Founders, however, need to have certain qualities to thrive in the business world. For Rishabh Singhi, former COO of RedDoorz, the excitement of facing new challenges and exploring new ideas keeps him going on his entrepreneurial journey, even when things don't always go as expected.
Born and raised in Udaipur, India, Singhi gained more than ten years of experience holding senior positions in several local tech companies before moving to Singapore. There, in 2015, he joined budget hotel startup RedDoorz that is co-founded by Amit Saberwal and Asheesh Saxena. He started as the head of products before taking a higher role as COO in 2016. As a tech-powered budget hotel chain pioneer in Southeast Asia, RedDoorz quickly expanded its business to Singapore, the Philippines, and Vietnam.
"During the early days in my leadership role, I was involved in all the departments, but as the company grew, I then took charge of growth and expansion," Singhi told KrASIA. However, after four years of building RedDoorz, he felt it was time to move on.
"We raised around USD 200 million between 2015 and 2019. After we completed the Series C round in 2019, for me, the path for RedDoorz seemed very clear as the company was already properly managed. We were nearing the maturity stage in every market, and my excitement was not as big as it used to be when we started. Therefore, I decided to leave my full-time role at RedDoorz to start a new venture," he said.
Singhi relocated to New York in 2019 and launched a hospitality company called Ethos. Unfortunately, COVID-19 hit a few months later, and in March 2020, while the Big Apple was badly affected by the first wave of the pandemic, he had to make a difficult decision. "As a very small startup, my partners and I were still figuring out how to weather this crisis, and we decided not to continue because we realized it would take a very long time for travel to recover," Singhi explained. He relocated to Indonesia in 2020.
His entrepreneurial itch quickly kicked in again when Singhi saw opportunities in the food delivery and cloud kitchen sectors. "As an entrepreneur, every day is a lesson, and I believe the pandemic forced us to think creatively so we can find opportunities in crisis," said Singhi.
With the food delivery sector reaching a gross merchandize value of USD 11.9 billion in 2020, up 183% compared to 2019, cloud kitchens, also known as ghost kitchens—commercial facilities used to produce food for delivery—are experiencing fast growth as well. The ghost kitchen market is expected to record a compound annual growth rate of 20.7% from 2021 to 2028 in Indonesia, according to Grand View Research.
Singhi didn't want to go down this path alone, so he reunited with old friends Stefanie Irma, Vinav Bhanawat, and Fathhi Mohamed to launch a new startup called DishServe in October 2020.
"Vinav and I grew up together in India, while I met Fathhi on my business trip to Sri Lanka when I was exploring a potential acquisition target during my time at RedDoorz. Stefani was an early employee at RedDoorz who was later promoted as the country head of the Philippines," Singhi said. "When the idea of DishServe came to me, I got all of them on a call and introduced them to each other. That's how it all started."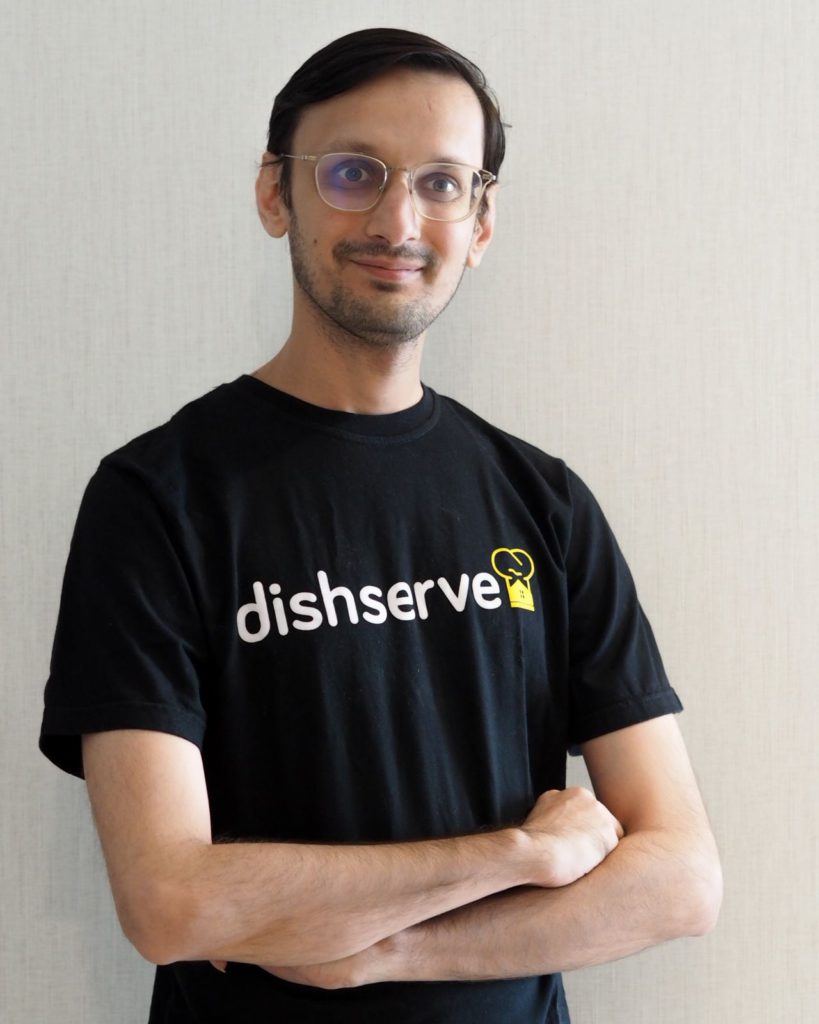 Opportunity in underutilized kitchens
DishServe introduces a slightly different concept compared to existing cloud kitchens in Indonesia, Singhi explained. "I divide the food business into three parts. First, where the food grows—the farming. The second is the mid-mile, where the food is cooked in bulk—meaning restaurants and cloud kitchens. The third is the last-mile distribution point, where there's only heat, assembly, and packaging. DishServe falls into the last category."
In other words, DishServe connects underutilized kitchens to food and beverage brands. The company partners with kitchen owners to upgrade their kitchens and equipment, later renting these spaces to F&B brands. Businesses can use DishServe's network of ghost kitchens as their last-mile distribution point to reach more customers in different neighborhoods.
Anyone with a cooking space, including home kitchens, catering kitchens, as well as café or restaurant kitchens, can apply to join DishServe's network, Singhi said. Applicants need to submit photos and videos of their kitchens, and if the space qualifies, DishServe will renovate them to match the company's standards. This means upgrading the kitchen's hygiene standards, adding equipment, and creating operating procedures for the kitchen's daily operations. DishServe usually invests around USD 500 to onboard a new kitchen.
Read more: Cloud kitchens heat up in Indonesia as the food delivery sector keeps growing
The startup currently works with 95 kitchens in the Greater Jakarta area and has partnered with over 30 F&B brands. DishServe has also signed partnerships with established cloud kitchen operators like GrabKitchen and Yummy Corp. "They have their own cooking kitchens, but they use DishServe as a last-mile distribution point," Singhi added.
"Big brands like McDonald's and KFC have hundreds of outlets, so they have huge visibility. However, it is very difficult and expensive for smaller brands to open, say, 100 branches. What we do is provide them with an opportunity where they can deliver their food to every neighborhood in the city," Singhi said.
"We charge a 30% commission to the brands, and we give 20% to the kitchen partners," said explained. Under the revenue-sharing model, kitchen partners could receive a monthly payment of up to USD 3,600, Singhi said.
Starting a business in the middle of a pandemic isn't an easy job. For Singhi and his team, implementing strict health and safety protocols was one of the main challenges. "Standardization was very demanding at the beginning. We had to figure out the right standards acceptable for F&B merchants of all sizes. Now, we have technologies that make that standardization process and daily operations easier."
Looking ahead, DishServe plans to expand operations to a few more cities by the second half of 2022, Singhi said, without providing more details. He also didn't reveal upcoming fundraising rounds, although he didn't rule out the possibility. So far, the firm has raised a seed funding round in December 2020 led by Insignia Ventures.
"We are a young startup, but we are expanding fast. Customers' lifestyle has changed—it is not necessary to go out for a meal anymore as food delivery is common. I think there is huge potential for cloud kitchens in the future."