COVID-19 has been a catalyst for a new wave of entrepreneurs. Hong Kong-based logistics startup Pickupp decided to launch an online shop to aid these home-based businesses.
The company was founded in December 2016 and expanded to Singapore one year later. Co-chief operating officer Lee Chee Meng told Vulcan Post that he met Pickupp's CEO Crystal Pang when she was looking to launch the startup in Singapore.
Whilst chatting over coffee, he discovered that the two were aligned and shared similar views like how the future of last-mile logistics should be data-driven and asset-light. Before he knew it, things moved forward and Pang took him onboard to build and grow the Pickupp network in Singapore.
Pickupp was founded with an objective to help businesses across all industries solve the inefficiencies in their deliveries. Lee said that the team realized that most SMEs have limited manpower and resources to facilitate large and bulk delivery orders. Many also use a fixed fleet model, where supply cannot adapt to fluctuations in demand.

To help solve that, Pickupp provides optimized batching and chaining technology and real-time GPS tracking that offers end-to-end transparency. The startup uses a hybrid of freelancers and in-house delivery fleet to cater to fluctuating levels of demand. With operations in Hong Kong, Singapore, Malaysia, and Taiwan, it has supported over 10,000 businesses spanning MNCs and logistics giants to smaller retail and e-commerce stores.
Traditional services include on-demand couriers who deliver within a two-hour window, same-day, and next-day deliveries. Now, the startup has added the new feature "Shop on Pickupp."
"Aside from the usual on-demand food delivery platforms where deliveries were often limited to a 3 kilometer radius, and commission from merchants and delivery prices are relatively high, there were no other significant combined e-commerce and delivery platforms in Singapore," explained Lee.
Shop On Pickupp, for example, offers a four-hour same-day delivery solution to many online-based bakeries such as The Unsalted Butter and Tartisan by Grain. It also supports newer bakeries that do not have a fully operational e-commerce and delivery platform in place yet or those in need for longer order lead times, stock cap, and specific delivery time-slots.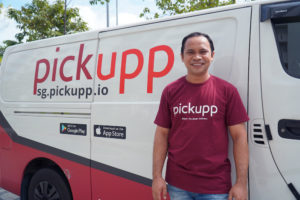 The startup has made significant progress since its launch in March 2020, as it sees a healthy growth of users and merchants. Over the past year, Shop on Pickupp has had more than 200 merchants listed on the platform, with close to 100 active and permanent merchants. It has fulfilled over 10,000 orders, marking a ten-fold growth since inception.
Pickupp also helped digitalizing the popular Shilin Night Market. The annual event usually draws large crowds with its various limited-edition Taiwanese food and product offerings. Since it could not be held as a physical event in 2020, Pickupp hosted the digital version of the food festival on its web portal and mobile app.
The shift in consumer behavior and the region's growing digital economy will undoubtedly entice more established and new retailers online. "We continue to see ourselves supporting home businesses in Singapore as they grow in the months to come, and expect to maintain a steady volume of orders during the festive periods via the platform," said Lee.
This article was originally published by Vulcan Post.