The idea behind Tik Tok—or its sibling in China, Douyin—is simple: anyone can have 15 seconds of fame. Tik Tok has more than 500 million monthly active users by end-2018, with more than 40% outside China. It has quickly become the short video platform of choice for many located in the US, India, and other countries. Clips are capped at 15 seconds in length, and easy editing tools let you add background music and filters with just a few taps, so users are meant to shoot without the process becoming a major production. But someone in Brazil might be looking for different music compared to a user in Indonesia. To make the viewing experience smooth, but still have that raw, immediate feeling, Tik Tok builds local operations teams to curate tailored content for their users around the globe.
In China, Douyin rode the wave of live streaming's popularity and quickly grew by leaps and bounds—it launched in September 2016, and by early 2018 had 66 million active daily users. ByteDance, the world's most valuable internet startup and the company behind Douyin, wanted to take its success in China and turn it into a global phenomenon, so it developed a separate but similar app—Tik Tok—and launched it in September 2017. (There is a caveat—because of the Chinese government's control of access to cyberspace, Douyin users in China cannot download Tik Tok, and a firewall separates the two apps, meaning content on one platform can't be seen on the other.) By the first quarter of 2018, Tik Tok was the most downloaded non-game Apple iOS app globally. It was also chosen as one of Google Play's "most entertaining" apps in 18 regions last year.
Tik Tok's global communications director, Bella Baldoza, told KrASIA that the company's Singapore team is comprised of local professionals who work closely with the machine learning team to supply relatable content for a diverse but local audience. Here's what we learned during our visit with Tik Tok's Singapore operations team.
Partnering Up, Challenging Users

Doreen Tan, Tik Tok's Singapore operations manager, identified two key steps for boosting Tik Tok's popularity in the city-state: forming media partnerships and then running campaigns or challenges. The team releases at least one challenge per week.
One example is a partnership with Singaporean film and television actor Jack Neo leading up to the release of his first action comedy movie production, Killer Not Stupid. Tik Tok uploaded a song from the film's soundtrack to its music bank and issued a challenge for fans to create a finger dance to match the tune.
The company partners with popular Singaporean personalities from a wide range of areas, including sports, comedy, dance, music, pet care, and fashion. Some examples include Singapore's first-ever Olympic gold medalist Joseph Schooling, the Taekwondo national team's Ng Mingwei, figure skater Chloe Ing, and break dancer Gavin Han.
But social media is a fickle business, so the team monitors posts on other platforms, like Facebook and Instagram, to spot upcoming trends, taking into account the local context. Since Tik Tok only hosts short videos, these trends are packaged in a highly visual environment, making the app much more appealing for younger users. Teens in Singapore are reportedly flocking to Tik Tok.
Here are some of the other successful challenges developed by Tik Tok for their users in Singapore: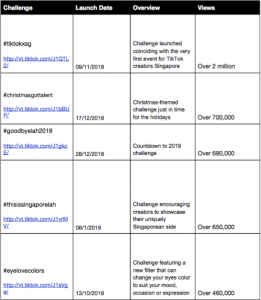 The Competition
According to data from Statista, Facebook is the world's most popular social media network as of October 2018, with 2.234 billion users. WeChat, the Chinese super app, has 1.058 billion people communicating on the platform. Instagram has 1 billion people posting photos and clips. Tik Tok had 500 million users. But with Tik Tok rapidly spreading across the globe, it might just catch up to the legacy platforms.
Tik Tok faces some of the same challenges as other social media networks. Following a week-long ban in Indonesia stemming from allegations that the app had contained "pornography, inappropriate content, and blasphemy", Tik Tok pledged to make its content more "appropriate", meaning it may raise the age requirement for users and hire more personnel to monitor the content that is uploaded.
In a sea of choices for platforms that let us share our lives online, Tik Tok isn't just the next Snapchat or Vine. It has managed to become a meme generator, allowing anyone who logs on to become part of a community with inside jokes, high virality, and just plain fun.

Editor: Brady Ng