As one of the largest greenhouse gas emitters, Indonesia is committing to a 29% reduction in greenhouse emission by 2030, with the government launching various initiatives to achieve this target, including peatlands and biodiversity protection programs, as well as forest and land rehabilitation, and renewable energy projects.
Many companies and non-government organizations have been keen to participate in those environmental efforts. However, green initiatives are often hampered by a lack of technology to monitor the effective progress and success, according to Arfan Arlanda, founder and CEO of Jejak.in, a startup aiming to accelerate climate actions aided by technologies such as artificial intelligence (AI) and internet-of-things (IoT) solutions.
"I had lots of discussion with environmental activists and experts, and I've learned that many of them have put in a lot of effort, time, and, money for environmental projects, but they don't have reliable tools to measure the results," Arlanda told KrASIA.
Founded in 2018, Jejak.in manages three core products: Tree and Forest Monitoring, a Carbon Emission Calculator, and a Tree and Carbon Offset Marketplace.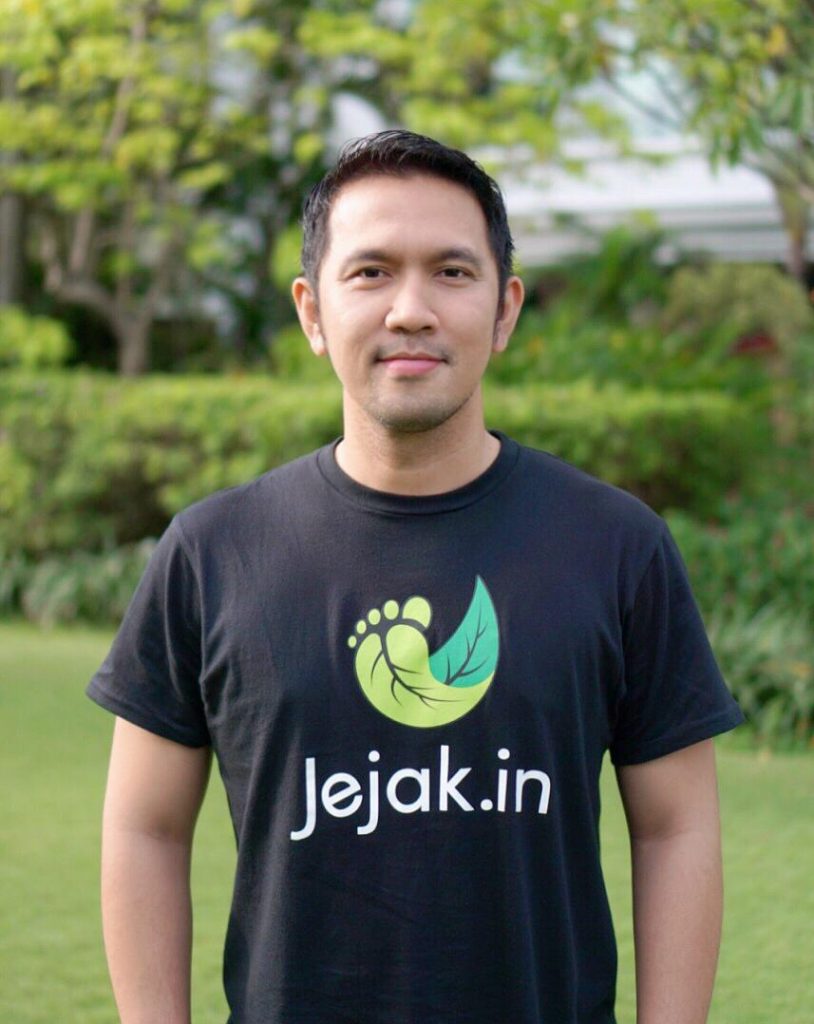 Focus on reforestation and tree planting
"Through the tree and forest monitoring service, we help organizations planning their reforestation program, starting from typographic mapping, plotting, to selecting tree species that are suitable for the land. We have data about 15,000 tree species and each has different characteristics and carbon sequestration potential. We also help to ensure their program runs well by measuring plant growth, land cover, carbon absorption, and their impact on the environment and biodiversity," Arlanda explained.
To monitor the condition of trees in designated areas and collect environmental data, the firm utilizes technology such as drones, IoT sensors, and light detection and ranging devices (Lidar), along with satellites. The company also provides tools to measure carbon absorption, water infiltration, as well as soil and air condition. The data obtained is then processed with machine learning to provide clients with precise data reports, according to Arlanda.
Jejak.in's carbon calculator, on the other hand, provides companies with accurate numbers about their direct and indirect carbon emissions. With data in hand, firms can then outline strategies to reduce their environmental impact.

Also, the startup's Tree and Carbon Offset Marketplace allows organizations and individuals to participate in various carbon offset programs managed by Jejak.in's partners, such as crowdfunding platform for forest conservation LindungiHutan, and environmental community Hutan Itu Indonesia.
"In the beginning, we focused on the business-to-business (B2B) segment only. But I believe that everyone should be able to involve in environmental conservation efforts. That's why we created a marketplace platform so that anyone can contribute in the fight against climate change," said Arlanda.
Moreover, he hopes the marketplace can be a forerunner for a carbon emission exchange market in Indonesia, a concept that is widely adopted in developed countries. "Singapore already has a digital exchange platform to trade carbon credits, and I believe Indonesia can do the same as we have the assets," he added.
Arlanda explained that his company is collaborating with major firms, such as Gojek and regional-owned enterprise PT MRT Jakarta to increase popular awareness of climate change.
The startup, which is also an alumnus of Gojek's startup accelerator program Xcelerate, recently established a partnership with Gojek for its GoGreener app feature. The service lets users calculate the carbon footprint from their usage of Gojek's transportation services. Users can then offset their emission by donating money for tree-planting projects in Jakarta, Central Java, and East Kalimantan, Arlanda detailed.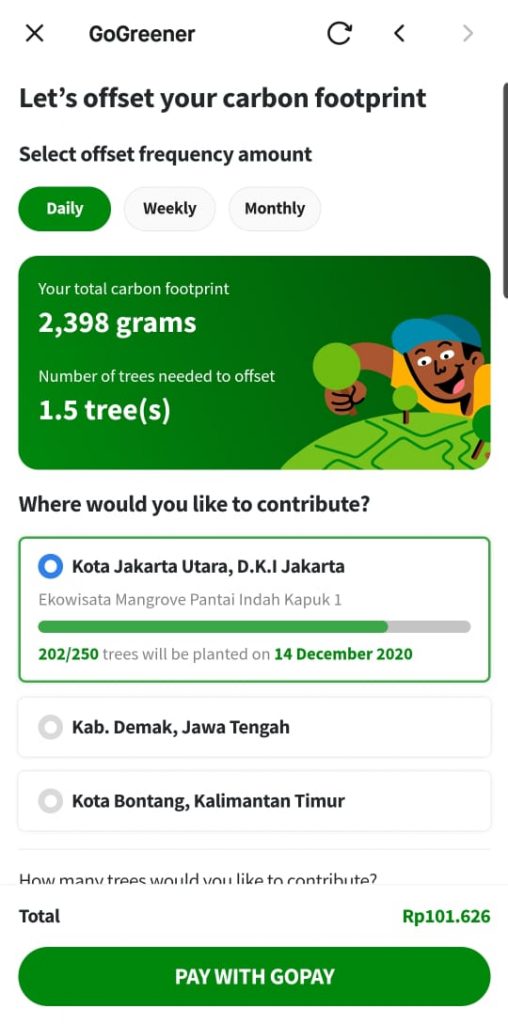 Jejak.in has secured another partnership with PT MRT Jakarta, which runs Jakarta's Mass Rapid Transit (MRT) system, the country's underground train system, although Arlanda didn't provide details as the project is yet to be officially announced.
The firm's revenue model is based on commissions obtained by client companies using the firm's services. The startup also takes a transaction fee from every purchase through its tree and carbon offset marketplace or through its partner's platforms. For instance, in every carbon offset calculation made on Gojek's Greener, Jejak.in's include its service fee.
"There are other conservation programs out there, but what makes us different is that we provide comprehensive data and we monitor the project closely so everyone can track down where their money goes. Users can also check the progress of tree planting projects that they are partaking in. We certainly have costs to provide these services," Arlanda explained.
Arlanda sees business potential in the environmental tech and innovation segment, due to the growing interest from large corporations to take part in carbon offset initiatives, he explained.
"In Silicon Valley, companies like Facebook, Google, Apple, and Microsoft have announced plans to bring their entire carbon footprint to net zero. China also recently pledged to become carbon neutral in 2060, so I strongly believe that Indonesia will follow this positive trend."
The startup is currently focusing on building a solid business foundation and improving its tech capabilities. Jejak.in raised an undisclosed seed fund from Gojek Xcelerate in June, according to Crunchbase.
The company is open for funding but it is very selective in choosing investors, Arlanda affirmed.
"Since our business is very niche, we're looking for investors that share the same passion and are already familiar with environmental and climate issues. We hope to find strategic partners that can help us with networks, bureaucracy, and other aspects," said Arlanda.
This article is part of KrASIA's "Startup Stories" series, where the writers of KrASIA speak with founders of tech companies in South and Southeast Asia.