As 1.3 billion Indians went under lockdown on March 25, a team of about 30 volunteers, set up by the Ministry of Electronics and Information Technology (Meity), was working day and night, putting together a contact tracing app called Aarogya Setu to contain the spread of COVID-19 in the world's second-most populous country.
Indian tech companies such as online travel firm MakeMyTrip and health tech platform 1Mg, among many others, got their software engineers to work in the team that was developing the app pro bono. The app has been "donated" to National Informatics Centre (a government body under Meity that provides the infrastructure for national digital initiatives), Lalitesh Katragadda, founder of Bengaluru-based crowdsourcing platform Indihood, who was a part of the volunteering team, told local online media Rediff.
On April 2, a week into the lockdown, Aarogya Setu, which means "a bridge to health" in English, made its debut on Android and iOS. Although there were already several apps by state governments to trace COVID-19 cases, Aarogya Setu became the world's fastest app to reach 50 million downloads within two weeks of its launch. In his televised address to the nation on April 14, Prime Minister Narendra Modi while extending the lockdown till May 3, appealed Indians to download the Aarogya Setu app, which further accelerated its adoption.
As of now, the app has crossed 80 million downloads in India.
Over the last three weeks, the app has evolved to double as an electronic pass for food and grocery deliverymen. Food delivery startups like Zomato and Swiggy as well as e-grocery platform Grofers have mandated their on-ground delivery fleets to use Aarogya Setu. Furthermore, earlier this week, the government made the app compulsory for the central government employees.
Aarogya Setu lets users know if they have come in contact with a COVID-19 positive person, and guides them what to do, in case they have.
Apart from contact tracing, the app offers a self-assessment test for users to check whether they exhibit any COVID-19 symptoms. The in-build self-assessment is reportedly created based on the guidelines from the Indian Council of Medical Research (ICMR), the country's nodal medical research body. The app notifies users, depending on their location, if there is any coronavirus case in their vicinity, the number of people who underwent self-assessment in their area, and how many of them are currently unwell.
The app also provides regular updates about the COVID-19 cases in the country along with information on how to be safe. Simply put, Aarogya Setu functions as a one-stop platform regarding the novel coronavirus.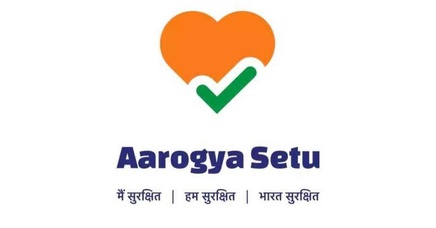 The tech at work
The app, once downloaded, collects users' personal information such as name, phone number, age, gender, profession, as well as places and countries visited in the last 30 days. This information is stored in a government server where it's compressed, indexed, and encrypted with a unique digital id. The user's app is then tagged with that particular id.
After a user registers, the app starts tracking her Bluetooth contact history and GPS data. When two registered users come within the Bluetooth range, their apps automatically exchange and store each others' digital ids in their respective mobile devices. Without letting them know about any of this happening, their apps in the back-end record the time and GPS location where they came in contact with.
The app then cross-references the data stored in the device with ICMR's database of COVID-19 cases to check and warn the user if an infected person is in close proximity.
In case, a user tests positive, ICMR notifies the authorities, and the Bluetooth and GPS data in her mobile device is checked to see who all she came in contact with and where all she had been in the past few weeks. Those who came in close contact with the infected person would be alerted of the risk and a process is started to put them either in self-isolation or a quarantine facility. The app also comes in handy for the government to monitor the locations that need to be disinfected to prevent further spread.
The app, at intervals of every 15 minutes, collects users' location data and stores a record of all the places they have been to in their mobile device. However, this information is uploaded on the government server if an infected case gets checked out. The app also has a self-reporting mechanism, wherein users can notify the government if they have given their sample for testing or have tested positive for COVID-19. Once they report it, their Bluetooth contact history and location data is sent to the government server to take preventive measures by tracking people who might have gotten in touch with them.
The information is also relayed to the government server if the symptoms declared during self-assessment indicate the likely coronavirus infection or if contact tracing shows the user might have unknowingly come in close contact with an infected person.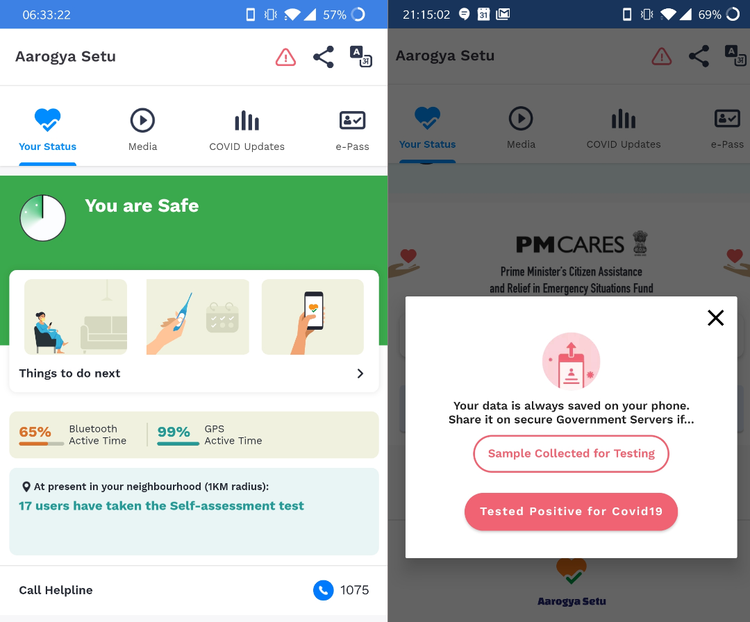 Meanwhile, India is reportedly in the process of procuring smart wristbands to link it to Aarogya Setu to monitor movements of patients in both hospital and house quarantine. It also aims to help frontline workers take adequate care when they visit houses for screening of patients.
For the country's half a billion population who still uses feature phones, they are not to be left out. According to Katragadda, the central government is also building a similar app for feature phones. To begin with, he said, Reliance is working with the government to make an app for Jio feature phones.
"Mukesh Ambani (Chairman, Reliance Industries) has appointed a team to oversee this effort and they are building an Aarogya Setu app for Jio phone users. So that will cover another 60 million feature phones," he said.
For Aarogya Setu to be able to successfully clamp down the rising cases that have crossed the 33,000 mark in the country, it needs to be used by a majority of 1.3 billion Indians. Even though the smartphone app downloads are increasing by the day, only a little over 6% of people in the country use it currently.
However, the real litmus test for Aarogya Setu's efficacy would be once the government lifts the lockdown and social activities kick start.
The rise of contact tracing apps
India isn't the only country which is using a contact tracing app to prevent the COVID-19 spread. Most of the Asian countries have been at the forefront of using technology to overcome the crisis.
In the second week of February, almost one and a half months after the novel coronavirus was discovered in Wuhan, China rolled out a "close contact detector" app to let people check if they have been near someone who has been confirmed positive for COVID-19 or suspected of having the virus.
By the second half of February, Chinese internet companies like Alibaba and Tencent had partnered with local government agencies and began rolling out updates for their respective super apps, i.e. Alipay and WeChat, to help authorities check who is fit to travel in public places.
Using Alipay or WeChat, users could now fill in a questionnaire to obtain a color-based QR code. A green-colored QR code indicates a user is likely COVID-19 free and is allowed to use public spaces, while yellow code shows they are at risk, and red code means they are likely infected, and are required to quarantine themselves.
In fact, China has combined a variety of technologies to keep track and contain the pathogen spread, including app-based monitoring complemented by other solutions such as CCTV (Closed Circuit Television) systems and facial recognition, as well as body temperature detection to piece together the movements of infected persons, according to various media reports.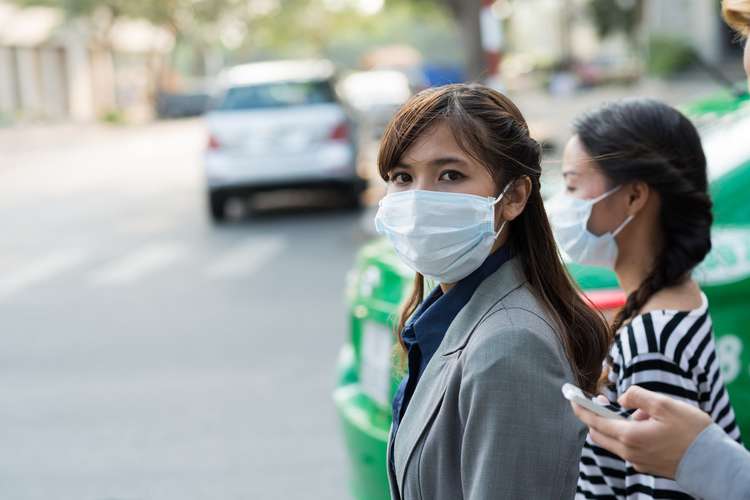 Hong Kong, on its part, is using a wristband with a unique QR code to enforce quarantine on those who are suspected to be infected. The wristband works in collaboration with an app called StayHomeSafe, which uses geofencing technology that detects nearby signals such as WiFi, Bluetooth, and GPS to track a user's location. Taiwan, meanwhile, doesn't have a contact tracing app so far, but it is using location-based technology to ensure that anyone who is required to be quarantined stays at home.
In South Korea, even before the government rolled out an app to monitor people who needed to observe quarantine in early March, a slew of private contact tracing apps harnessing government data had gone viral. For instance, a third-party app called Corona 100m that lets users know if they have been within 100 meters of a known case was downloaded more than one million times within three weeks.
A policy think tank research note said that, although widespread testing and stringent quarantine procedures have so far proven effective in South Korea, "another key aspect of its COVID-19 containment strategy is a contact tracing mobile application called Corona 100m."
Similar to China, going beyond the apps, South Korea has deployed high tech methods such as tapping phone networks, credit card records and CCTV footage to track peoples' locations. The authorities send emergency text messages to individuals who are living in the vicinity of someone diagnosed with COVID-19.
In the second half of March, Singapore became the first country to roll out an app that utilizes Bluetooth to trace the contact history of confirmed and suspected COVID-19 cases. Known as TraceTogether, the app stores users' Bluetooth contact data in their device only.
"If a user is infected or is the subject of contact tracing, they will be asked to share their encounter history with the health authority," said London-based law firm Freshfields Bruckhaus Deringer in a recent post. Only when the user consents, her data logs get uploaded to the government server. "Only the health authority is able to decrypt the encounter history," it added.
In comparison, in western countries such as the US, the UK, and other European peers, where COVID-19 cases have surged dramatically, there's still no government-backed contact tracing initiative rolled out to keep the new cases in check, but with mounting pressure to contain the spread, the situation is changing, albeit slowly. For instance, the UK is reportedly gearing up to launch a contact tracing app over the next two to three weeks, whereas in the US, global tech giants Apple and Google have joined hands to come up with a new Bluetooth-based contact tracing technology that can be integrated with health authorities' apps to contain the virus from spreading.
Given the urgent need, the plan is to implement the solution in two steps while maintaining strong protections around user privacy, Apple said in a statement.
"First, in May, both companies will release APIs that enable interoperability between Android and iOS devices using apps from public health authorities," it said. "Second, in the coming months, Apple and Google will work to enable a broader Bluetooth-based contact tracing platform by building this functionality into the underlying platforms (mobile operating systems)."
The upcoming Apple-Google technology will reportedly be available globally, and many European countries have opted for it already.
While the discussion around contact tracing apps and users' privacy and their data security are raging globally, most Asian countries, including India, are pushing ahead with their COVID-19 containment strategy that involves location tracking to identify and monitor people who might have been infected.
In India, the privacy pundits have raised concerns that the location data collated by Aarogya Setu can be used by authorities for broader surveillance purposes. However, the Indian government has not entertained any such claims yet although the app's privacy policy was updated 10 days after the rollout to notify users when their data is being shared with the government. Katragadda believes that team behind the app is taking care of users' privacy to the best possible extent.
"Is privacy a concern? Yes, it is. Has it been addressed to the extent possible? Yes, it has been addressed," he said in the interview. "I think the question that should be asked is, what is the alternative? If this app is useful and it's going to save lives, should we do it or not?"
Over the next few weeks, as the lockdown gets eased out, containing the virus would become even more critical to prevent the second wave of coronavirus infections from happening, and Aarogya Setu would have a bigger role to play then.